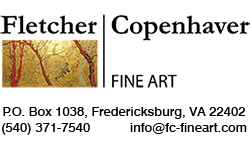 Hermann-Paul (Hermann Paul René Georges) (1864-1940)
Hermann-Paul, born in Paris, studied at the École des Arts Décoratifs and at the Académie Julian where he was the student of Henri Lerolle and Gustave Colin. He soon made a name for himself as a painter of genre scenes, a printmaker, illustrator, and draftsman. He was elected a member of the Salon d'Automne, and became a professor at the École des Beaux Arts in Paris. He was known for his satirical drawings which poked mild fun at the bourgeoisie. He kept his career as a painter quite separate from his work as an illustrator, and his canvases owed a great deal to Cézanne whom he greatly admired. He exhibited with the Nabis, including Bonnard, Vuillard, and Denis.
Hermann-Paul was known for his albums of prints. Among the best known were La Vie de Monsieur Quelconque and La Vie de Madame Quelconque, two albums of ten black and white lithographs each, published in 1894 and 1895. He was one of a group of French artists in the late 19th century who used both traditional printmaking processes and the new photomechanical relief-printed imagery to disseminate their images as widely as possible. The group included Théophile Steinlen, Henri Rivière, Henri de Toulouse-Lautrec, Edouard Vuillard, Pierre Bonnard, and Félix Vallotton.
His illustrations appeared in the leading Parisian journals of the day, including L'Assiette au beurre, Le Canard Sauvage, Candide, Le Courrier Européen, Le Courier Français, Les droits de l'Homme, L' Escarmouche, L'Homme Libre, La Vie Parisienne, Le Rire, Le Figaro, and a number others. Among the books he illustrated were works by Gabriele d'Annunzio, Émile Zola, François Villon, Gustave Flaubert, and Rabelais.
---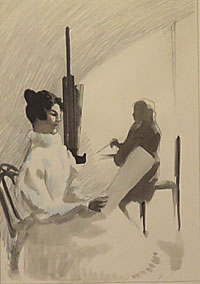 Hermann-Paul (Hermann Paul René Georges) 1864-1940
Artist & Model
Watercolor & charcoal
Hermann-Paul Sale Stamp on verso
Provenance: Provenance: Hermann-Paul family collection, sold at auction Chartres, October 23, 2000
Sheet size: 12 X 9 inches
Frame size: 23½ X 19⅝ inches
In a handcrafted frame from Les Cadres RG, Paris
FC02071 $2,200
View • Print • Purchase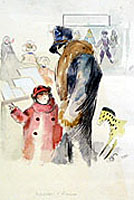 Hermann-Paul (Hermann Paul René Georges) 1864-1940
Exposition d'etrennes (The Display of New Years Gifts)
Watercolor, pen and ink
Signed with a monogram, lower right. Sales stamp on verso
Provenance: Hermann-Paul family collection sale in Chartres, France, on October 23, 2000.
Sheet size: 13 X 10 inches
Frame size: 20 ¼ X 17 inches
FC05112 $2,200
View • Print • Purchase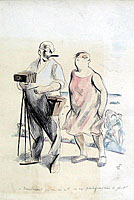 Hermann-Paul (Hermann Paul René Georges) 1864-1940
The Photographer
Watercolor, pen and ink, charcoal
Signed with a monogram, lower right. Sales stamp on verso.
Provenance: Hermann-Paul family collection sale in Chartres, France, on October 23, 2000.
Sheet size: 12 7/8 X 9 15/16
Frame size: 20 ¼ X 17 inches
FC05113 $2,200
View • Print • Purchase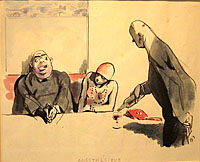 Hermann-Paul (Hermann Paul René Georges) 1864-1940
Anesthétique (The Anesthetic)
Watercolor, pen & ink
Signed with monogram, lower pencil; Inscribed in pencil, lower center:
Provenance: Hermann-Paul family collection
Sheet sixe: 10 X 12 7/8 inches
Frame size: 19 1/4 X 21 inches
FC04021 $2,200
View • Print • Purchase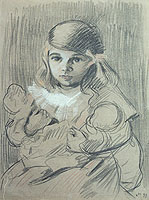 Hermann-Paul (Hermann Paul René Georges) 1864-1940
A Young Girl with Dolls and a Ribbon in Her Hair
Pastel and charcoal
Initialed, lower left, and dated, lower right:
Provenance: Hermann-Paul family collection
Sheet size: 19 X 14 5/8 inches
Frame size: 30 X 25 inches
FC01173 $5,800
View • Print • Purchase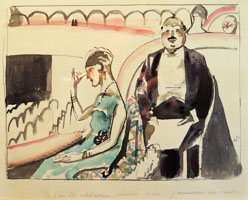 Hermann-Paul (Hermann Paul René Georges) 1864-1940
The Cynical Husband
Watercolor, pen & ink
Initialed, lower right
Sheet size: 9&frac14 X 11½ inches
Frame size: 17½ X 19¼ inches
FC06198 $2,200
View • Print • Purchase
FLETCHER/COPENHAVER FINE ART
P.O. Box 1038, Fredericksburg, VA 22402
(540) 371-7540 Fax (540) 371-0347