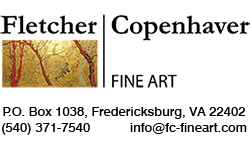 Marianne Clouzot (1908-2007)
Marianne Clouzot, painter, ceramist, printmaker, and illustrator, was born in Vésinet, a wealthy suburb just to the west of Paris. Her father was the noted art critic, Henri Clouzot, and it was he who first encouraged her to be an artist and taught her the technique of watercolor. Her delicate health prevented her from attending school and as a child she spent many hours drawing. She began to sell her drawings when she was still very young to the Galerie Devambez, an important Parisian art gallery. In 1923, again encouraged by her father, Clouzot began to study at the Union Centrale des Arts Décoratifs in Paris. After applying herself to the decorative arts for five years, she abandoned them and went to study painting at the Académie d'André Lhote in Paris. She exhibited at the Salon d'Automne, Salon des Artistes Indépendants, and elsewhere. In 1935 her exhibition at the Galerie Charpentier was particularly praised in the press.
In 1940, the editor Henri Lefèvre asked Clouzot to illustrate the book Trois Contes (Three Tales) by Francis Jammes. That was the beginning of a very successful career as an illustrator. Between 1940 and 1979 she illustrated more that 85 books, including works by Gérard de Nerval and Colette. She also illustrated a number of children's books.
This tender portrayal of the affection of a father for his daughter possibly reflects the close and supportive relationship the artist had with her own father. The white horse and rider in the lower right hand corner may be symbolic of a young girl's passage into maturity, or perhaps it is simply a charming detail that adds to the interest and richness of the composition. The similarity in tone and palette between this painting and certain paintings from Picasso's "Rose Period" (see especially Boy Leading a Horse, 1906, Museum of Modern Art, New York ) may or may not be intentional, but is certainly pronounced.
---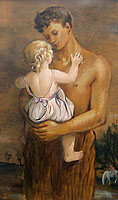 Marianne Clouzot 1908-2007
A Young Father and His Daughter
Oil on board
Signed, lower right: "Marianne Clouzot" and dated "42" (1942)
Canvas size: 27 5/8 X 17 1/8 inches
Frame size: 32 ¾ X 22 ¼ inches
FC07076 $9,500
View • Print • Purchase
FLETCHER/COPENHAVER FINE ART
P.O. Box 1038, Fredericksburg, VA 22402
(540) 371-7540 Fax (540) 371-0347