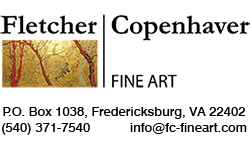 Gustave Clarence Rodolphe Boulanger (1824-1888)
Boulanger, born in Paris, lost both his parents when he was fourteen. He was taken in by an uncle who sent him to Algeria where he did many studies of its exotic landscape and the people. When he returned to Paris, Boulanger became a student of Pierre Jules Jolivet and also studied with Paul Delaroche. In 1846 he enrolled at the École des Beaux-Arts, and was awarded the Grand Prix de Rome in 1849.
Boulanger first exhibited the Salon de Paris in 1848 where his two paintings, "A Moorish Café" and "Indians Playing with Panthers", caused a sensation. He exhibited regularly in the Salon de Paris until 1875. He was a Professor at the École des Beaux Arts and at the Académie Julian. He was elected to the membership of the Académie des Beaux-Arts in 1882. Boulanger's work is found in the permanent collections of a number of museums, including the Musée d'Orsay in Paris; the Hermitage in St. Petersburg; Museum of Fine Arts, Boston; Cleveland Museum of Art; as well as museums in Amiens, Narbonne, Dunkerque, Rennes, and Vire. The Flute Lesson, perhaps his best known work, is in the Museum of the Château of Versailles. He painted the mural decorations of the foyer of the Paris Opéra.
Boulanger had a direct influence on American art in that he taught some of its most prominent 19th century artists, including Edmund Tarbell, Thomas Wilmer Dewing, and George Hitchcock.
---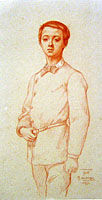 Gustave Clarence Rodolphe Boulanger 1824-1888
A Young Gentleman
Sanguine (red chalk) and charcoal drawing
Signed and dated, lower right:
Sheet size: 17⅞ X 10 inches
Frame size: 16 X 19¼ inches
FC08060 $6,500
View • Print • Purchase
FLETCHER/COPENHAVER FINE ART
P.O. Box 1038, Fredericksburg, VA 22402
(540) 371-7540 Fax (540) 371-0347