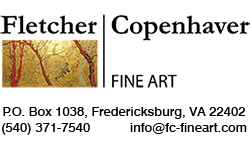 Pierre Bonnard (1867-1947)
La Coupe et Ie Compotier (The Goblet and the Fruit Dish) - Lithograph - Bouvet 93, 3rd state of 3. A beautiful proof of the definitive state on thick beige vélin paper, with full margins and in superb condition. The artist's monogram, lower right. Signed by the artist in pencil, lower right, and numbered (46/100), lower left/ From the album Maîtres et Petits Maîtres d'Aujourd'hui (Masters and Little Masters of Today) Blindstamp of La Galerie des Peintres-Graveurs (Lugt 1057b), lower right.
Bonnard, born in Fontenay-aux-Roses in the southwestern suburbs of Paris, was the son of a prominent official in the French Ministry of War. He studied law and briefly was a practicing lawyer, but in the early 1890s decided to pursue a career as an artist. While in his early twenties, Bonnard was a founder of Les Nabis, a group of young artists who were known for their striking simplifications of form and a bold use of color. It was a style that mostly evolved from the paintings that Paul Gauguin and Claude Monet had done in the late 1880s, and was very important in the development of 20th century French art. Bonnard's work, which is often autobiographical and narrative, frequently features intimate scenes of family and friends. One of his principal subjects was his wife, Marthe, seen in a domestic interior, or nude as she bathes. He also painted self-portraits, still lifes of fruit or flowers, and landscapes. There have been many major exhibitions of Bonnard's work. In 1938, the Art Institute of Chicago mounted a large show of his paintings, and in 1948 the Museum of Modern Art in New York organized a posthumous Bonnard retrospective. In 1998 there were important Bonnard exhibitions at the Tate Gallery in London, and once again at the Museum of Modern Art in New York. In 2006, a large Bonnard exhibition, featuring both his paintings and his drawings, was put on by the Museum of Modern Art of the City of Paris. His work is found in many museum collections, especially those with significant holdings of early 20th century art.
Impressions of La Coupe et Le Compotier are found in the permanent collection of the Smith College Museum of Art and in the Eudora Welty House, the museum devoted to the writer in Jackson, Mississippi, where it hangs over the mantel of the fireplace in what was her bedroom.
---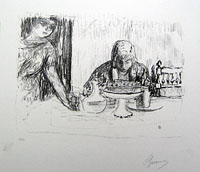 Pierre Bonnard 1867-1947
La Coupe et Ie Compotier (The Goblet and the Fruit Dish)
Lithograph
Signed by the artist in pencil, lower right
Sheet size: 9 1/2 X 12 7/8 inches
Frame size: 22 1/4 X 22 3/4 inches
In a handcrafted frame from Les Cadres RG, Paris
FC07095 $7,500
View • Print • Purchase
FLETCHER/COPENHAVER FINE ART
P.O. Box 1038, Fredericksburg, VA 22402
(540) 371-7540 Fax (540) 371-0347