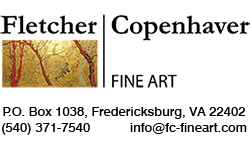 Ludovic Rodo Pissarro (1878-1952)
Ludovic-Rodolphe Pissarro, Camille Pissarro's fourth son, was named after Camille's close friend, the painter Ludovic Piette. He soon came to be known as Rodo, and exhibited under the name Ludovic-Rodo. Rodo studied with his father, and was also greatly influenced by many of the other great Impressionist painters who were his father's friends. All of Pissarro's five sons grew up to be painters, and all were drawn to the same Norman landscapes that their father often painted, but, as he matured as a painter, Rodo aligned himself more closely to artists like Toulouse Lautrec and Raoul Dufy. Like them, he was fascinated by the cabarets, nightclubs, music halls, and theaters of Paris, and found in them compelling subjects for his paintings.
Ludovic-Rodo often exhibited in the Salon des Indépendants exhibitions, including the Fauve exhibition in 1905. Like his older brother, Lucien, he spent a considerable amount of time in London, and painted many English scenes.
Ludovic-Rodo also spent twenty years compiling a catalogue raisonné of Camille's work.Published in 1939, it remains today the standard reference work on his father's oeuvre.
---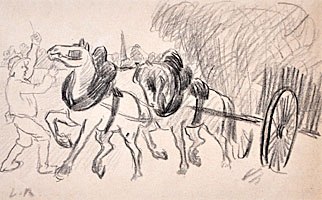 Ludovic Rodo Pissarro 1878-1952
A Man with His Horse and Cart
Pencil drawing
Initialed, lower left: "L.R."
Sheet size: 6 X 8 inches
Frame size: 9¾ 2 X 12¼ inches
FC99250 $975
View • Print • Purchase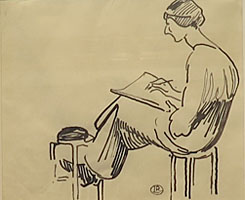 Ludovic Rodo Pissarro 1878-1952
A Woman Drawing
Pen & India ink
Signed with monogram, lower center
Sheet size: 5 X 6½ inches
Frame size: 15 X 14 inches
FC99038 $975
View • Print • Purchase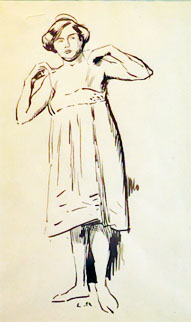 Ludovic Rodo Pissarro 1878-1952
Woman in a Chemise
Pen & ink drawing
Signed with initials, lower center
Sheet: 12&frac14 X 16&frac12 inches
Frame size: 21frac12 X 16&frac12 inches
Repair to paper, upper left
FC99045 $945
View • Print • Purchase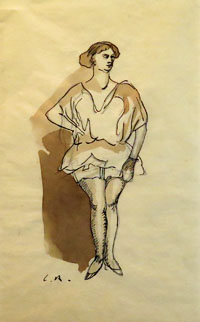 Ludovic Rodo Pissarro 1878-1952
A Music Hall Dancer
Pen & black in, brown ink wash
Initialed in brown ink, lower left; "L.R."
Sheet size: 10 X 18 inches
Frame size: 19&frac12 X 15&frac12
FC99124 $975
View • Print • Purchase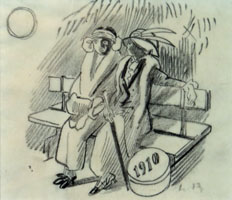 Ludovic Rodo Pissarro 1878-1952
Women on a Bench in Moonlight, 1910
Pencil on tracing paper
Signed with monogram, lower right
Sheet size: approx. 4½ X 6 inches
Frame size: 13½ X 14½ inches
Two tiny repairs, upper edge of sheet
FC99187 $975
View • Print • Purchase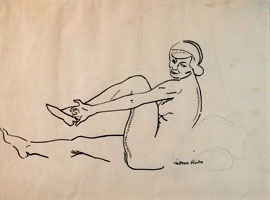 Ludovic Rodo Pissarro 1878-1952
Seated Female Nude, Putting on her Slipper
Pen and India ink, pencil
Signed, lower right: "Ludovic Rodo"
Sheet size: 8 X 10&frac12 inches
Frame size: 18 X 20 inches
FC99063 $975
View • Print • Purchase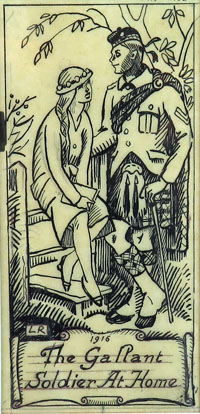 Ludovic Rodo Pissarro 1878-1952
The Gallant Soldier at Home
Pen and India ink on tracing paper
Signed with initials, lower left, and dated 1916
Sheet size: 7&frac12 X 5&frac14 inches
Frame size: 15&frac34 X 11&frac14 inches
A preliminary drawing for one of a series of wood engravings which Rodo made while he was living in England
FC99062 $975
View • Print • Purchase
FLETCHER/COPENHAVER FINE ART
P.O. Box 1038, Fredericksburg, VA 22402
(540) 371-7540 Fax (540) 371-0347