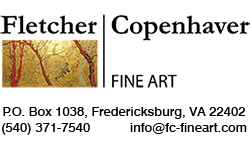 Edmund Daniel Kinzinger (1888-1963)
Kinzinger, a painter, sculptor, lithographer, and teacher, was born at Pforzheim, in the Grand Duchy of Baden in Germany, and first studied at the Knirr School in Munich (1908 - 1910), then at the State Academy of Fine Arts in Munich (1909 - 1910), and the State Academy of Fine Arts in Stuttgart (1910 - 1912). In 1912 he went to Paris and studied at the Académie Moderne, on the Boulevard Clichy in Montmartre. In 1913 he returned to Germany to study under Adolph Holzel again at the State Academy of Fine Arts in Stuttgart while supporting himself with portrait commissions.
In 1914, at the outbreak of the First World War, Kinzinger enlisted in the German army as a private and spent nearly five years at the front. By the end of the war he had been wounded twice and been given the command of an artillery unit. When the war ended in 1918, he returned to Stuttgart and studied with Heinrich Waldschmidt at the State Academy of Fine Arts.
In 1924, Kinzinger went to teach in Munich and there met his future wife, Alice Fish, an American whom he married in 1927. In the summer of 1928 they went to the United States where Kinzinger taught first at the Minneapolis Art Institute then at the Minneapolis Art Students League from 1929 to 1930. He spent the summer of 1930 painting in the artists' colony in Taxco, Mexico, and then returned to Germany where from 1930 until 1933, he was director of the Hans Hoffman School of Fine Arts in Munich, and the Hoffman Self-Study Course in California. During the same period, he taught in Spain and St. Tropez, France, which is where he painted this painting in 1932. He also served as director of the École de l'Époque, in Paris from 1933 to 1934.
A few years later, fearing the rise of Nazism in Germany, Kinzinger moved to the United States and in 1935 became chairman of the art department at Baylor University, Waco, a position he would hold until his retirement in 1950. Kinzinger attended summer school at the University of Iowa from 1939 to 1942 and was awarded the first doctorate in fine arts conferred by that university. His dissertation was a series of paintings with a Mexican theme. From 1944, Kinzinger spent his summers painting in Taos, Mexico.
He exhibited at the Art Institute of Chicago, Rouillier Gallery in Chicago, Bloomsbury Gallery in London, and Galerie Pierre in Paris. His work is found in many private collections and in the permanent collections of the Dallas Museum of Fine Art and the Houston Museum of Fine Arts.
---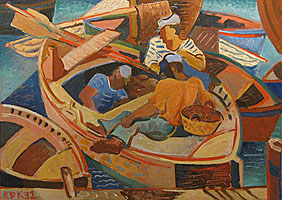 Edmund Daniel Kinzinger 1888-1963
Fishermen at Saint-Tropez
Oil on board laid down on Masonite
Initialed and inscribed, lower left: "EDK 32"
Provenance: : Private collection, Virginia
Board size: 15⅞ X 21 inches
Frame size: 20⅜ X 26 inches
In a handcrafted frame from RG Les Cadres Gault, Paris/
FC12064 $7,900
View • Print • Purchase
FLETCHER/COPENHAVER FINE ART
P.O. Box 1038, Fredericksburg, VA 22402
(540) 371-7540 Fax (540) 371-0347