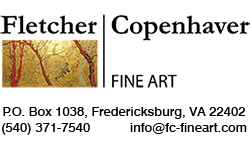 Avel de Knight (1921-1995)
Avel de Knight was born in New York City to parents who had emigrated from Barbados and Puerto Rico. In 1941 and 1942, he studied art at the Pratt Institute in Brooklyn. In 1943, he joined the U. S. Army and served in a segregated unit until the end of the Second World War. In 1946, de Knight went to Paris, as did a number of other American black artists, including Herb Gentry, Ollie Harrington, Romare Bearden, Beauford Delaney, and Ed Clark. He studied on the G. I. Bill at the École des Beaux-Arts, Académie de la Grande Chaumière, and the Académie Julian. His first group exhibition was at the Village Art Center in New York City in 1953 at which he was awarded the Village Art Center Prize.
In 1956, de Knight returned to America after ten years of living abroad and the following year was given his first one-man show at the Sagittarius Gallery in New York. At this time he also began writing art criticism for the French language weekly France-Amerique.
Avel de Knight had a long and productive career, and exhibited widely in both individual and group exhibitions. He won many awards, including the William A. Paxton Prize from the National Academy of Design (1958), Ranger Fund Purchase Prize and the Palmer Memorial Prize both from the National Academy School of Fine Arts (1958), Emily Lowe Award from the American Watercolor Society (1958), Childe Hassam Fund Purchase Prize by the American Academy of Arts and Letters (1960), Samuel F. B. Morse Medal from the National Academy School of Fine Arts (1963), Grumbacher Purchase Award from the National Audubon Artists Society (1966). In 1967 he was awarded the American Watercolor Society Prize, Grand Prize, and Gold Medal for the Centennial Exhibition. The painting, Mediterranean, was acquired by the American Watercolor Society and donated to The Metropolitan Museum of Art.
De Knight was elected an Associate of the National Academy of Design in 1966, and was named Academician in 1970. He taught at the National Academy School of Fine Arts from 1981 until his death. His work is found in a number of important public collections, including:
The Metropolitan Museum of Art, New York City... National Academy of Design, New York City... The Chrysler Museum of Art, Norfolk, Virginia... Schomberg Center for Research in Black Culture, New York City... Springfield Art Museum, Springfield, Missouri... Marsh Art Gallery, University of Richmond Museums, Richmond, Virginia... Denison University Art Gallery, Granville, Ohio... Lehigh University Art Galleries, Bethlehem, Pennsylvania... Robert Hull Fleming Museum, University of Vermont, Burlington, Vermont... Jane Voorhees Zimmerli Art Museum, Rutgers University, New Brunswick, New Jersey... Southern Vermont Art Center, Manchester, Vermont... Walker Art Center, Minneapolis, Minnesota... (partial listing)
---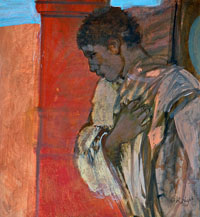 Avel de Knight 1921-1995
Portrait of Rory
Gouache on illustration board
Signed lower right; signed on verso and inscribed: "Avel de Knight/New York
Provenance: Estate of the artist
Board size: 21 x 18¾ inches
Frame size: 32 X 30½ inches
In a handcrafted frame from RG Les Cadres Gault, Paris
FC13035 $16,000
View • Print • Purchase
FLETCHER/COPENHAVER FINE ART
P.O. Box 1038, Fredericksburg, VA 22402
(540) 371-7540 Fax (540) 371-0347