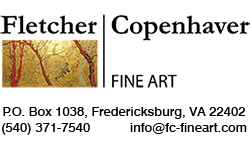 Charles Harold L MacDonald (1861 -1923)
MacDonald was born in Manitowoc, Wisconsin, and studied in Paris at the Académie Julian under Jules Joseph Lefebvre and Gustave Boulanger (1886-1887). Upon his return to the United States he settled in Washington, D.C. where, beginning in the 1880s, he was an active member of the arts community, counting among his friends many of the younger artists in the close-knit community of Washington artists. He often joined in sketching trips made by boat down the Potomac River with fellow artists Spencer and Hobart Nichols, Will Chandlee, and George Fort Gibbs.
MacDonald was an instructor at the Art Students League of Washington. He was a charter member of Society of Washington Artists and served as its first secretary-treasurer. He exhibited in its first annual exhibition in 1891 and continued to exhibit with the Society until 1919. He also exhibited with the Washington Water Color Club and took part in the earliest biennials of the Corcoran Gallery of Art. He was on the faculty of the Corcoran School of Art for many years..
One of the most sought after portraitists of his day in Washington, MacDonald received many important commissions. His portrait of William Griffith is the U. S. Capitol and his portrait of his fellow artist James H. Moser was included in the exhibition The Capital Image at the National Museum of American Art, 1983-84. His work is also represented in the National Portrait Gallery and the Historical Society of Washington, D.C..
A critic has written of MacDonald's work: "For sheer painterly dexterity and profundity of characterization, Harold L. MacDonald was unmatched among Washington portraitists of the period."
Listed: Who Was Who in American Art, Peter Hastings Falk, editor, Sound View Press, Madison, CT, 1999... McMahan, Virgil E. The Artists of Washington, D. C., 1796-1996, Washington, D. C., 1995.
---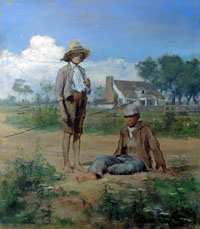 Charles Harold L MacDonald 1861 -1923
Going Fishing
Pastel
Signed, lower right: "C.H.L. MacDonald"
Provenance: Private collection, Virginia
Sheet size: 14 X 12½ inches
Frame size: 23 X 21⅛ inches
In a hand-crafted frame from RG Les Cadres Gault, Paris
FC13002 $7,500
View • Print • Purchase
FLETCHER/COPENHAVER FINE ART
P.O. Box 1038, Fredericksburg, VA 22402
(540) 371-7540 Fax (540) 371-0347