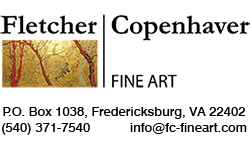 Louise (Lue) Osborne (1889-1968)
Louise (Lue) Osborne and her husband Cordray Simmons (1888-1970) began experimenting in the 1930s with various synthetic resins, laying the groundwork for the development of that most popular medium of the 20th century: acrylics. Simmons was a technical painter on the staff of the Metropolitan Museum of Art , and the first synthetic resin painting in a public exhibition was one he showed in a staff exhibition at the Metropolitan in October of 1938. Lue Osborne had the first one-man show of synthetic resin paintings the next year at the Delphic Studios in New York City. Using Vinylite and Lucite, they produced paintings which had the advantages of not fading with exposure to light, like watercolor, and of giving more luminous colors with a greater range of values, tones, and textures than did oils. In June of 1939, Art News carried an article entitled "A Successful Practitioner in a New Medium: Lue Osborne," and in that same year Simmons corresponded with Dupont about the possible inclusion of synthetic paintings in the New York World's Fair, but, alas, by the time his letter was received, the deadline for entries was already past. In 1940, Waldcraft Laboratories proposed selling a beginner's kit for painting with synthetic resins using Osborne and Simmons's formulae, but nothing came of the idea. Their failure to capitalize on their important innovation can probably be explained by the difficulty of the commercial production of resin pigments during the Second World War, and by their own lack of ambition. They both frequently expressed their contentment with a quiet and productive life. When synthetic resins under the name of "acrylics" became available to the public after the war, the contribution of Simmons and Osborne to their development was overlooked and forgotten. Recognition for their invention of a medium which has become so important to 20th century art is long overdue.
Osborne, born in Belleville, Illinois, was an accomplished artist whose first serious studies were done at the Art Institute of Chicago. On a visit to New York in 1919, she met Robert Henri, who became a personal friend and was an important influence on her work. Sometime before 1925 she moved to New York City and began to exhibit with Allied Artists of America. She married Simmons in 1929. Her work has been shown at the Metropolitan Museum of Art, National Academy of Design, Whitney Museum of American Art, Corcoran Gallery, Carnegie Institute, Detroit Institute of Arts, Cleveland Museum of Art, San Francisco Museum of Art, Dallas Museum of Fine Arts, Los Angeles County Museum of Art, and elsewhere.
Literature: Pamela Elizabeth Mayo, Cordray Simmons and Lue Osborne, Catalogue of the exhibition at the Longwood College Fine Arts Center, Farmville, Virginia, 1980, page 35 (illustrated).
---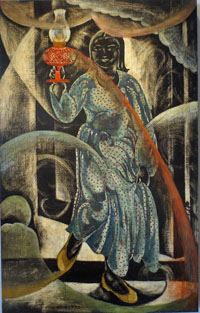 Louise (Lue) Osborne 1889-1968
Lady With A Lamp
Distemper on board
Signed, lower left:
Provenance: Estate of the artist
Board size: 38 X 24 inches:
Unframed
FC14008 $14,000
View • Print • Purchase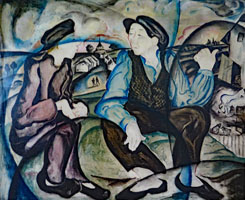 Louise (Lue) Osborne 1889-1968
Conversation
Distemper on board
Signed, lower right
Provenance: Estate of the artist; Private collection, Virginia
Board size: 30 X 36 inches
Frame size: 38⅛ X 44½ inches
In excellent condition
FC17021 $16,000
View • Print • Purchase
FLETCHER/COPENHAVER FINE ART
P.O. Box 1038, Fredericksburg, VA 22402
(540) 371-7540 Fax (540) 371-0347