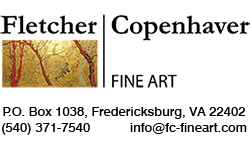 The charming and remarkable watercolors of Odilon Roche were discovered by the general public only long after his death when a sale of the works from his estate was organized and a catalogue published in Paris in 1972.
Born in Chateauneuf-sur-Loire, Roche began his career as a professional wine taster and spent the early part of his life traveling around Europe from fair to fair judging wines. Around 1900 he opened an artists' supply store in Paris that was frequented by many of the great artists of the day: Renoir, Maurice Denis, Pissarro, Steinlen, and many others. In 1905 he opened a second store which was the first in Paris to sell Chinese antiquities. It was a luxurious venue and his friends and customers included Colette, Coco Chanel, Anatole France, and the great gourmand Curnonsky. His shop was often the site of early concerts by Honegger, Auric, Casadesus, and Suget, and thus became a kind of cultural center that attracted many of the most creative artists in Paris in the first years of the 20th century.
Little is known of Roche's early artistic education, but one event in his life was of enormous influence in his formation as a watercolorist: in 1917 he helped his friend, M. Benedict, the executor of Auguste Rodin's estate, to organize the watercolors and drawings left by the great artist, a task that took a number of years and allowed Roche the leisure to familiarize himself with their style and technique. It was after this experience that he began to devote himself to the art of watercolor.
In 1931 Roche moved to Six-Fours, a Provençal seaside resort near Toulon, and dedicated himself to capturing in watercolor and for his own pleasure the scenes of beach life he found there, leaving at his death in 1947 a notable body of work. Roche was a colorful and eccentric figure and when painting on the beaches around Six-Fours, as is noted in Bénézit, "did not pass unnoticed, a truculent old man with a white beard dressed in oriental style with a sari and a turban."
---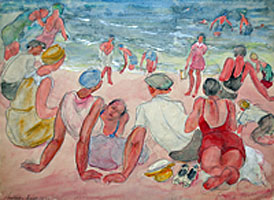 Odilon Roche 1868-1947
Sur la Plage (At the Beach)
Watercolor and graphite
Signed lower right" O. Roche" Inscribed, lower left: "Sablettes, Août 1932
Sheet size: 11 X 14¾ inches
Frame size: 20 X 23½ inches
According to the inscription, this watercolor was done on the 7th of August, 1932, at Sablettes, a popular beach in the south of France near Toulon.
FC14011 $7,900
View • Print • Purchase
FLETCHER/COPENHAVER FINE ART
P.O. Box 1038, Fredericksburg, VA 22402
(540) 371-7540 Fax (540) 371-0347