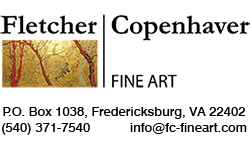 Derain, born in Chatou (Yvelines), first studied to be an engineer, but decided instead to dedicate himself totally to painting. His first teacher was a painter of Chatou, Jacomin, who had known Cézanne. In 1896 Derain went to Paris and studied at the Académie Carrière where he became friendly with Matisse. Derain teamed up with Vlaminck, also from Chatou, in 1901, and they shared a studio there. That same year, they went together to a Van Gogh exhibition which was to profoundly influence both of them. Derain's military service took him away from painting for two years, and upon his release, he went to Paris where he began his studies at the Académie Julian and to study and copy works in the Louvre. Derain soon broke with Vlaminck who termed the Louvre "the cemetery of art" and derided his friend's interest in the art of the past.
Derain spent the summer of 1905 with Matisse painting in the fishing village of Collioure, and it was there that they developed the style marked by bold colors which was shown for the first time that year at the Salon d'Automne in Paris, and dubbed by a critic: Fauve (Wild Beast).
The Fauve style, so significant in the development of early 20th Century western art, was essentially the creation of Matisse and Derain. Derain was also one of the first French artists to become interested in African art, which he introduced to Picasso, and to naïve art. He was interested in all art that had come before him, and, according to Bénézit, Derain's principal aim was to create, with his own sensibility, a synthesis of the great styles of the past.
Derain was one of the most important artists of the 20th century and his work is found in most major museum collections of 20th century art. of 2002.
---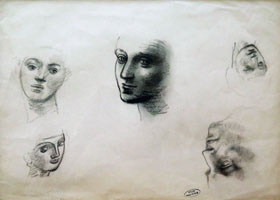 André Derain 1880-1954
Study of Five Heads
Charcoal drawing
Derain atelier stamp, lower right;
Provenance: André Derain Sale, St. Germain-en-Laye, March, 2002, Sale stamp on verso
Sheet size: 12 X 16⅜ inches
Frame size: 17 X 21½ inches
Small repairs to bottom margin. In a handcrafted frame from Les Cadres RG, Paris
FC03046 $4,500
View • Print • Purchase
FLETCHER/COPENHAVER FINE ART
P.O. Box 1038, Fredericksburg, VA 22402
(540) 371-7540 Fax (540) 371-0347