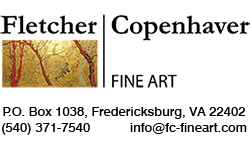 Charles Baskerville (1896-1995)
Charles Baskerville was one of the most prominent portrait painters and muralists of the 20th century. According to his obituary in The New York Times, "Mr. Baskerville could list among his subjects heads of state, captains of industry, pillars of the legal community, eminences of society and luminaries of the theater." Among the many whose portraits he painted were Mr. & Mrs. Paul Mellon, Cornelius Vanderbilt Whitney, William S. Paley, Bernard Baruch, the Duchess of Windsor, Richard Rogers, Helen Hayes, Jawaharlal Nehru and the King of Nepal.
During the Second World War Baskerville was named the official portrait painter of the Army Air Forces and, commissioned as a lieutenant colonel, he created more than 60 portraits of both officers and enlisted men that were exhibited widely and then put on permanent exhibition in the Pentagon. As a young man he traveled to the Soviet Union from whence he trekked by foot and by pony to Katmandu to paint the King of Nepal.
Baskerville was born in Raleigh, North Carolina, the son of a professor of chemistry at the University of North Carolina. He later moved to New York with his family when his father founded the department of chemistry at the City University of New York. He studied architecture at Cornell, but his studies were interrupted by the First World War. He joined the Rainbow Division (42nd) which during its time in France participated in six battles and had a casualty rate of 50%. Baskerville served as an infantry lieutenant and was awarded a silver star for gallantry.
After the war, he returned to Cornell to complete his studies and then began his highly successful career as an artist in New York City. In 1925 he was hired by the legendary editor Harold Ross to write and illustrate a nightclub column for The New Yorker under the pseudonym "Top Hat."Baskerville painted the murals in the main lounge and the ballroom of the ocean liner America,in the Wall Street Club, and the conference room of the Joint Committee on Military Affairs of the House and Senate in Washington.He had about a dozen one-man shows in New York City and his work was also exhibited at the Metropolitan Museum of Art and the Whitney Museum of American Art in New York, the National Gallery of Art and the Corcoran Gallery in Washington, the Carnegie Institute in Pittsburg and the Art Institute of Chicago.
In September of 2012, one of Baskerville's paintings, A Very Dry Martini, an oil on canvas measuring, like this one, 8 X 10 inches, sold at Sotheby's New York for $13,750 (including buyer's premium). Listed: Who Was Who in American Art, Peter Hastings Falk, editor, Sound View Press, Madison, CT, 1999.
---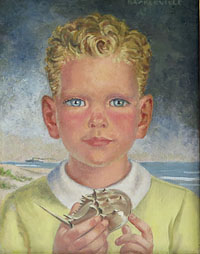 Charles Baskerville 1896-1995
Young Boy by the Sea, Holding a Horsehoe Crab
Oil on canvas
Signd, upper right
Canvas size: 10 X 8 inches
Frame size: 17½ X15¼ inches
In a handcrafted frame by RG Les Cadres Gault, Paris
FC15003 sold
View • Print • Purchase
FLETCHER/COPENHAVER FINE ART
P.O. Box 1038, Fredericksburg, VA 22402
(540) 371-7540 Fax (540) 371-0347