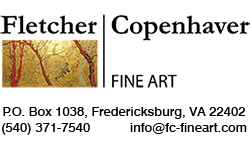 Eugéne Sévellec (Jim-E-Sévellec) (1897 - 1971)
Sévellec, was born in Camaret on the northwestern coast of France in Brittany. From an early age he frequented the artistic circle of the French Symbolist poet Saint-Pol-Roux, also a resident of Camaret, and began to do drawings of the life of the port. Saint-Pol-Roux encouraged Sévellec to go to Paris where he studied with the painter Désiré Lucas.
In 1916 his studies were interrupted when he was mobilized into the French infantry. During the First World War Sévellec served as an interpreter for American and Scottish soldiers who gave him the nickname "Jim" which he adopted for his own, usually signing his paintings "Jim E. Sévellec.
After the war Sévellec returned to Paris and began a career with the Postal Telephone and Telegraph Company laying marine cables, while continuing to paint under the influence of Désiré Lucas whom he considered his master.
By 1925, Sévellec was spending more and more time in his native Brittany and becoming well known for his depictions of Breton life, exhibiting in both Paris and Brittany. He began to provide designs for the faience manufacturer Henriot and was made a professor at the School of Fine Arts in Brest. In 1936 he was given the title of Official Painter of the French Navy.
During the Second World War Sévellec and his family left their home in Brest, vulnerable to attack as a military port, and took refuge in the small town of Landerneau. After the war, Sévellec returned to Brest where he died in 1971.
---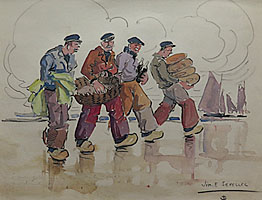 Eugéne Sévellec (Jim-E-Sévellec) 1897 - 1971
Les Pêcheurs Bretons (Breton Fishermen)
Watercolor
Signed, lower right: "Jim-E-Sévellec"
Provenance: Private collection, Paris
Sheet size: 9¾ X 12⅜ inches
Frame size: 17¼ X 19½ inches
Restored lower left corner. In a handcrafted frame from RG Les Cadres Gault, Paris
FC14066 SOLD
View • Print • Purchase
FLETCHER/COPENHAVER FINE ART
P.O. Box 1038, Fredericksburg, VA 22402
(540) 371-7540 Fax (540) 371-0347