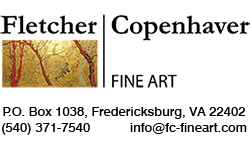 Marie Paulette Lagosse (1921-1996)
Marie Paulette Lagosse was an artist who worked in Paris in the middle of the 20th century. After the Second World War, she worked as an illustrator for a number of important Parisian magazines, including L'Equipe, Paris-Presse, and the Journal de Paris.
Lagosse frequented aristocratic circles in post-war Paris and was in demand as a painter of pet portraits, receiving commissions from the Princess Amédée de Broglie, Nathalie de Noailles, the Prince Murat, and many others. She also worked for a number of haut-couture houses, including Hermès and Bianchini-Ferier, where she designed high style fabrics and scarves.
Lagosse illustrated a number of books, and was herself the subject of a monograph by Arsène Soreil, published by the Musée Gaumais in Virton, Belgium, in 1949.
---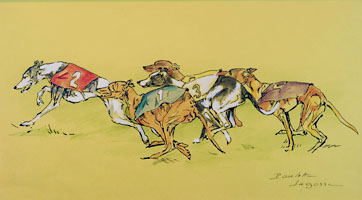 Marie Paulette Lagosse 1921-1996
Racing
Watercolor, pen & ink on yellow paper
Signed, lower right: "Paulette Lagosse"
Sheet size: 11¾ X 16½ inches
Frame size: 18½ X 25 inches
FC06062 $675
View • Print • Purchase
FLETCHER/COPENHAVER FINE ART
P.O. Box 1038, Fredericksburg, VA 22402
(540) 371-7540 Fax (540) 371-0347