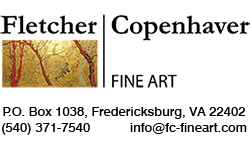 Nam (Jacques Lemann) (1891-1974)
Jacques Lehmann, who exhibited under the name "Nam," was born in Paris. At the age of nineteen, he enrolled in the École des Beaux-Arts where he studied under Gérôme and where, encouraged by this master, he first began to draw cats and other animals.
Nam exhibited in a number of Parisian Salon exhibitions, including Salon d'Automne, Salon des Artistes Animalier Français, Salon des Dessinateurs Humoristes, Salon des Artistes Décorateurs, Salon Nationale des Beaux-Arts, and Salon des Indépendants. His work was also exhibited in London at The Fine Art Society and Ferrers Gallery, and in Belgium at the Galerie des Artistes Français. From 1919 to 1964 Nam exhibited in many prominent Parisian galleries, including Galerie Reitlinger, Galerie Legoupy, Galerie Georges Petit, Galerie René Keller, Galerie Charpentier, Galerie Cambacérès, and elsewhere.
In 1912 he was named an Officer of the Académie des Beaux-Arts in Paris and in 1926 he was made a Chevalier de la Légion d'honneur. In 1925 he was awarded a gold medal at the Exposition des Arts Décoratifs, the landmark exhibition that defined and gave its name to the Art Deco movement. In 1963 Nam was awarded a Silver Medal of the City of Paris and in 1970 he won the distinguished Prix Grammont.
Nam is perhaps best remembered from his ongoing collaboration with the celebrated writer Colette. In 1912 he did the illustrations for her Sept Dialogues de Bêtes (Seven Dialogues with Animals). That marked the beginning of a long friendship with Colette. In 1935 he published the album Chats (Cats) with five texts by Colette. She has been quoted as saying: "Il n'y a pas de chats plus chats que les chats de Nam." (There are no cats that are more cat than the cats of Nam.)
The French Government and the City of Paris purchased a number of Nam's works and his large fresco entitled L'Histoire naturelle (Natural History) was commissioned by the city of Mantes, west of Paris.
---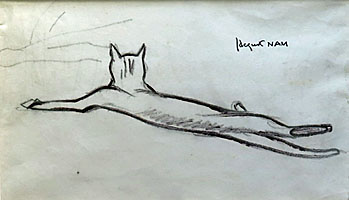 Nam (Jacques Lemann) 1891-1974
A Cat Stretching
Black crayon
Signed upper right:
Sheet size: 9 X 5½ inches
Frame size: 11 X 14½ inches
In a hand-crafted frame from RG Les Cadres Gault, Paris
FC15006 $975
View • Print • Purchase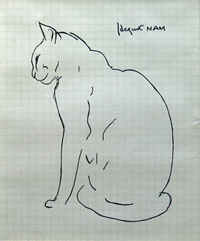 Nam (Jacques Lemann) 1891-1974
A Seated Cat
Pen & black ink on graph paper
Signed, upper right:
Sheet size: 7 X 5¾ inches
Frame size: 12½ X 11¼ inches
In a hand-crafted frame from RG Les Cadres Gault, Paris
FC15008 $975
View • Print • Purchase
FLETCHER/COPENHAVER FINE ART
P.O. Box 1038, Fredericksburg, VA 22402
(540) 371-7540 Fax (540) 371-0347