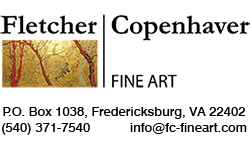 Jacques Courtade (1922-1994)
Jacques Courtade was a painter and a poet. He was one of the postwar artists in France associated with the CoBrA movement, a loose collective of artists that took its name from the cities of Copenhagen, Brussels and Amsterdam, the home cities of the founding members. Following the lead of Paul Klee, these artists looked to the spontaneity of childhood creativity to free them from the more formal strictures of earlier avant garde. movements and allow them to embrace complete freedom of form and color.
Courtade worked in Paris and served on the jury of the Salon des Indépendants until his death in 1994. He was a member of P.L.A.C.A., an association of visual artists that exhibited regularly in the Yonne department of France in the northwest corner of Burgundy, bordering the Île de France. Two of his paintings were purchased by the French Government and are in the collection of the National Center for the Visual Arts.
This striking drawing came from the collection of the French artist Julien Outin (1923-2005). Courtade was one of the artists in Outin's circle of friends in Paris after the Second World War. These included the American artists Avel de Knight (1923-1995), Ellsworth Kelly (b. 1923), and the American composer Eugene Kurtz (1923-2006).
---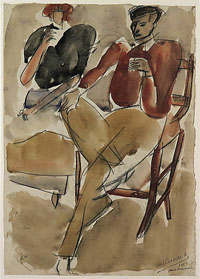 Jacques Courtade 1922-1994
"For Manuel"
Watercolor and charcoal
Signed and dated with a dedication, lower right:« J. Courtade/ 1950/pour Manuel »
Provenance: : Collection Julien Outin, Paris
Irregular sheet, approx. 18 X 12½ inches
Frame size: 24¼ X 18¾ inches
Framed using all acid-free materials and Museum Glass
FC15035 $1,200
View • Print • Purchase
FLETCHER/COPENHAVER FINE ART
P.O. Box 1038, Fredericksburg, VA 22402
(540) 371-7540 Fax (540) 371-0347