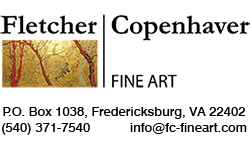 Marcel Vertès (1895-1961)
Marcel Vertès was born in Ujpest, Hungary, where he studied with the celebrated Hungarian painter Kàroly Ferenczy. In 1925, Vertès moved to Paris and first came to prominence with a successful album of lithographs titled Dancings, which captured with great flair the liberated spirit of the 1920s flappers. He became known for his drawings and lithographs, the principal subjects of which were Parisian street life and night life, fashionable women, cabarets, and the circus.
He also worked as a book illustrator and produced illustrations for works by notable French writers including Colette, Mac Orlan, Paul Morand, and Pierre Louÿs.
Like many European artists and writers, Vertès fled Europe during the Second World War and settled in New York where he soon established himself as a successful artist and illustrator.
In 1952, Vertès went to Hollywood and worked as art director on John Huston's film Moulin Rouge. He was awarded two Oscars, one for art direction and one for costume design. His hand appeared in the movie as the hand of Toulouse Lautrec drawing.
Vertès eventually returned to live in Paris and died there in October of 1961.
---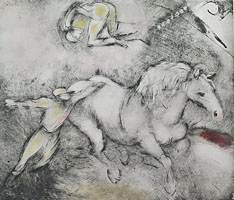 Marcel Vertès 1895-1961
Circus Act with Horses and Acrobat
Lithograph with watercolor
Sheet size: 12&frac12 X 17⅜ inches
Frame size: 17 X 18&frac34 inches
Framed with all acid-free material and Museum Glass™
FC17005 $700
View • Print • Purchase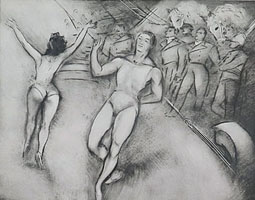 Marcel Vertès 1895-1961
Acrobats taking a Bow
Lithograph
Sheet size: 17½ X 17¾ inches
Frame size:20 X 19½ inches
Framed with all acid-free material and Museum Glass™
FC17006 $700
View • Print • Purchase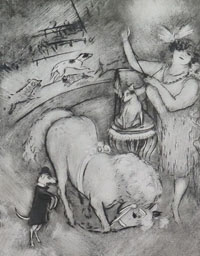 Marcel Vertès 1895-1961
Circus Act with Horse, Dogs, & Prima Donna
Lithograph
Sheet size: 17½ X 12⅜ inches
Frame size: 20½ X 16¾ inches
Framed with all acid-free material and Museum Glass™
FC17007 SOLD
View • Print • Purchase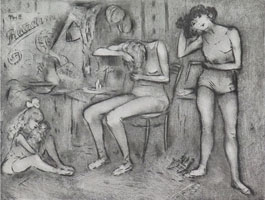 Marcel Vertès 1895-1961
Acrobats Getting Ready to Perform
Lithograph
Sheet size: 12⅜ X17⅞ inches
Frame size: 16½ X 19½ inches
Framed with all acid-free material and Museum Glass™
FC17008 $700
View • Print • Purchase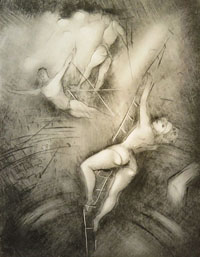 Marcel Vertès 1895-1961
Acrobats Performing Above the Ring
Lithograph
Sheet size: 17&frac12 X 12⅜ inches
Frame size: 19&frac12 X 17 inches
Framed with all acid-free material and Museum Glass™
FC17009 $700
View • Print • Purchase
FLETCHER/COPENHAVER FINE ART
P.O. Box 1038, Fredericksburg, VA 22402
(540) 371-7540 Fax (540) 371-0347