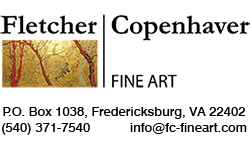 Edward Vance Warren (Born 1881)
Edward Vance Warren lived and worked in Brooklyn, New York, and is known for his urban scenes painted in the early years of the 20th century. He exhibited with the Salons of America and at the Art Institute of Chicago. His work is in the permanent collection of the Brooklyn Museum of Art.
Listed: Who Was Who in American Art, Peter Hastings Falk, editor, Sound View Press, Madison, CT, 1999.
---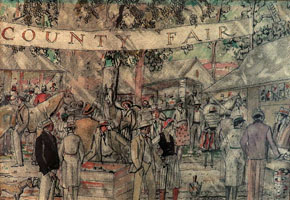 Edward Vance Warren Born 1881
The County Fair
Watercolor, pen & ink on illustration board
Signed, lower right: E. V. Warren"
Sheet size: 10 3/16 X 14 5/8 inches
Frame Size: 20 3/8 X 24 1/4inches
FC05025 $1,200
View • Print • Purchase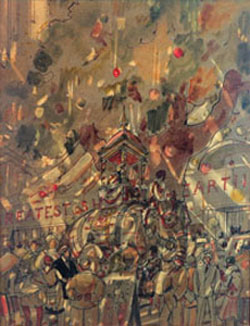 Edward Vance Warren Born 1881
The Greatest Show on earth
Watercolor, pen & ink
Signed, lower right: E. V. Warren"
Sheet size: 16 5/8 X 12 15/16 inches
Frame Size: 20 3/8 X 24 1/4 inches
FC05027 $1,200
View • Print • Purchase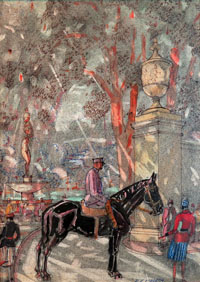 Edward Vance Warren Born 1881
A Mounted Policeman in the Park
Watercolor, pen & ink
Signed, lower right: E. V. Warren"
Sheet size: 15 X 11 inches
Frame Size: 24? X 19? inches
FC05031 $1,200
View • Print • Purchase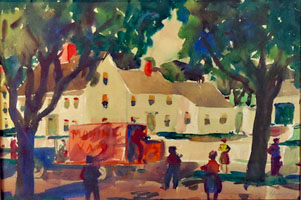 Edward Vance Warren Born 1881
Moving Day
Watercolor and pencil
Signed, lower right: E. V. Warren"
Sheet size: 14½ X 20½ inches
Frame Size: 23? X 28? inches
FC05029 $1,200
View • Print • Purchase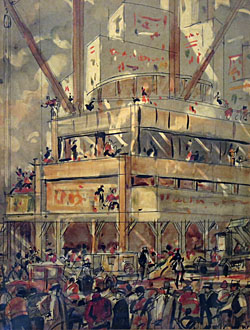 Edward Vance Warren Born 1881
Skyscraper Going Up
Watercolor, pen & ink on tracing paper laid down on illustration board
Initialed, lower right: "E. V. W."
Sheet size: 17 X 13 inches
Frame Size: 27¼ X 22?inches
FC05030 $1,200
View • Print • Purchase
FLETCHER/COPENHAVER FINE ART
P.O. Box 1038, Fredericksburg, VA 22402
(540) 371-7540 Fax (540) 371-0347