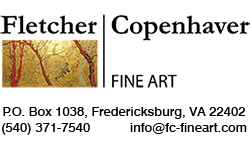 Maurice van Moppes (1904-1957)
Maurice van Moppes, born in Paris, began at a very early age to design decors for musical revues, but did not first exhibit as a painter until 1952.
He exhibited his drawings in Paris at the Salon de l'Araignée (Salon of the Spider) which was founded as a dissident and cutting edge alternative to the more conventional Salon des Humoristes and to which some of the most important artists and illustrators working in Paris contributed, including Chas Laborde, Georg Grosz, Raoul Dufy, Van Dongen, Pascin, and Chagall.
Moppes forged an international reputation by exhibiting in numerous exhibitions outside of France. He exhibited in London in 1943 and 1945, New Orleans in 1948, New York in 1949, and Philadelphia in 1954. He also contributed to the magazines Adam, Vogue, Le Figaro Littéraire, Femina in France and to a number of magazines in the United States, England and Italy. He designed sets and costumes for the Théâtre du Vieux-Colombier, Théâtre de l'Oeuvre , and the Théâtre de la Renaissance, as well as for the Bobino music hall. He also did a number of book illustrations, including those for an edition of Voltaire's Candide, and a French translation of Jerome K. Jerome's Three Men in a Boat.
Listed: E. Bénézit, Dictionnaire Critique et Documentaire des Peintres, Sculpteurs, Dessinateurs et Graveurs, Gründ, Paris, 1999.
---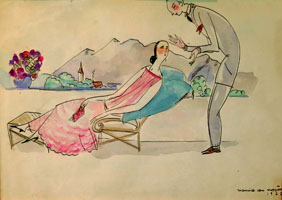 Maurice van Moppes 1904-1957
The Proposal
Watercolor, pen & ink
Signed and dated, lower right: "Maurice van Moppes/ 1922"
Sheet: 8&frac12 X 12 inches
Frame size: 17&frac34 X 20&frac34 inches
In a hand-crafted frame from RG Les Cadres Gault, Paris
FC06104 $950
View • Print • Purchase
FLETCHER/COPENHAVER FINE ART
P.O. Box 1038, Fredericksburg, VA 22402
(540) 371-7540 Fax (540) 371-0347