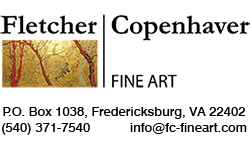 Monique Jorgensen (Early 20th Century)
Monique Jörgensen was a French artist of Danish descent who worked in Paris in the 1920s, 30s and 40s. She became very well known for her exquisitely detailed watercolors and oils of Parisian buildings, painted with a quiet palette and a dazzling technique that led the critic René Jourdain to compare her work with that of Chardin and Vermeer. Her "portraits" of buildings, he said, were marked by a singular gravity which made the houses as moving as faces.
Jörgensen published two albums of her paintings of historic buildings in Paris, both with prefaces by J. L. Vaudoyer.
She exhibited at the Galerie L'Arc-En-Ciel on the rue de Sèvres in Paris.
Listed : E. Bénézit, Dictionnaire Critique et Documentaire des Peintres, Sculpteurs, Dessinateurs et Graveurs, Gründ, Paris, 1999.
---
Monique Jorgensen Early 20th Century
L'Eglise Saint-Germain-l'Auxerrois, Paris
Color lithograph
Signed in the plate, lower right: "Monique"/ and dated, "1948"
Image size: 10¾ X 8 inches
Frame size: 19 X 15&frac3 inches
FC06162 $250
View • Print • Purchase
Monique Jorgensen Early 20th Century
L'Eglise Saint-Germain-de-Charonne
Color lithograph
Color lithograph signed in the plate, lower right, and dated: "20/3/46 (March 20, 1946)
Image size: 11 X 8 inches
Frame size: 19 X 15¾ inches
FC06163 $250
View • Print • Purchase
Monique Jorgensen Early 20th Century
A Church in Paris
Color lithograph
Signed in the plate, upper right: "Monique" and dated 1947
Image size: 11&frac14 X 7&frac34 inches
Frame size: 19&frac12 X 15&frac12 inches
FC06166 $250
View • Print • Purchase
Monique Jorgensen Early 20th Century
The Church of St. Eustache, Paris
Color lithograph
Signed in the plate, lower right: "Monique", inscribed: "St. Eustache," and dated: "1948"
Image size: 10&frac12 X 8 inches
Frame size: 19 X 15&frac34 inches
FC06168 $250
View • Print • Purchase
Monique Jorgensen Early 20th Century
A Paris Church
Color lithograph
Signed in the plate, lower left: "Monique" and dated "14/2/1952" (February 14, 1952)
Image size: 10&frac12 X 8 inches
Frame size: 19 X 15&frac34 inches
FC06169 $250
View • Print • Purchase
FLETCHER/COPENHAVER FINE ART
P.O. Box 1038, Fredericksburg, VA 22402
(540) 371-7540 Fax (540) 371-0347