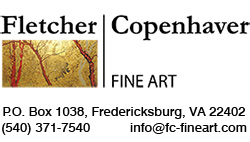 Alix Angèle Marguerite Hava, born in Marseille in 1894, studied drawing and music at the Conservatory of Toulouse. After her graduation, she moved to Paris where she became a pupil, and then a colleague, of the important Nabi painter Maurice Denis. In 1910 she collaborated with Denis on the decoration of the Théâtre des Champs-Élysées. Later she worked in the Studios of Sacred Art founded by Maurice Denis and Georges Devallières in 1919. She married in 1920 and went to Shanghai with her first husband, Professor Paul de Fautereau-Vassel, who was posted to the Franco-Chinese Mission there. In 1921, living then in Hanoi, she took part as a staff artist in several scientific expeditions to China. She became very proficient in the difficult techniques of painting on silk, painting on glass, and in the oriental art of lacquer work. She was a skilled printmaker, producing both etchings and wood engravings. She also designed a number of posters.
In 1925 she was made a professor and taught drawing at the French Lycée in Hanoi. In 1926, the artist and her husband returned to Paris where their son, Michel, was born. While in Paris, she was commissioned to do the illustrations for a French edition of Rudyard Kipling's Kim, which she did using drawings she had made on a visit to Ceylon. When Fautereau-Vassel decided to remain in France, his wife, taking her young son with her, returned to the life she had created for herself in Asia. In 1930, she had an exhibition at the Galerie Portal in Saigon, and then settled in Luang Prabang (Laos) where she became close to the ruling family and was commissioned to do a series of large murals in the Royal Palace. The murals, which depict everyday life in Laos, are considered a national treasure.
In 1931, Aymé moved back to Hanoi and was named professor at the Lycée Albert Sarraut. There she taught the ancient Vietnamese art of lacquer work which she had earlier mastered. In July of that year she returned to Paris and married Colonel Georges Aymé, who later became General Aymé, Commander of the French Army in Indochina. Maurice Denis was one of the witnesses at her marriage. Her husband's brother, Marcel Aymé, became one of the most celebrated French writers of the 20th century. She, too, wrote and published several short stories and essays.
During her years in Asia, Aymé traveled extensively in Indochina, India, and Ceylon. She also visited and painted in China, Japan, and Korea. When she returned to live in Paris in 1945, she was commissioned to do the mural decorations of a chapel in Luc-sur-Mer (Calvados). She became a close friend of, and worked with, the painter Foujita. In 1962, Aymé went to live and paint for eight months in Brazzaville in the Congo, the final journey of a life spent largely in travel, exploration, painting and drawing.
Her work is found in a number of public collections, including the Cabinet des Dessins of the Louvre and the Musée des Années Trente in Paris, the Musée des Beaux-Arts in La Rochelle, the Royal Palace in Luang Prabang, and the Evergreen Museum & Library of Johns Hopkins University in Baltimore. Her first American museum exhibition opened in March of 2012 at the Evergreen Museum & Library.
---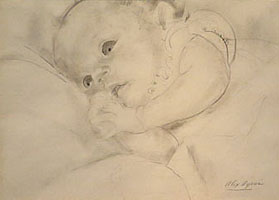 Alix Aymé 1894-1989
Study of a Baby
Charcoal drawing
Signed, lower right: Alix Aymé
Sheet size: ~6¾ X 9½
Frame size: ~13½ X 16 inches
In a hand-crafted frame from RG Les Cadres Gault, Paris
FC17022 $7,500
View • Print • Purchase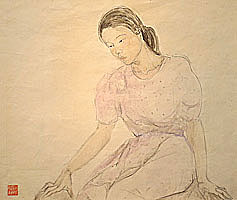 Alix Aymé 1894-1989
A Young Woman in a Lavender Dress, Kneeling
Watercolor & pencil
Estate stamp, lower left
Provenance: Estate of the artist; Private collection, Paris
Sheet size: approx 9 x 12 inches
Frame size: approx 16 x 19 inches
In a handcrafted frame from RG Les Cadres Gault,Paris
FC12097 $12,000
View • Print • Purchase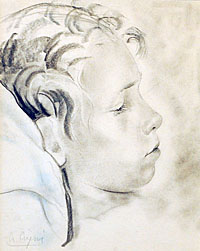 Alix Aymé 1894-1989
A Portrait of François Facing Right
Charcoal drawing
Signed, lower left: Alix Aymé
Provenance: Estate of the artist; Private collection, Paris
Sheet size: 8½ X 6¾ inches
Frame size: 14¾ X 13 inches
FC12100 $9,500
View • Print • Purchase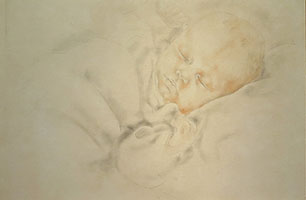 Alix Aymé 1894-1989
Sleeping Infant
Charcoal and watercolor
Unsigned
Sheet size: 9 x 13 inches
Frame size: 15 x 20 inches
In a handcrafted frame from RG Les Cadres Gault, Paris
FC17024 $7,500
View • Print • Purchase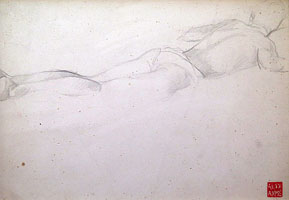 Alix Aymé 1894-1989
Reclining Male Figure, Facing Away
Charcoal drawing
Estate stamp, lower right
Provenance: Estate of the artist; Private collection, Paris
Sheet size: 6⅛ X 9⅛ inches
Frame size:12 X 14½ inches
In a hand-crafted frame from RG Les Cadres Gault, Paris
FC12102 $4,800
View • Print • Purchase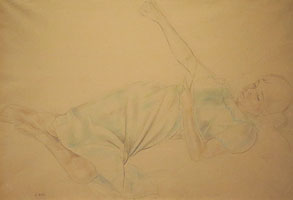 Alix Aymé 1894-1989
Young Girl Lying Down, Reading, Her Arm Outstretched
Young Girl Lying Down, Reading, Her Arm Outstretched
Signed, lower left: "A. Aymé"
Provenance: Provenance: Estate of the artist; Private collection, Paris
Sheet size: 15⅜ X 21⅞ inches
Frame size: 21¼ X 27¾ inches
In a handcrafted frame by RG Les Cadres Gault, Paris
FC14005 $12,000
View • Print • Purchase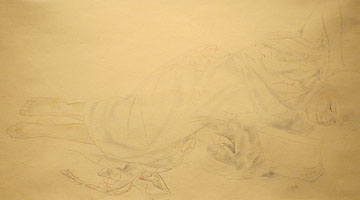 Alix Aymé 1894-1989
Young Girl Lying Down, Reading
Graphite, red chalk, and watercolor on tan wove paper
Signed, lower right: A. Ayme
Provenance: Provenance: Estate of the artist; Private collection, Paris
Sheet size: 14 X 22¾ inches
Frame size: 19¾ X 29 inches
FC14004 $12,000
View • Print • Purchase
FLETCHER/COPENHAVER FINE ART
P.O. Box 1038, Fredericksburg, VA 22402
(540) 371-7540 Fax (540) 371-0347