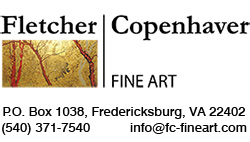 Maurice Crozet (1895-1978)
Crozet, born in Paris, studied at the École des Beaux-Arts in Geneva, and played a key role in the development of the "Art Deco" style in the late 1920s and 1930s. He was a close friend of the celebrated Deco artist Paul Poiret, and designed printed cloth and painted papers, rugs, glassware, and ceramics for the Manufacture Nationale at Sèvres. Among his more famous projects are a smoking room carpeted in tapestries made by the National Factory of Beauvais and decorative panels for a school in Bessancourt.
Crozet received a gold medal at the Exposition de France in Athens in 1928, and a bronze medal at the historic Exposition Internationale des Arts Décoratifs in Paris in 1925. From 1920 he exhibited regularly in Paris at the Salon d'Automne, Salon des Tuileries, and the Salon des Indépendants. He traveled widely and painted numerous landscapes in Morocco, Brittany, and many scenes in the beautiful ports of the Côte d'Azur, Saint-Malo, Provence, and Concarneau.
His work is found in the permanent collections of the National Museum of Modern Art, Paris, and the Municipal Museum of Modern Art, Paris, as well as in museums in Marseilles, Fez and Rabat.
---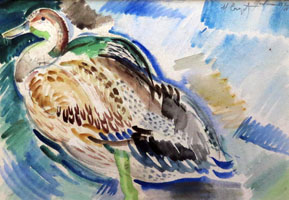 Maurice Crozet 1895-1978
A Duck Swimming
Watercolor
Signed, upper right: "M. Crozet," inscribed: "Montereau," and dated "23 Juin 28" (June 23 1928)
Sheet size: 9¼ X 13 inches
Frame size: 16⅛ X 20 inches
FC06101 $1,800
View • Print • Purchase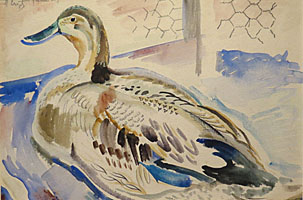 Maurice Crozet 1895-1978
A Caged Duck
Watercolor
Signed, upper left: M. Crozet," inscribed: "Montereau," and dated "23 Juin 28" (June 23 1928)
Sheet size: 9¼ X 13 inches
Frame size : 15⅝ X 19͓⅝ inches
FC06102 $1,800
View • Print • Purchase
FLETCHER/COPENHAVER FINE ART
P.O. Box 1038, Fredericksburg, VA 22402
(540) 371-7540 Fax (540) 371-0347