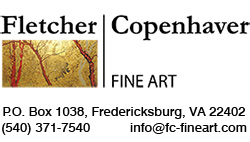 Pascin was born Julius Mordecai Pincas, son of a wealthy grain merchant in Vidlin, Bulgaria. He studied for a time in Vienna, and then went to Bucharest to work in the family business. He soon realized that he was not suited for the business world and in 1903 moved to Munich where he studied at the Moritz Heymann Art School. While living in Germany he began to contribute satirical drawings to the periodicals Jugend and Simplicissimus. His bourgeois family, shocked at this bohemian behavior, requested that he change his name and that is when Julius Pincas became Jules Pascin. In 1905 he left Munich for Paris where he found a studio in Montparnasse and began to make a name for himself. He became a well-known member of the group of artists who regularly met at the Café du Dôme and thus were called les Dômiers. His close friend, the German painter Georg Grosz, was also a member of this group. By 1913 Pascin had established himself as an important young artist and was exhibiting with much success in galleries in Paris, Berlin, and Cologne. In 1913 his work was shown at the epoch-making Armory Show in New York City. That same year he exhibited in Paris at the Salon d'Automne, Salon des Indépendants, and at the Berthe Weill Gallery.
In 1914, to avoid military service in France in the First World War, Pascin left Europe on the liner Lusitania for the United States. His work was exhibited in New York and he spent much time in Harlem where he developed a passion for jazz, spirituals, and the blues. At some point, he met the celebrated collector Dr. Barnes of Philadelphia who began to buy his work. Shortly after his arrival in America, Pascin married the French painter Hermine David. Together they spent the next six years traveling to Florida, Louisiana, North Carolina, South Carolina, Texas, and Cuba. This drawing was done somewhere in the south during their travels. In 1920, with Alfred Stieglitz and Maurice Sterne as sponsors, Pascin became an American citizen. He eventually returned to Paris where he continued to paint and draw prolifically and to exhibit his work in both New York and Europe. He also led a tempestuous private life, drank to excess, and in 1930 committed suicide.
His work is found in many major museum collections including the Museum of Modern Art, New York City; Center George Pompidou, Paris; National Gallery of Berlin; Art Institute of Chicago, to name but a few. The Fondation Dina Vierny–Musée Maillol in Paris mounted a major exhibition of his work in 2007.
---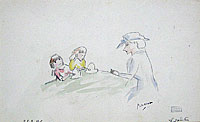 Jules Pascin 1885-1930
Le Goûter (The Snack)
Watercolor and charcoal
Signed and inscribed lower right :
Provenance: Private collection, Paris
Sheet size: 6 3/4 X 10 3/4 inches
Frame size: 13 1/4 X 17 1/4 inches
FC07069 $3,500
View • Print • Purchase
FLETCHER/COPENHAVER FINE ART
P.O. Box 1038, Fredericksburg, VA 22402
(540) 371-7540 Fax (540) 371-0347