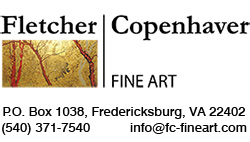 Louis Legrand (1863-1951)
Legrand was born in Dijon where he studied at the School of Fine Arts. In 1884 he went to Paris to study with Félicien Rops, the important Belgian artist who was known for his rather morbid depictions of the world of the demi-monde which Legrand was soon to explore with a lighter touch. He exhibited in Paris at the Salon of the National Society of Fine Arts, and at the Universal Exhibition of 1900 where he was awarded a silver medal. According to Bénézit, the Moulin Rouge dance hall could be considered Legrand's studio because he spent so much time there, as well as in other bars and theatres of Paris where he could study first hand the dancers, actresses, and singers who provided him with his main subjects. His more than 300 original prints of Parisian night life show his remarkable powers of observation and are executed with great skill, delicacy, and an ironic sense of humor that pervades them all.
The celebrated art publisher Gustave Pellet, who also worked with Toulouse Lautrec and other significant late 19th century French artists, was Legrand's publisher. Such was his importance that his stamp and initials often appeared in the margin of Legrand's prints together with the artist's signature.
In 2006, a major exhibition of the graphic work of Legrand was held at the Félicien Rops Museum in Namur, Belgium. The exhibition was also the occasion of the publication of the catalogue Raisonné of the artist's graphic work by the scholar and collector Victor Arwas.
---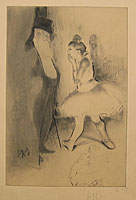 Louis Legrand 1863-1951
Incognito (Arwas 360)
Etching, aquatint and drypoint
Signed in pencil, lower right; signed in the plate, lower left
Plate size: 16 3/4 X 11 1/4 inches; Sheet size 22 3/4 X 15 9/16 inches
Frame size: 28 ¾ X 22 ¼ inches
5th state of 8; from rare edition of 30 proofs on Japan paper 27/30
FC07097 $2,800
View • Print • Purchase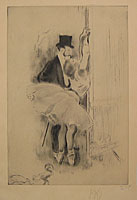 Louis Legrand 1863-1951
Petite Marcheuse (The Flirt) (Arwas 361)
Etching, aquatint and drypoint
signed in pencil, lower right; signed in the plate, lower left
Plate size: 16 3/4 X 11 1/4 inches; Sheet size 22 3/4 X 15 9/16 inches
Frame size: 28 ¾ X 22 ¼ inches
5th state of 8; from rare edition of 30 proofs on Japan paper 27/30
FC07098 $2,800
View • Print • Purchase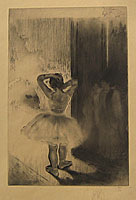 Louis Legrand 1863-1951
Entrée de Scène (Stage Entrance)
Etching, aquatint and drypoint
Signed in pencil by the artist and numbered 27 of 30
Sheet size: 22 3/4 X 15 9/16; Plate 16 1/2 X 11 1/8 inches
Frame size: 29 1/2 X 23 1/4 inches
4th state of 6; From the rare edition of 30 proofs on Japan, 27 of 30
FC08058 $2,800
View • Print • Purchase
FLETCHER/COPENHAVER FINE ART
P.O. Box 1038, Fredericksburg, VA 22402
(540) 371-7540 Fax (540) 371-0347