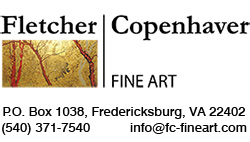 Salomon-Léon Sarluis, known as Léonard Sarluis (1874-1949)
Sarluis, born in the Hague, studied there at the École des Beaux-Arts before moving to Paris in 1884, at the age of twenty. His given name was Salomon-Léon, but he took the name of Léonard as homage to the great da Vinci. According to Bénézit, he was soon a well-known figure on the Boulevards of Paris. He was the protégé of both the French novelist Élémir Bourges and the great French Symbolist painter, Armand Point, who described him as having "a juvenile and androgynous beauty, a living Giotto…with the smile of da Vinci, the eyes of Lady Ligeia (from the short story by Poe), the neck of Dante Gabriel Rossetti, and the talent of Michelangelo." The Symbolist novelist and poet, Jean Lorrain, was also one of his great admirers. Sarluis traveled to Naples, and then Russia. In Paris he exhibited at the Salon de la Rose Croix and the Salon des Artistes Français, and at a number of Parisian galleries. He also exhibited in London where his work was praised by Oscar Wilde.
Working under the influence of Point, Sarluis combined a technique inspired by the Old Masters with a style that was sensual and very modern. He liked to work on a grand scale, and his monumental Nero, exhibited at the Galerie Georges Petit in Paris, was greatly admired by Puvis de Chavannes. In 1919 the Galerie Bernheim gave him a one-man show. In 1923, he illustrated Gaston Pavloski's Voyage to the Land of the Fourth Dimension, a work which is said to have been a major inspiration for Marcel Duchamp's masterpiece: The Bride Stripped Bare by Her Bachelors, now in the Philadelphia Museum of Art. Sarluis worked for a number of years on 360 paintings which he called A Mystical Interpretation of the Bible. They were shown at the Grafton Galleries in London in 1926.
In this allegorical depiction of Pomona, the Roman goddess of fruits and orchards, Sarluis has presented us with a divinity, semi-draped and holding in her right hand an apple over her heart. The mysterious atmosphere of the background calls to mind the strange imagery of the Swiss Symbolist painter, Arnold Böcklin, who was no doubt an influence on Sarluis's work.
---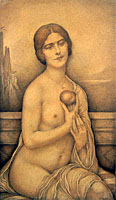 Salomon-Léon Sarluis, known as Léonard Sarluis 1874-1949
An Allegory of Pomona
Lead pencil and red chalk, highlights in white chalk
Signed, lower right;
Sheet size: 23 3/8 X 13 1/2 inches
Frame size: 32 1/2 X 24 1/4 inches
FC08057 $12,000
View • Print • Purchase
FLETCHER/COPENHAVER FINE ART
P.O. Box 1038, Fredericksburg, VA 22402
(540) 371-7540 Fax (540) 371-0347