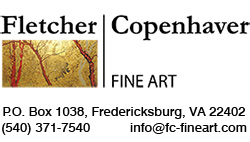 Béraud, born in Saint Petersburg, Russia, was the son of a sculptor also named Jean. It is believed that Jean Sr. was working on the Cathedral of St. Isaac in St. Petersburg when his son was born. When his father died, the family returned to Paris and Jean enrolled at the Lycée Bonaparte. He went on to study law but his studies were ended by the Commune uprising in Paris in 1870. When peace returned, Béraud enrolled in the atelier of Léon Bonnat. He first exhibited in the Paris Salon in 1872 or 1873. Influenced by the Impressionists, especially his friend Manet, Béraud became known for his depiction of scenes of Parisian daily life during the Belle Époque. He sometimes painted characters from the Bible in a contemporary setting which caused controversy.
Béraud was a founding member of the Société Nationale des Beaux Arts and exhibited with this group from 1910 to 1929. He was elected to the membership of the Salon des Artistes Français and was awarded a gold medal in their exhibition of 1889. He also won a gold medal in the historic Exposition Universelle in 1889. In 1894 he was awarded the coveted Légion d'honneur. Works by Béraud are found in many major museum collections, including the Metropolitan Museum of Art in New York, The Musée d'Orsay in Paris, the National Gallery in London, the Cleveland Museum of Art, and museums in Lille, Tours, and Troyes in France, and in Liège in Belgium.
An oral tradition, that may or may not be true, holds that this drawing depicts workmen at the Palais Garnier, which was finished to become the lavish opera house of Paris in 1874.
---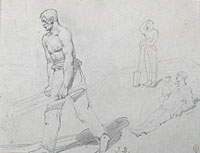 Jean Béraud 1849-1936
Workers, Working and Resting
Pencil drawing
Initialed, lower center:
Provenance: Unidentified collector's mark, lower right
Sheet size: 5 1/2 X 7 3/8 inches
Frame size: 13 X 15 inches
In a handcrafted frame from Les Cadres RG, Paris
FC08068 $1,800
View • Print • Purchase
FLETCHER/COPENHAVER FINE ART
P.O. Box 1038, Fredericksburg, VA 22402
(540) 371-7540 Fax (540) 371-0347