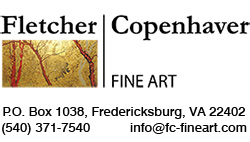 Derek Fowler, born in London, was a precocious artist who exhibited at the prestigious New Burlington Galleries in London before his twentieth birthday. His early schooling was at the Highgate School, and in 1937 he began his serious study of art at the Westminster School of Art. Two years later, when England went to war, Fowler enlisted and was sent to India and Burma. For the next five years he served with the rank of captain in a camouflage and intelligence unit of the British Army. In 1941 he sailed to India on the troop transport HMS City of London, the same ship on which he returned to England in 1945.
While he served his country abroad, Fowler continued to polish his skills as an artist and produced a series of beautiful drawings of everyday life in the army, drawings which capture the poignancy and immediacy of quiet moments in barracks, camps, and clubs.
After the war, Fowler attended the Royal College of Art from which he graduated in 1949. An important career as a portrait painter followed, his sitters including such eminent figures as Prime Minister Clement Atlee and Chancellor of the Exchequer Selwyn Lloyd. He first exhibited at the Royal Academy in 1951, and also participated in exhibitions of the Royal Society of Portrait Painters, Royal Society of British Artists, Royal Scottish Academy, and the national society.
Fowler was a gifted teacher and for over twenty years was Head of Art for the City of London School. After his death in 1990, a memorial exhibition of his work was held at the Mall Galleries in London, opened by the British actress Susannah York.
His work was exhibited at service exhibitions in India and also at the Army Arts Society Exhibition at the Imperial Institute Gallery in London. Twenty-seven of Fowler's wartime drawings are in the collection of the Imperial War Museum in London. The drawings by Fowler in this collection are from his estate and were purchased directly from his widow, Jo Fowler. Photographs of them are in the Fowler Archive at the Imperial War Museum in London. Some were featured in the 2000 online exhibition: Quiet Moments of War Portraits by Fowler are found in the Williamson Art Gallery and Museum, London Borough of Sutton Museum, and the Collection of the City of London Corporation.
---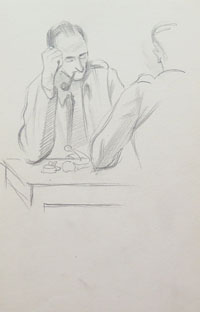 Derek Fowler 1919-1990
Pondering
Pencil drawing
Provenance: Provenance: Estate of the artist, acquired from Jo Fowler, the artist's widow
Sheet size: 7&frac12 X 4&frac34 inches
Frame size: 12&frac14 X 9&frac14 inches
FC16034 $875
View • Print • Purchase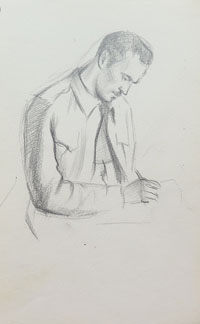 Derek Fowler 1919-1990
Seated, Writing
Pencil drawing
Provenance: Provenance: Estate of the artist, acquired from Jo Fowler, the artist's widow
Sheet size: 7½ X 4¾
Frame size: 12⅛ X9¼
FC16035 $875
View • Print • Purchase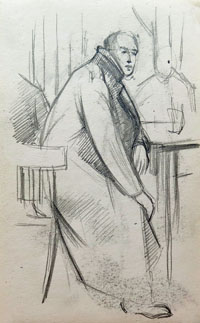 Derek Fowler 1919-1990
Seated, Wearing a Greatcoat
Pencil drawing
Provenance: Provenance: Estate of the artist, acquired from Jo Fowler, the artist's widow
Sheet size: 7&frac12 X 4¾ inches
Frame size: 12 X 9½ inches
FC16036 $875
View • Print • Purchase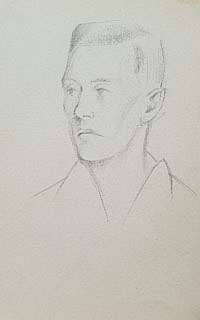 Derek Fowler 1919-1990
Portrait of a Soldier
Pencil drawing
Provenance: Provenance: Estate of the artist, acquired from Jo Fowler, the artist's widow
Sheet size: 7&frac12 X 4&frac34 inches
Frame size: 12 X 9&frac14 inches
FC16037 $875
View • Print • Purchase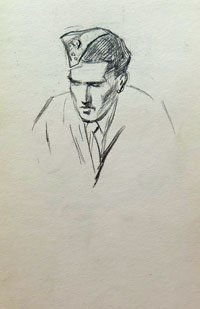 Derek Fowler 1919-1990
Soldier with a Cap
Pencil drawing
Provenance: Provenance: Estate of the artist, acquired from Jo Fowler, the artist's widow
Sheet size: 7&frac12 X 4&frac34 inches
Frame size: 12 X 9&frac14 inches
FC16038 $875
View • Print • Purchase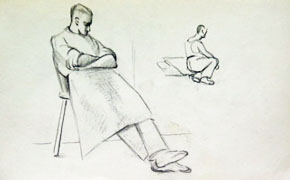 Derek Fowler 1919-1990
Two Soldiers, Seated
Pencil drawing
Provenance: Provenance: Estate of the artist, acquired from Jo Fowler, the artist's widow
Sheet size: 4&frac34 X 7&frac12 inches
Frame size: 9⅜ X 12&frac14 inches
FC16039 $875
View • Print • Purchase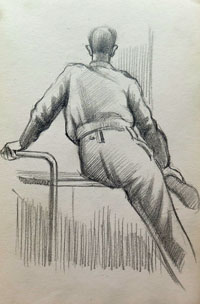 Derek Fowler 1919-1990
Seated Soldier, Rear View
Pencil drawing
Provenance: Provenance: Estate of the artist, acquired from Jo Fowler, the artist's widow
Sheet size: 7&frac12 X 4&frac34 inches
Frame size: 12 X 9&frac14 inches
FC16040 $875
View • Print • Purchase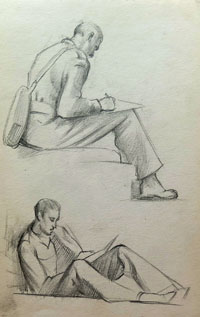 Derek Fowler 1919-1990
Soldiers Seated, Writing
Pencil drawing
Provenance: Provenance: Estate of the artist, acquired from Jo Fowler, the artist's widow
Sheet size: 7½ X 4¾ inches
Frame size:12 X 9¼ inches
FC16041 $875
View • Print • Purchase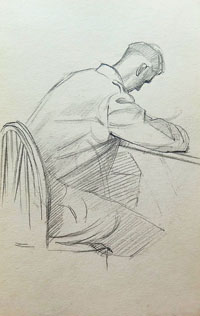 Derek Fowler 1919-1990
Soldier Seated at a Desk, Writing
Pencil drawing
Provenance: Provenance: Estate of the artist, acquired from Jo Fowler, the artist's widow
Sheet size: 7½ X 4¾ inches
Framed size: 12 X 9⅛ inches
FC16042 $875
View • Print • Purchase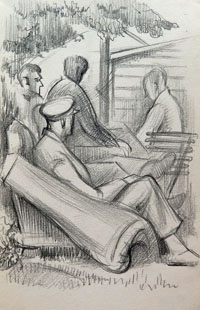 Derek Fowler 1919-1990
A Group of Soldiers, Sitting Outside the Barracks
Pencil drawing
Provenance: Provenance: Estate of the artist, acquired from Jo Fowler, the artist's widow
Sheet size: 7&frac12 X 4&frac34 inches
Frame size: 12 X 9&frac14 inches
FC16043 $875
View • Print • Purchase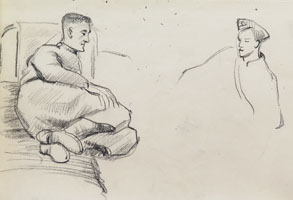 Derek Fowler 1919-1990
A Soldier in Bed; Study of a Soldier's Head
Pencil drawing
Provenance: Provenance: Estate of the artist, acquired from Jo Fowler, the artist's widow
Sheet size: 5 X 8 inches
Frame size: 9⅛ X 11⅞ inches
FC16045 $875
View • Print • Purchase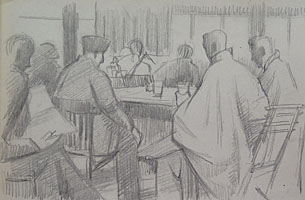 Derek Fowler 1919-1990
Soldiers at the Club
Pencil drawing
Provenance: Provenance: Estate of the artist, acquired from Jo Fowler, the artist's widow
Sheet size: 5 X 8 inches
Frame size: 9&frac12 X 11 ⅞
FC16046 $875
View • Print • Purchase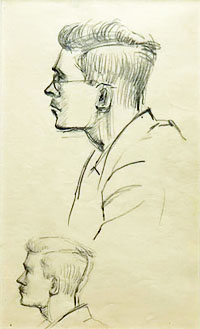 Derek Fowler 1919-1990
Studies of Soldiers' Heads
Pencil drawing
Provenance: Provenance: Estate of the artist, acquired from Jo Fowler, the artist's widow
Sheet size: 8 X 5 inches
Frame size: 12&frac14 X 9⅛ inches
FC16048 $875
View • Print • Purchase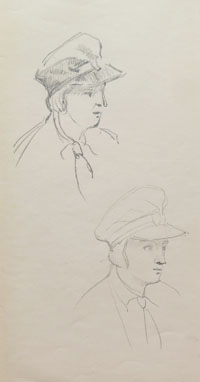 Derek Fowler 1919-1990
Studies of Nurses Wearing Caps
Pencil drawing
Provenance: Provenance: Estate of the artist, acquired from Jo Fowler, the artist's widow
Sheet size: 8 X 5 inches
Frame size: 12 X 9&frac14 inches
FC16049 $875
View • Print • Purchase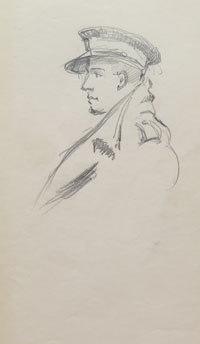 Derek Fowler 1919-1990
A Soldier Wearing a Cap & Coat
Pencil drawing
Provenance: Provenance: Estate of the artist, acquired from Jo Fowler, the artist's widow
Sheet size: 8 X 5 inches
Frame size: 11&frac34 X9 inches
FC16050 $875
View • Print • Purchase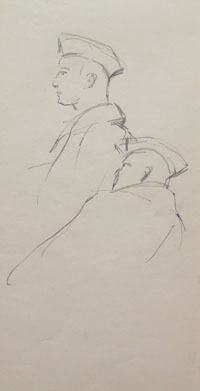 Derek Fowler 1919-1990
Studies of Two Soldiers
Pencil drawing
Provenance: Provenance: Estate of the artist, acquired from Jo Fowler, the artist's widow
Sheet size: 5 X 8 inches
Frame size: 12 X 9 inches
FC16051 $875
View • Print • Purchase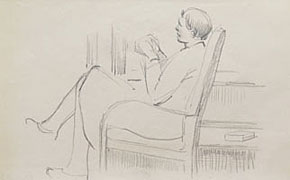 Derek Fowler 1919-1990
A Seated Woman, Knitting
Pencil drawing
Provenance: Provenance: Estate of the artist, acquired from Jo Fowler, the artist's widow
Sheet size: 5 X 8 inches
Frame size: 9&frac14 X 12 inches
FC16052 $875
View • Print • Purchase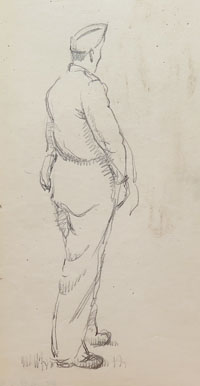 Derek Fowler 1919-1990
A Standing Soldier Wearing a Cap, Rear View
Pencil drawing
Provenance: Provenance: Estate of the artist, acquired from Jo Fowler, the artist's widow
Sheet size: 8 X 5 inches
Frame size: 12&frac12 X 9⅛ inches
FC16053 $875
View • Print • Purchase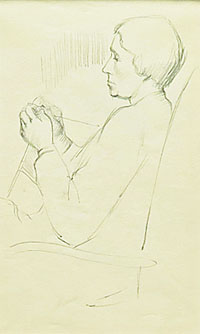 Derek Fowler 1919-1990
A Woman Knitting
Pencil drawing
Provenance: Provenance: Estate of the artist, acquired from Jo Fowler, the artist's widow
Sheet size: 8 X 5 inches
Frame size: 12 X 9&frac14 inches
FC16054 $875
View • Print • Purchase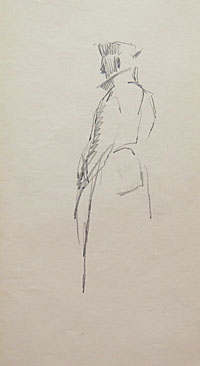 Derek Fowler 1919-1990
A Soldier Wearing a Cap & Coat, Rear View
Pencil drawing
Provenance: Provenance: Estate of the artist, acquired from Jo Fowler, the artist's widow
Sheet size: 8 X 5 Inches
Frame size: 12 X 9&frac14 inches
FC16055 $875
View • Print • Purchase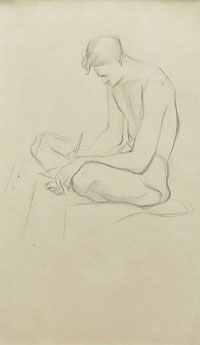 Derek Fowler 1919-1990
A Soldier Seated, Writing
Pencil drawing
Provenance: Provenance: Estate of the artist, acquired from Jo Fowler, the artist's widow
Sheet size: 8½ X 5¼ inches
Frame size: 13 X 9⅝ inches
FC16056 $875
View • Print • Purchase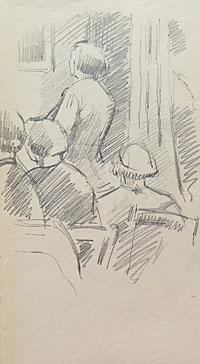 Derek Fowler 1919-1990
Nurses at a Briefing
Pencil drawing
Provenance: Provenance: Estate of the artist, acquired from Jo Fowler, the artist's widow
Sheet size: 8 X 5 inches
Frame size: 12 X 9&frac14 inches
FC16060 $875
View • Print • Purchase
Derek Fowler 1919-1990
Man Wearing a Cap, Rear View
Pencil drawing
Provenance: Provenance: Estate of the artist, acquired from Jo Fowler, the artist's widow
Sheet size: 8 X 5 inches
Frame size: 12&frac12 X 9⅛ inches
FC16061 $875
View • Print • Purchase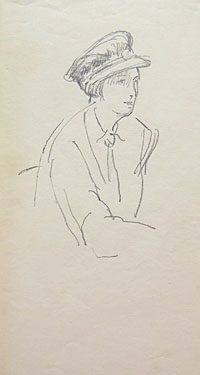 Derek Fowler 1919-1990
Study of a WAAF
Pencil drawing
Provenance: Provenance: Estate of the artist, acquired from Jo Fowler, the artist's widow
Sheet size: 8 X 5 inches
Frame size: 12 X 9&frac14 inches
(A member of the Women's Auxiliary Air Forces)
FC16062 $875
View • Print • Purchase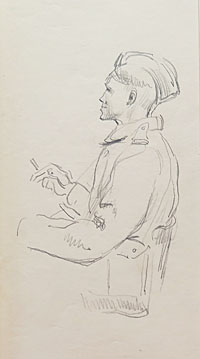 Derek Fowler 1919-1990
A Soldier Smoking
Pencil drawing
Provenance: Provenance: Estate of the artist, acquired from Jo Fowler, the artist's widow
Sheet size: 8 X 5 inches
Frame size: 12 X 9&frac14 inches
FC16063 $875
View • Print • Purchase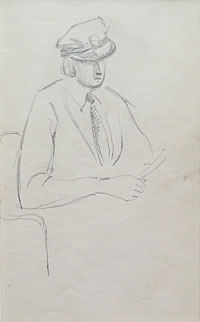 Derek Fowler 1919-1990
A WAAF Reading
Pencil drawing
Provenance: Estate of the artist, acquired from the artist's widow, Jo Fowler
Sheet size: 5 X 8 inches
Frame size: 12 X 9¼ inches
FC16064 $875
View • Print • Purchase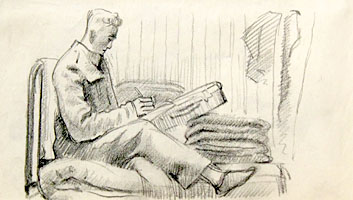 Derek Fowler 1919-1990
In Bed, Writing a Letter
Charcoal drawing
Provenance: Estate of the artist, acquired from Jo Fowler, the artist's widow.
Sheet size: 4 5/8 X 8 inches
Frame size: 9 3/8 X 12 5/8 inches
FC11015 $875
View • Print • Purchase
Derek Fowler 1919-1990
Taking a Nap
Charcoal drawing
Provenance: Estate of the artist, acquired from Jo Fowler, the artist's widow.
Sheet size: 4 5/8 X 8 inches
Frame size: 9 3/8 X 12 5/8 inches
FC11017 $875
View • Print • Purchase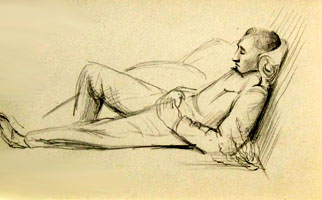 Derek Fowler 1919-1990
Propped Up Asleep
Pencil drawing
Provenance: Estate of the artist, acquired from Jo Fowler, the artist's widow.
Sheet size: 4 5/8 X 71/2 inches
Frame size: 9 3/8 X 12 1/8 inches
FC11019 $875
View • Print • Purchase
Derek Fowler 1919-1990
Asleep with a Book
Charcoal drawing
Provenance: Estate of the artist, acquired from Jo Fowler, the artist's widow.
Sheet size: 9 X 6 3/4 inches
Frame size: 11 1/8 X 13 5/8 inches
FC11028 $875
View • Print • Purchase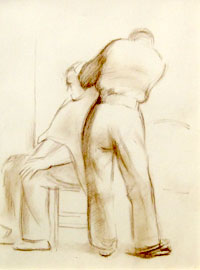 Derek Fowler 1919-1990
The Haircut
Brown crayon drawing
Provenance: Estate of the artist, acquired from Jo Fowler, the artist's widow.
Sheet size: 9 X 6 3/4 inches
Frame size: 13 1/8 X 11 1/8 inches
FC11030 $875
View • Print • Purchase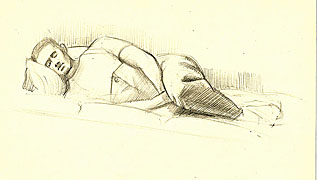 Derek Fowler 1919-1990
Asleep With His Hands Between His Legs
Pencil drawing
Provenance: Provenance: estate of the artist, acquired from Jo Fowler, the artist's widow
Sheet size: 7 X 9 inches
Frame size: 9 X 13⅜ inches
FC12035 $875
View • Print • Purchase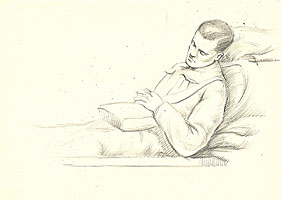 Derek Fowler 1919-1990
Napping, Propped Up
Pencil drawing
Provenance: Provenance: Estate of the artist, acquired from Jo Fowler, the artist's widow
Sheet size: 7 X 9 inches
Frame size: 11 X 13 ½ inches
FC12036 SOLD
View • Print • Purchase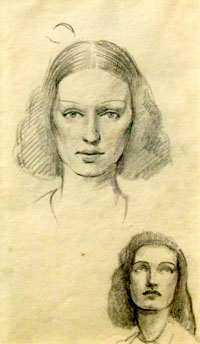 Derek Fowler 1919-1990
A Study of Two Women's Heads
Pencil drawing
Provenance: Estate of the artist, acquired from Jo Fowler, the artist's widow.
Sheet size: 8 X 4 5/8 inches
Frame size: 12 1/8 X 9 1/8 inches
FC11018 $875
View • Print • Purchase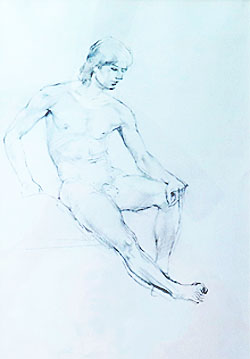 Derek Fowler 1919-1990
Study for a Seated Male Nude
Pencil drawing
Provenance: Provenance: Estate of the artist
Sheet size: 15&frac12 X 11&frac14 inches
Frame size: 23&frac34X 19⅝ inches
FC97158 $875
View • Print • Purchase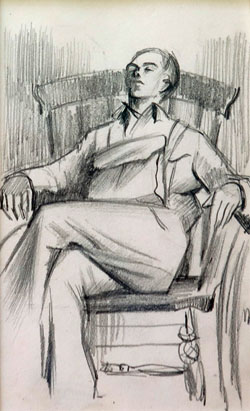 Derek Fowler 1919-1990
Asleep in a Chair
Pencil drawing
Provenance: Provenance: Estate of the artist, acquired from Jo Fowler, the artist's widow
Sheet size: 7⅜ X 4⅞ inches
Frame size: 12 X 9&frac12 inches
Framed using all acid-free materials and Museum Glass™ to protect the drawing from the harmful effects of light.
FC12029 $875
View • Print • Purchase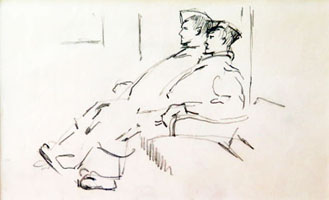 Derek Fowler 1919-1990
Soldiers Lounging Around
Pencil drawing
Provenance: Provenance: Estate of the artist, acquired from Jo Fowler, the artist's widow
Sheet size: 7⅜ X 4⅞inches
Frame size: 9⅜ X 12 inches
Framed using all acid-free materials and Museum Glass™ to protect the drawing from the harmful effects of light.
FC16047 $875
View • Print • Purchase
FLETCHER/COPENHAVER FINE ART
P.O. Box 1038, Fredericksburg, VA 22402
(540) 371-7540 Fax (540) 371-0347