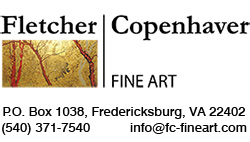 Simka Simkhovitch (1893-1949)
Simkhovitch, born near Kiev in the Ukraine, studied at an art school in Odessa and later at the Academy of Fine Arts in St. Petersburg. He won First Prize in the first exhibition of Soviet art after the Russian Revolution. In 1924 he went to live in America where he exhibited at the Marie Sterner Gallery in New York and was closely associated with the Whitney Museum of American Art.
He received commissions from the Federal Arts Project of the Works Progress Administration and painted murals for the Federal Court House in Jackson, MS and the U. S. Post Office in Beaufort, NC. For many years, he worked in and around Greenwich, Connecticut. In February, 1949, while moving with his family into a new house and studio in Milford, Connecticut, he contracted pneumonia and died at the age of 55. The Whitney Museum planned a memorial exhibition of his work, but his widow was too grief-stricken to work with the curators and the exhibition was cancelled.
Simkhovitch's work is found in many important private and public collections, including: Bruce Museum, Greenwich, Connecticut... Hermitage Museum, St. Petersburg, Russia... Cracow Art Museum, Poland... Whitney Museum of American Art, New York... Wichita Art Museum, Kansas... Worcester Art Museum, Worcester, Massachusetts... Mitchell Wolfson Collection, Florida... Mrs. Charles Payson, New York... Upjohn Collection... Winthrop Collection, New York... Keith Kissee Collection, Richmond, Virginia... Greenville Museum of Art, South Carolina... (partial list)
Selected list of gallery and museum exhibitions: Carnegie International, Pittsburgh, 1933-1945... National Academy of Design, New York, 1926, 42, 46, 48... Corcoran Biennial, Washington, D. C., 1935-1947... Art Institute of Chicago, 1932-1945... Metropolitan Museum of Art, New York, 1940, 42... Whitney Museum of American Art, New York (numerous exhibitions... New York World's Fair, 1939
Awards: White Harris Bronze Medal, Art Institute of Chicago, 1932... Purchase Prize, Worcester Art Museum, 1933... U.S. Government Mural Competition for Federal Courthouse, Jackson, Mississippi, 1936... U.S. Government Mural Competition for Beaufort North Carolina,Post Office, 1938... First National Lithographic Competition, Associated American Artists, 1946...
---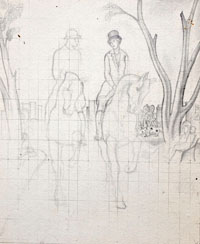 Simka Simkhovitch 1893-1949
Horseback Riders in Central Park
Pencil drawing, squared for transfer
Provenance: Estate of the artist
Sheet size: 12⅝ 10⅜ inches
Frame size: 15¼ X 13⅝ inches
FC12082 $2,100
View • Print • Purchase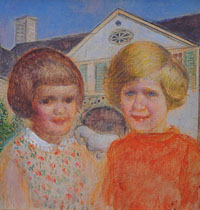 Simka Simkhovitch 1893-1949
Two Children, a Horse, a House
Oil & pencil
Sheet size: 5⅞ X 5 ¾ inches
Frame size: 11 ¾ X 11½ inches
In a handcrafted frame from RG Les Cadres Gault, Paris
FC12078 $2,100
View • Print • Purchase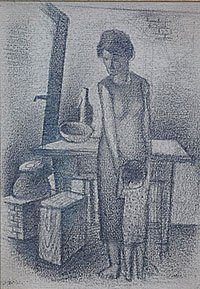 Simka Simkhovitch 1893-1949
Interior with Standing Woman & Child
Charcoal and pencil drawing
Sheet size: 8? X 5?
Frame size; 14&FRAC34 x 12½
In a handcrafted frame from RG Les Cadres Gault, Paris
FC12079 $1,900
View • Print • Purchase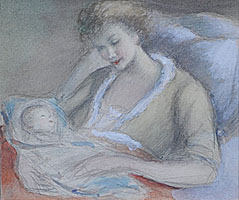 Simka Simkhovitch 1893-1949
Mother & Child
Watercolor & gouache
Sheet size:5 1/6 X 6 inches
Frame size: 11 5/8 X 12 1/2 inches
In a handcrafted frame from RG Les Cadres Gault, Paris
FC12077 $2,100
View • Print • Purchase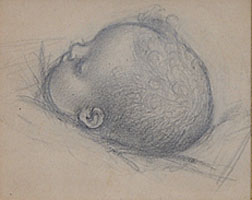 Simka Simkhovitch 1893-1949
Study of the Head of a Child
Pencil drawing
Sheet size: 2½ X 3 inches
Frame size: 8¾ X8⅞
In a handcrafted frame by RG Les Cadres Gault, Paris
FC12081 $1,900
View • Print • Purchase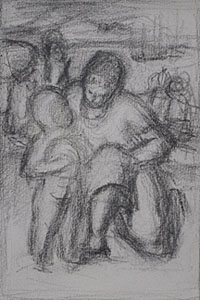 Simka Simkhovitch 1893-1949
Kneeling Woman with a Child on the Beach
Charcoal drawing
Sheet size: 7⅜ X 6 inches
Frame size: 12¾ X 11 inches
In a handcrafted frame from RG Les Cadres Gault, Paris
FC12083 $1,900
View • Print • Purchase
FLETCHER/COPENHAVER FINE ART
P.O. Box 1038, Fredericksburg, VA 22402
(540) 371-7540 Fax (540) 371-0347