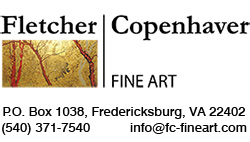 Raphael Soyer (1899-1897)
Raphael Soyer and his twin brother Moses are considered two of the most important American figurative artists of the 20th century. They were born on Christmas Day, 1899, in Borisglebsk, Russia. They immigrated with their family to the United States in 1912, eventually settling in New York City. Raphael studied at the Cooper Union Art School, National Academy of Design, and at the Art Students League with G. P. Dubois. Although the two brothers kept their careers quite separate, they painted similar subjects in similar styles. During the Great Depression, both brothers were commissioned to paint a number of murals for the W. P. A. Raphael was also a prolific printmaker and left a large body of etchings and lithographs.
His work is found in a number of important public collections including: Metropolitan Museum of Art, New York... Museum of Modern Art, New York... Whitney Museum of American Art, New York... Smithsonian Museum of American Art, Washington, D.C.... Phillips Collection, Washington, D.C.... Hirshhorn Museum, Washington, D.C.... National Portrait Gallery, Washington, D.C.... (partial listing)
This watercolor by Raphael Soyer was done on one of his trips to Europe in the 1960s. It depicts the equestrian statue of Marcus Aurelius, the last of the five great emperors who reigned during the Golden Age of the Roman Empire. The statue, which dates from 175 A. D., was saved from destruction during the Christianization of Rome because it was mistakenly thought to be of the Christian Emperor Constantine.
---
Raphael Soyer 1899-1897
The Equestrian Statue of Emperor Marcus Aurelius on the Piazza del Campidoglio, Rome
Watercolor
Signed, lower right: "Raphael Soyer," and Inscribed: "campi'd'olio" (sic)
Provenance: Private collection, New Jersey
Sheet size: 10⅝X 8 inches
Frame size: 19¾ X 16½ inches
FC01078 $2,800
View • Print • Purchase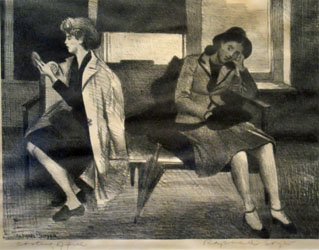 Raphael Soyer 1899-1897
The Casting Office
Lithograph, Cole 65
Signed in the plate, lower left Signed in pencil by the artist, lower right Titled in pencil by the artist, lower left
Image size: 9¾ X 12¾ inches
Frame size: 17 X19½
Margins trimmed. From an edition of 250 commissioned by Associated American Artists.
FC08084 $475
View • Print • Purchase
FLETCHER/COPENHAVER FINE ART
P.O. Box 1038, Fredericksburg, VA 22402
(540) 371-7540 Fax (540) 371-0347