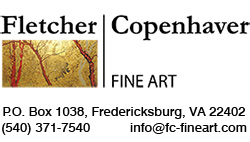 Philip Dolan (Active 1867-1877)
Dolan, a painter who worked in London in the second half of the 19th century, possessed a superb technique which he used to great effect, especially in watercolor. He was known for his still lifes of fruit and flowers, as well as for rustic genre scenes. He exhibited at the Royal Academy, Society of British Artists, Suffolk Street Gallery, and elsewhere.
Listed:E. Bénézit, Dictionnaire Critique et Documentaire des Peintres, Sculpteurs, Dessinateurs et Graveurs, Gründ, Paris, 1999.
Wood, Christopher, The Dictionary of Victorian Painters (Second Edition)Antique Collectors' Club, Woodbridge (Suffolk), 1981.
---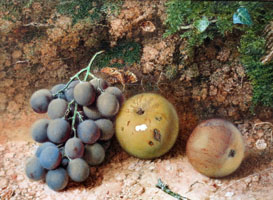 Philip Dolan Active 1867-1877
Still Life with Grapes and Apples
Watercolor and gouache
Signed, lower right:
Provenance: Private collection, Richmond, Virginia
Sheet size: Approx 8½ X 11½ inches
Frame size: 16½ X 19⅜ inches
FCC1301 $1,800
View • Print • Purchase
FLETCHER/COPENHAVER FINE ART
P.O. Box 1038, Fredericksburg, VA 22402
(540) 371-7540 Fax (540) 371-0347