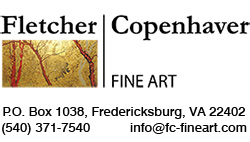 Michel Simonidy (1870-1933)
Simonidy was born in Bucharest, Romania, but studied and worked in France. He was a pupil of Léon Bonnat, Fernand Humbert and Gabriel Ferrier. Simonidy was known as a painter of historical scenes, figures, nudes, landscapes, still lifes, and marine views. He worked in oil, pastel, watercolor, and gouache. He was also an illustrator. He exhibited in the Salon des Artistes Français in Paris. Simonidy won an Honorable Mention in the Universal Exposition of 1899 and a Silver Medal in 1900. He was made a Knight of the Legion of Honor in 1901.
His work is found in the permanent collection of the Bucharest Museum (The Pinacoteca).
Listed: E. Bénézit, Dictionnaire Critique et Documentaire des Peintres, Sculpteurs, Dessinateurs et Graveurs, Gründ, Paris, 1999.
---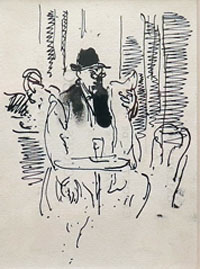 Michel Simonidy 1870-1933
A Man in a Café
Pen and ink
Estate stamp on verso
Sheet size: 5¼ X 4? inches
Frame size: 13¾ X 1i? inches
(Drawn on the verso of a card from the Durand-Ruel Gallery in Paris announcing an exhibition of the works of Georges Gobó)
FC05101 $125
View • Print • Purchase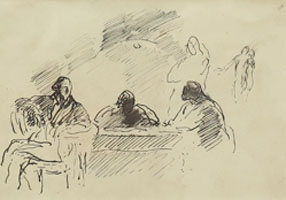 Michel Simonidy 1870-1933
Café Scene
Pen & ink drawing
Estate stamp on verso
Sheet size: 4½ X 5½ inches
Frame size: 13¾ X 12¼ inches
FC05102 $125
View • Print • Purchase
FLETCHER/COPENHAVER FINE ART
P.O. Box 1038, Fredericksburg, VA 22402
(540) 371-7540 Fax (540) 371-0347