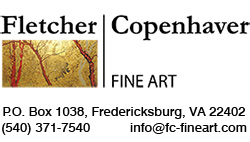 Julien Outin, a painter and printmaker, was born in the picturesque village of Landernau in the department of Finistère in Brittany. He went to study in Paris as a young man and lived and worked there for the rest of his life.
His work was included in the 1992 exhibition at the Bibliothèque Nationale in Paris: De Bonnard à Baselitz - Dix ans d'enrichessements du Cabinet des Estampes, 1978-1988 (From Bonnard to Baselitz - Ten Years of Enrichment of The Print Room). His work is also in the permanent collection of the Bibliothèque Nationale.
In 1970, the French publisher Fayard brought out Ouvrages de Dames (Women's Work), a humorous collection of collages/pen & ink drawings by Outin.
After the Second World War, Outin was part of a circle of young artists, many American, including Ellsworth Kelly (b.1923) and Avel DeKnight (1921-1995), who were in Paris studying under the G. I. Bill. His long-time companion was the American composer of contemporary classical music, Eugene Kurtz (1923-2006).
Outin was also a friend of the artist Boris Taslitzsky (1911-2005) who is remembered for 111 drawings done at the Buchenwald Concentration Camp, smuggled out of the camp, and published in an album in 1946. Fletcher/Copenhaver Fine Art purchased one of the original Buchenwald drawings from the Outin estate and donated it to the United States Holocaust Memorial Museum in Washington, D. C. in 2009.
---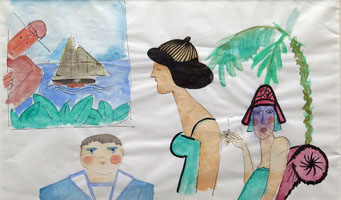 Julien Outin 1923-2005
Interior with Figures & a Window
Watercolor, pen & ink
Provenance: Private collection, Paris
Sheet size: 6½ X 10½ inches
Frame size: 11¼ X 15&frac14inches
FC16028 $275
View • Print • Purchase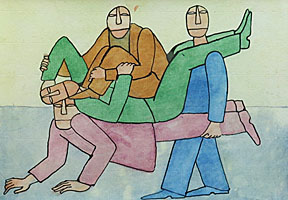 Julien Outin 1923-2005
A Gathering of Friends
Watercolor, pen & black ink
Provenance: Private Collection, Paris
Sheet size: 7 X 9? inches
Frame size: 12¾ X 15½ inches
In a handcrafted frame from RG Les Cadres Gault, Paris
FC15015 $275
View • Print • Purchase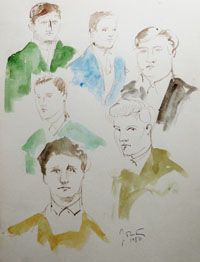 Julien Outin 1923-2005
Six Head Studies
Watercolor & charcoal
Signed & dated, lower right: "J. Outin, 1980
Provenance: Provenance: Private collection, Paris
Sheet size: 11¾ X 8? inches
Frame size: 17? X 14½ inches
In a handcrafted fraem from RG Les Cadres Gault,Paris
FC14038 $275
View • Print • Purchase
FLETCHER/COPENHAVER FINE ART
P.O. Box 1038, Fredericksburg, VA 22402
(540) 371-7540 Fax (540) 371-0347