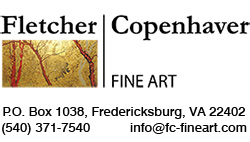 Hippolyte Romain (b.1947)
Hippolyte Romain was born in Montmartre and when he was very young went to work in a delicatessen. He was a naturally gifted draftsman and soon began to sell his drawings in the streets of Montmartre where, discovered by an editor of Vanity Fair, he was commissioned to do a series of illustrations of fashion shows in Milan. This was the beginning of a very successful career as illustrator and artist, developing his own satirical style, in the tradition of the great French satirical artists Honoré Daumier and Chas Laborde.
He has illustrated many books and written a few on the subjects of fashion, travel and the art of living. He is an authority on the social history of France in the 18th century and also spends part of each year in China. Together with a group of friends, he founded a theatrical troupe named "Le Petit Cirque Élégant" (the Elegant Little Circus). His son, Yann Romain, is a fashion photographer who has collaborated with his father on a number of projects, including the travel book Tibet Style (Flammarion, Paris, 2006), a celebration of Tibetan culture.
---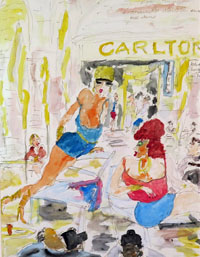 Hippolyte Romain b.1947
Starlets at the Cannes Film Festival
Watercolor, pen & ink
Signed, upper right, and dated "87" (1987)
Sheet size: 16 X 12 inches
Frame size: 21½ X 17½ inches
Framed using all acid-free materials and Museum Glass
FC15031 $1,200
View • Print • Purchase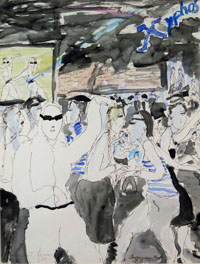 Hippolyte Romain b.1947
Le Disco.
Watercolor, pen & ink
Signed, lower left and dated "86" (1986)
Sheet size: 16 X 12 inches
Frame size: 21&frac12X 17½ inches
Framed using all acid-free materials and Museum Glass
FC15032 $1,200
View • Print • Purchase
FLETCHER/COPENHAVER FINE ART
P.O. Box 1038, Fredericksburg, VA 22402
(540) 371-7540 Fax (540) 371-0347