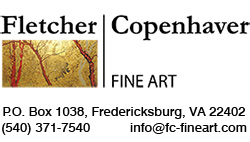 Marcel Gromaire (1892-1973)
Gromaire, a post-Cubist painter, watercolorist, and printmaker associated with the Social Realist movement of the early 20th century, was born in the north of France. He served in the French Army during the First World War and was wounded in the Battle of the Somme. After the war, he went to Paris intending to study law, but soon abandoned it to study art. He studied at the Académie Ranson, Académie Colarossi, and Académie de la Palette, but developed his individual style by studying independently the varied developments in modern art in Paris in the first part of the 20th century.
Gromaire was named a professor at the École des Arts Décoratifs in Paris and exhibited frequently in group exhibitions such as the Salon d'Automne and the Salon des Indépendants.
He also had many one-man shows. Exhibitions of his work were held in Paris in 1921, 1923, 1924 and 1930, and there was a retrospective of his work at the Kunstmuseum in Basel, Switzer-land in 1933. Hommage à Gromaire was held at the Maison de la Peinture in Paris in 1957. He also was given retrospectives at the Musée de l'Art Moderne in Paris in 1963 and 1980. Gromaire was responsible for the decoration of the façade of the Sevres Pavilion at the Exposition Universelle of 1937.
Gromaire lived for a time in the United States and won both the Carnegie Prize in 1952, and the Guggenheim Prize in 1956. He eventually returned to France and in In 1954, he was made commander of the Légion d'honneur and in 1958 was awarded the Grand Prix National des Arts.
Works by Gromaire are in the Museum of Modern Art and Carnavalet Museum in Paris, and in the Legion of Honor Museum in San Francisco.
---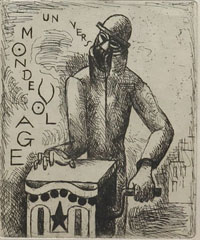 Marcel Gromaire 1892-1973
Plate I
Etching for Vers Un Monde Volage (Toward an Uncertain World), 1926
Sheet size: 11⅜ X9⅜inches
Frame size: 13 X 11¾ inches
Framed with all acid-free materials and Museum Glass™
FC17012 $600
View • Print • Purchase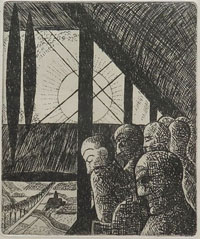 Marcel Gromaire 1892-1973
Plate 2
Etching from Vers Un Monde Volage (Toward an Uncertain World), 1926
Sheet size: 11⅜ X 9½ inches
Frame size: 13 X 11¾ inches
Framed with all acid-free materials and Museum Glass™
FC17013 $600
View • Print • Purchase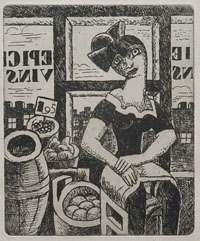 Marcel Gromaire 1892-1973
Plate 3
Etching for Vers Un Monde Volage (Toward an Uncertain World), 1926
Sheet size: 11&frac12 X9&frac12 inches
Frame size: 13 X 11&frac34 inches
Framed with all acid-free materials and Museum Glass™
FC17014 $600
View • Print • Purchase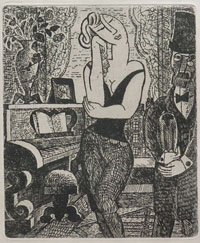 Marcel Gromaire 1892-1973
Plate 4
Etching for Vers Un Monde Volage (Toward an Uncertain World), 1926
Sheet size: 11? X 9½ inches
Frame size: 13 X 11? inches
Framed with all acid-free materials and Museum Glass™
FC17015 SOLD
View • Print • Purchase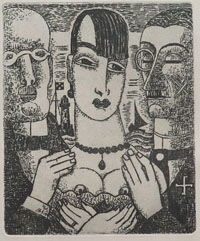 Marcel Gromaire 1892-1973
Plate 5
Etching for Vers Un Monde Volage (Toward an Uncertain World), 1926
Sheet size: 11½ X 9½ inches
Frame size: 13 X 11½ inches
Framed with all acid-free materials and Museum Glass™
FC17016 SOLD
View • Print • Purchase
Marcel Gromaire 1892-1973
Plate 6
Etching for Vers Un Monde Volage (Toward an Uncertain World), 1926
Sheet size: 11⅜ X9½ inches
Frame size: 13 X 11¾ inches
Framed with all acid-free materials and Museum Glass™
FC17017 $600
View • Print • Purchase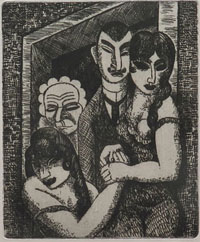 Marcel Gromaire 1892-1973
Plate 7
Etching for Vers Un Monde Volage (Toward an Uncertain World), 1926
Sheet size: 11&frac12 X 9&frac12 inches
Frame size: 13 X 11&frac34 inches
Framed with all acid-free materials and Museum Glass™
FC17018 $600
View • Print • Purchase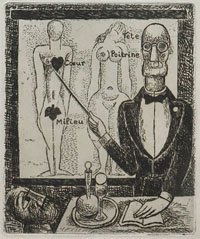 Marcel Gromaire 1892-1973
Plate 8
Etching for Vers Un Monde Volage (Toward an Uncertain World), 1926
Sheet size: 11? X 9½ inches
Frame size: 12¾ X 11½ inches
Framed with all acid-free materials and Museum Glass™
FC17019 SOLD
View • Print • Purchase
FLETCHER/COPENHAVER FINE ART
P.O. Box 1038, Fredericksburg, VA 22402
(540) 371-7540 Fax (540) 371-0347