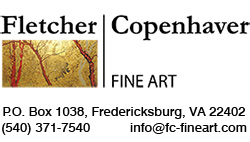 Dorothy Hepworth (1898-1978)
This drawing is by Dorothy Hepworth, the companion of Patricia Preece (Lady Spencer), who was the second wife of the British artist Stanley Spencer, and lived with Hepworth for most of her life. They met when both were students of Roger Fry at the Slade School in 1917, and shortly thereafter set up in a studio on Gower Street in London. They spent some time in Paris studying with André Lhôte, then returned to England where Hepworth's family provided a cottage for them, Moor Hatch, at Cookham, where Preece became acquainted with Spencer.
According to Spencer's biographer, Kenneth Pople: "The set-up at Moor Thatch provoked village curiosity. Dorothy in particular kept herself very much to herself, and regarded it as Patricia's function in the partnership to socialize. Dorothy was the better painter, an accomplished portraitist and miniaturist. But she would sign her work only reluctantly. Whenever the pair got work into an exhibition, Dorothy's paintings would be submitted with Patricia's under Patricia's name. It is apparent that Moor Thatch was a joint Preece-Hepworth painting factory. Patricia's assiduous cultivation of Roger Fry during 1932 had brought her to the attention of Augustus John, Helen Anrep, Clive and Vanessa Bell. Their consideration was more of her plight than her art, but Duncan Grant promoted her, and Virginia Woolf and Kenneth Clark bought her work."
The story of Preece's stormy relationship with Spencer is told in much detail in Pople's biography (Stanley Spencer, HarperCollins, London, 1996). Preece/Hepworth's paintings were shown at the Reid and Lefevre Gallery in London in 1936, with a catalogue introduction written by Duncan Grant. Another show of their work, again under only Preece's name, was arranged at the Leger Galleries in London in 1938 with a catalogue prepared by Clive Bell.
---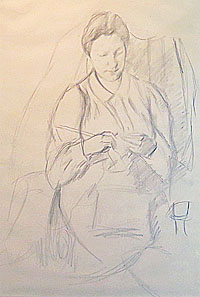 Dorothy Hepworth 1898-1978
A Woman Knitting
Pencil drawing
Provenance: Provenance: Studio sale of Patricia Preece/Dorothy Hepworth, Christie's, 2/4/84
Sheet size: 21 X 15 inches
Frame size: 29 X 23 inches
FC97163 $900
View • Print • Purchase
FLETCHER/COPENHAVER FINE ART
P.O. Box 1038, Fredericksburg, VA 22402
(540) 371-7540 Fax (540) 371-0347