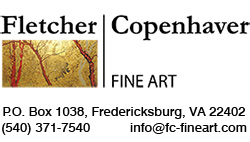 Georges Manzana-Pissarro (1871-1961)
Georges Henri Manzana was the second son of Camille Pissarro, and studied with his father. His formative years were spent surrounded by the Impressionist painters who were friends of his father, and he learned much from them. He produced an early series of brilliant caricatures of family members and of the friends, many of them artists, who were visitors in Louveciennes, Pontoise, and Eragny. In later years, he was also influenced by Gauguin and by oriental art.
He was a gifted designer of decorative objects in the Art Nouveau style. He often exhibited in Paris at the Salon des Indépendants where he showed landscapes. He was also well known for his watercolors which were often enhanced by the use of gold and silver in decorative motifs. In 1972, a retrospective of his work was held by the Museum of Andelys.
Listed: Bénézit, Dictionnaire des Peintres, Sculpteurs, Dessinateurs et Graveurs, Gründ, Paris (1999).
---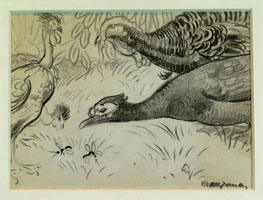 Georges Manzana-Pissarro 1871-1961
Turkeys and Insects
Pencil drawing
Signed, lower left: "Manzana"
Sheet Size: 4&frac14 X 5&frac12 inches
Frame size: 9&frac12 X10&frac34 inches
FC99189 $875
View • Print • Purchase
FLETCHER/COPENHAVER FINE ART
P.O. Box 1038, Fredericksburg, VA 22402
(540) 371-7540 Fax (540) 371-0347