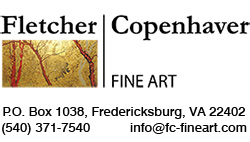 Armand Berton (1854-1927)
Berton was born in Paris and studied first at the École des Arts Décoratifs (School of Decorative Arts). Later he continued his study at the École des Beaux-Arts (School of Fine Arts), working under the direction of Edmond Yon and Alexandre Cabanel. Afflicted at an early age with total deafness, he gave up formal studies and completed his artistic education on his own, frequenting the great museums of Paris and studying the work of the masters he found there.
He first exhibited in the Paris Salon exhibition of 1875. Between 1910 and 1921 he exhibited in the Salon de la Société des Beaux Arts of which he had been elected a member in 1892. In 1900 he was awarded a Gold Medal at the Salon des Artistes Français. That same year he was made a Knight of the Légion d'honneur.
Berton was known as skillful figure artist, and was especially famous for his depiction of women. He was also an excellent draughtsman and printmaker.
His work is found in Luxembourg Museum in Paris, as well as in museums in Bayeux, Douai, Mulhouse, and Rouen.
Drawing using trois crayons, a mixture of red, black and white chalks, has been put to superb use in France since the technique was popularized by Watteau early in the 18th century. Armand Berton is working in the same tradition with this beautifully executed drawing of a female nude, a subject for which he was well-known.
---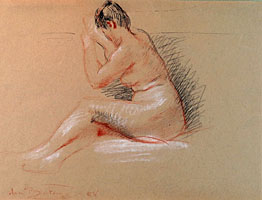 Armand Berton 1854-1927
Reclining Female Nude
Red, black, and white chalk drawing on tan wove paper
Signed and dated in red chalk, lower left: "Arm. Berton/ 88"
Provenance: Provenance: Paul Prouté, Paris
Sheet size: 10&frac34 X 13&frac12 inches
Frame size: 17 X 19&frac14 inches
Framed using Museum Glass © and all acid-free materials
FC99214 $2,200
View • Print • Purchase
FLETCHER/COPENHAVER FINE ART
P.O. Box 1038, Fredericksburg, VA 22402
(540) 371-7540 Fax (540) 371-0347