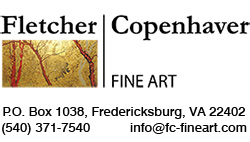 Victor-Joseph Roux-Champion (1871-1953)
Roux-Champoux was born in Chaumont in the Haut-Morne, studied in Paris at the Académie Colarossi and under Bouguereau at the Académie Julian. From 1892 to 1895, he studied in the studio of Gustave Moreau at the École des Beaux-Arts. It was there that he formed a friendship with Henri Matisse, who became an important influence on his work. He lived for a time in Pont-Aven, and later worked with Matisse in Belle-Île.
He exhibited in Paris at the Salon d'Automne, Salon des Indépendants, Salon des Arts Décoratifs and at the Musée Galliera. He had his first one-man show in Paris in 1897
His work is found in the Musée d'Art Moderne, Musée Rodin, and the Musée Carnavalet in Paris and in many regional museums in France.
E. Bénézit, Dictionnaire Critique et Documentaire des Peintres, Sculpteurs, Dessinateurs et Graveurs, Gründ, Paris, 1999.
---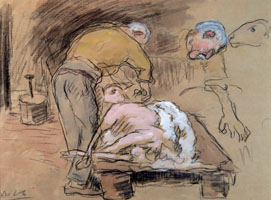 Victor-Joseph Roux-Champion 1871-1953
Sheep Shearing
Watercolor, gouache, and charcoal
Monogram, lower left
Sheet size: 8 X 12 inches
Frame size: 12 X 16 inches
FC01020 $975
View • Print • Purchase
FLETCHER/COPENHAVER FINE ART
P.O. Box 1038, Fredericksburg, VA 22402
(540) 371-7540 Fax (540) 371-0347