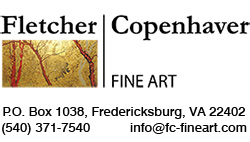 Doris Spiegel (1901- 1996)
Doris Spiegel was born in New York City in June of 1901 (Who Was Who in American Art erroneously gives her birth date as 1907). She was one of five children and attended New York City public schools. She learned shorthand, an asset that helped her find employment at the publishing house of Alfred Knopf where, as secretary to Mrs. Knopf, one of the company's vice-presidents, she spent most of her time sending rejection letters to aspiring authors. Her artistic career began when she began doodling on envelopes while waiting for phone calls to be put through. It was in 1926 that she discovered her artistic talent and, developing her own style of expression, began to do drawings of people she encountered. "I truly learned to draw in the subway," she once remarked, the place where she most often observed and sketched.
In summer of 1926, Doris accompanied Mrs. Knopf on a trip to Europe. In Paris she met the Russian figurative artist Polia Chentoff who recognized her talent and gave her encouragement. When she returned to New York, she enrolled in evening sessions at the Art Students' League where her instructor was Kimon Nicolaides. In 1928 Spiegel won a Guggenheim Foundation award of $2500 which she used for a second trip to Paris. She lived in France for the next two and a half years. In 1933 Oxford University Press published her Paris drawings in a volume entitled Paris To The Life with text by French author Paul Morand. The book was one of seventeen volumes featured in The Illustrated Book Show in New York that year. It was also named as one of the "Fifty Books of the Year" by the New York Public Library in 1934.
After the success of her book, Spiegel was able to support herself as a free-lance artist in a studio on 15th Street, near Union Square. She began selling her illustrations to such publications as The New Yorker, The Forum, and The Saturday Review. She also became an accomplished printmaker producing numerous drypoints and engravings. Her work was exhibited at the Upstairs Gallery in New York, the International Print Show of the Art Institute of Chicago, the Society of American Etchers, the Philadelphia Art Alliance, National Academy of Design, and the Library of Congress.
In the early 1950s, she married the artist Jerome Rozen and they moved to New Jersey where they lived until his death in 1989, after which she moved to Bon Air, Virginia, where she died at the age of ninety-five.
---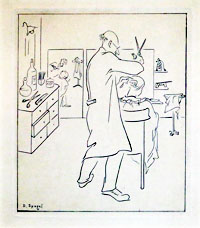 Doris Spiegel 1901- 1996
Chez le Coiffeur
Etching
Signed in the plate, lower left
Provenance: Estate of the artist
Sheet size: 10 X 8 inches
Frame size: 16 X 14 inches
From a probable edition of 100
FC96034 $325
View • Print • Purchase
Doris Spiegel 1901- 1996
Beach Scene
Charcoal drawing
Signed, lower right: "D. Spiegel"
Provenance: Estate of the artist
Sheet size: 9¼ X 14 inches
Frame size: 14¾ X 19¼ inches
FC10063 $225
View • Print • Purchase
FLETCHER/COPENHAVER FINE ART
P.O. Box 1038, Fredericksburg, VA 22402
(540) 371-7540 Fax (540) 371-0347