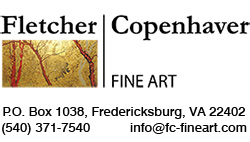 Attributed to Hugh Newell (1830-1915)
Hugh Newell, known as a painter of genre, of which our painting is a good example, and also of portraits, was born near Belfast, Ireland. He studied at the Royal Academy of Fine Arts in Belgium, in Paris with Thomas Couture, and at the South Kensington Museum School in London. Emigrating to the United States in 1851, he first lived in Baltimore, Maryland, where he exhibited at the Maryland Historical Society from 1853 to 1858. Around 1860, he moved to Pittsburgh where he was named principal of the Women's School of Design. He returned to Baltimore in 1879 and remained there until 1892. He served as the head of the Maryland Institute of Art & Design and was a professor of drawing at Johns Hopkins University. He later lived for a time in Wilkinsburg, Pennsylvania. In 1903, he moved to Bloomfield, New Jersey where he lived for the rest of his life.
Newell, a member of the American Watercolor Society, also exhibited with the Washington Art Association (1857), National Academy of Design (1858-1891), Pennsylvania Academy of the Fine Arts ((1860-1880), Brooklyn Art Association (1876-1884), Boston Art Club (1881-1886), and at the Art Institute of Chicago (1910-1914).
His works are found in the collection of the Peabody Institute in Baltimore and the Shelburne Museum in Vermont.
Listed: E. Bénézit, Dictionnaire Critique et Documentaire des Peintres, Sculpteurs, Dessinateurs et Graveurs, Gründ, Paris, 1999.
---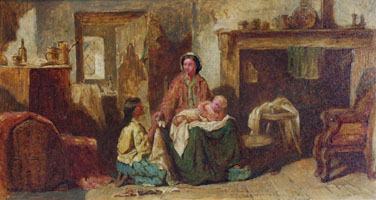 Attributed to Hugh Newell 1830-1915
An Interior Scene
Oil on panel
Inscription in pen & ink on verso: "An interior/Hugh Newell
Panel size: 6 X 10 inches
Frame size: 15&frac14 X 19 inches
FC02021 $650
View • Print • Purchase
FLETCHER/COPENHAVER FINE ART
P.O. Box 1038, Fredericksburg, VA 22402
(540) 371-7540 Fax (540) 371-0347