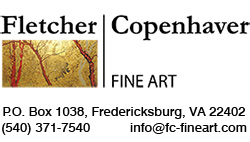 Emile Louis Thivier (1858-1922)
Thivier, born in Paris, studied with Isidore Pils, Karl Lehmann and Desiré Laugée. He first exhibited in the Salon des Artistes Français in 1880 and in 1887 he was elected to the membership of the Artistes Français. He was awarded medals and prizes in exhibitions in 1892, 1896, 1900 (Exposition Universelle), and 1901. In 1896 he exhibited an important history painting "Les Mercenaires au defilé de la Hache" which was purchased by the French government for the museum of Rouen. Early in his career he became known as an important history painter and was also a much sought after portraitist. During the last twenty years of his life he dedicated himself to landscape painting and produced many scenes with shepherdesses and sheep.
Listed: Bénézit, Dictionnaire des Peintres, Sculpteurs, Dessinateurs et Graveurs, Gründ, Paris, 1999.
---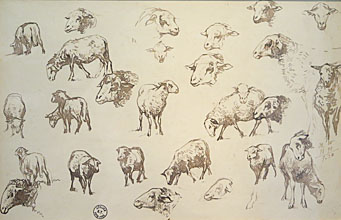 Emile Louis Thivier 1858-1922
Studies of Sheep
Pen and brown ink
Studio estate stamp, lower left
Provenance: Provenance: Estate of the artist
Sheet size: 9 X 13&frac14 inches
Frame size: 17 X 21 inches
FC05153 $675
View • Print • Purchase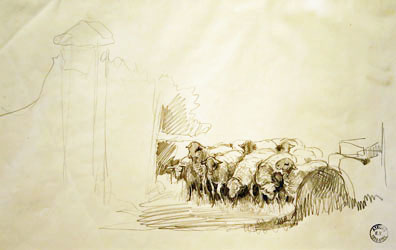 Emile Louis Thivier 1858-1922
A Flock of Sheep at a Gate
Pencil drawing
Studio estate stamp, lower right
Sheet size: 7&frac34 X 12&frac14 inches
Frame size: 17&frac12 X 21&frac14 inches
FC99107 $675
View • Print • Purchase
FLETCHER/COPENHAVER FINE ART
P.O. Box 1038, Fredericksburg, VA 22402
(540) 371-7540 Fax (540) 371-0347