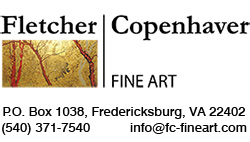 Henry Scott Tuke (1858-1929)
Tuke, born in York, studied at the Slade School in London and later in Florence (1880) and Paris under J. P. Laurens (1881-83). On his return to England, he settled in Cornwall which was already a center for French-style plein-air painting. He first lived in Newlyn and was one of the founders of what is called "the Newlyn School." Later he moved to Falmouth. His works often reflected his love and knowledge of the sea. According to Christopher Wood, "His style, bold and realistic, was much admired for its feeling of sea and sunlight and is well-suited to his themes of rugged life on the Cornish coast.
Tuke was a prolific painter. He first exhibited at the Royal Academy in 1879 and was elected to its membership in 1914. He also exhibited at Suffolk Street, Grosvenor Gallery, New English Art Club, New Gallery, and elsewhere.
---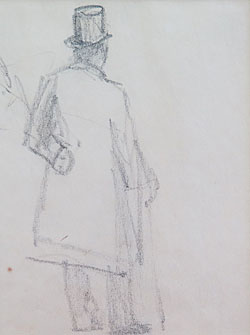 Henry Scott Tuke 1858-1929
Study of a Gentleman With a Cane
Charcoal drawing
Provenance: From a signed Tuke sketchbook dated 1898.
Sheet size: 4½ X 3½ inches
Frame size: 10½ X 9½ inches
FC09037 $175
View • Print • Purchase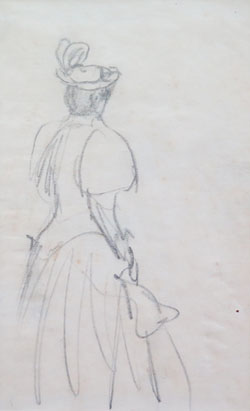 Henry Scott Tuke 1858-1929
Study of a Woman Wearing a Plumed Hat
Charcoal drawing
Provenance: From a signed Tuke sketchbook dated 1898.
Sheet Size: 7 X 4$frac X 12 inches
Frame Size: 12? X 10¼ inches
FC09038 $175
View • Print • Purchase
FLETCHER/COPENHAVER FINE ART
P.O. Box 1038, Fredericksburg, VA 22402
(540) 371-7540 Fax (540) 371-0347