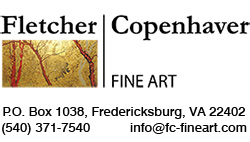 Paul Henri Bréham (1850-1933)
Bréham, born in Paris, studied with Alexandre Cabanel. He became known as a painter of history, genre scenes, and portraits. He first exhibited in the Paris Salon of 1875 with a painting entitled L'Attente." (The Wait). In 1879 his entry in the Salon had the title: "David Chante devant Saul" (David Singing For Saul). In 1905 he painted Louis-Philippe at the Château of Neuilly, one of six paintings which illustrate the history of the commune of Neuilly-sur-Seine on the western outskirts of Paris. Other paintings in the series, housed in the town Hall of Neuilly-sur-Seine, include works by the painters Henri Gervex and Paul Renouard.
Listed: E. Bénézit, Dictionnaire Critique et Documentaire des Peintres, Sculpteurs, Dessinateurs et Graveurs, Gründ, Paris, 1999.
---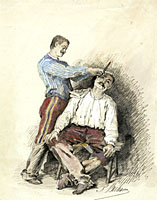 Paul Henri Bréham 1850-1933
The Barber
Watercolor, gouache, pen & ink
Signed, lower right: "P. Breham
Sheet size: 8½ X 7 inches
Frame size: 12&frac34X 10¼ inches
FC05125 Sold
View • Print • Purchase
FLETCHER/COPENHAVER FINE ART
P.O. Box 1038, Fredericksburg, VA 22402
(540) 371-7540 Fax (540) 371-0347