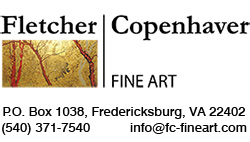 John Copenhaver ((b. 1954))
John Copenhaver is a native of Virginia and has degrees in art education from Virginia Tech and Virginia Commonwealth University. He also studied painting at The Art Students' League in New York City and has been a practicing artist for several decades. His work is in a number of private collections in the United States and Europe.
In 1993, Copenhaver joined Joel Fletcher and formed Fletcher/Copenhaver Fine Art, specializing in American and European modern figural art of the 20th and 21st centuries. They deal privately and exhibited at a number of major antique and design shows throughout the United States, traveling to Europe at least once a year in search of interesting inventory.
They co-curated the exhibition Moses Soyer: My Message is People in 1996 at the Museum of Arts & Sciences in Daytona Beach, Florida, and the Polk Museum in Lakeland, Florida. They also co-curated the exhibition Moses Soyer: From Social Realism to Romantic Realism at The Ridderhof-Martin Gallery of the University of Mary Washington in Fredericksburg, Virginia in 2001. In 2012, they helped to organize the exhibition, curated by James Abbott: Alix Ayme: European Perception and Asian Poeticism at the Evergreen Museum & Library of Johns Hopkins University in Baltimore, Maryland.
"These drawings reflect my interest in observing how people interact with each other, how inner thoughts and veiled inner conversations are reflected in facial expression and body language. So much is expressed and communicated this way. Our perception and feelings of humanity toward one another are formed by these non-verbal cues. The quiet, unguarded moments observed are often those that offer the most insight into each other. They are a kind of unspoken language we attempt to understand and interpret. I attempt to do this through my art."
---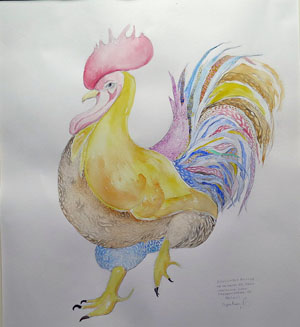 John Copenhaver (b. 1954)
Formidable Rooster. He Protects His Hens>
Watercolor & Graphite on heavy wove paper, bearing watermark: ARCHES FRANCE
Inscribed & signed, lower right:" Lansdowne Farm/ Fredericksburg, VA/9/6/2021/Copenhaver"
Image size: 19 X 17 inches
Frame size: 23&frac14 X 21⅛ inches
Framed with all acid-free materials and Museum Glass™
FC21011 $3,500
View • Print • Purchase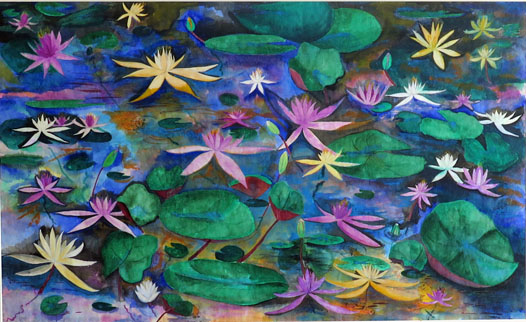 John Copenhaver (b. 1954)
Waterlilies
Watercolor and gouache on rice paper
Signed in pencil, lower right:
Frame size: 29 X 44
Framed with all acid-free materials and Museum Glass™
FC21004 $7,500
View • Print • Purchase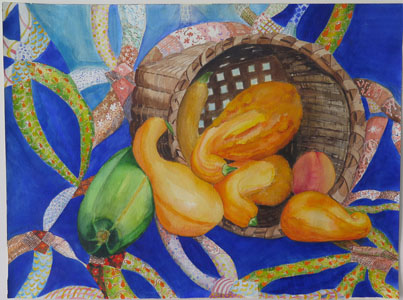 John Copenhaver (b. 1954)
Ancestor's Whisper
Watercolor & graphite
Signed in pencil, lower right:
Framed size: 22 X 27
FC21002 $5,500
View • Print • Purchase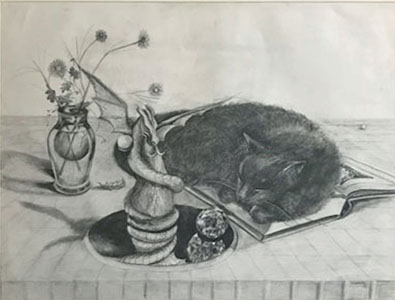 John Copenhaver (b. 1954)
Kipper & Patti's Dragon
Graphite
Signed in pencil, lower right:
Framed size: 24 X 29¼ inches
FC21003 $4,500
View • Print • Purchase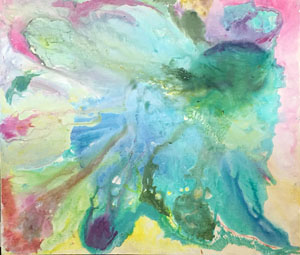 John Copenhaver (b. 1954)
Angel's Daydream
Acrylic
Signed, lower right and on verso:
Framed size: 40.5 X47 inches
FC21005 $7,500
View • Print • Purchase
John Copenhaver (b. 1954)
Contemplation
Graphite and watercolor
Signed by the artist, lower right, and dated May 2006
Provenance: Collection of the artist
Framed size: 28½ X 21¼ inches
Framed with all acid-free materials and Museum Glass™
FC20002 $2,800
View • Print • Purchase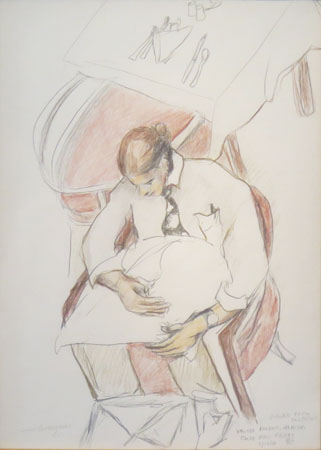 John Copenhaver (b. 1954)
Waiter Folding Napkins on Cape May Ferry
Graphite, red & brown conté crayon
Signed, lower left: "John Copenhaver/:,
Inscribed:, lower right: "Viewed from balcony/Waiter Folding Napkins/Cape May Ferry/JAC/ 7/17/99"
Framed size: 19 X 15 ½ inches
Framed using all acid-free materials and Conservation Clear Glass™
FC20006 $1,800
View • Print • Purchase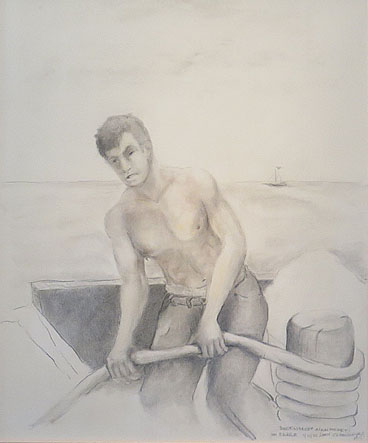 John Copenhaver (b. 1954)
Dock Worker on Barge, Nantucket
Graphite and red chalk
Inscribed, lower right: "Dock Worker on Barge, Nantucket
Dated & signed, lower right: "7/11/05/John Copenhaver"
Framed size: 18 X 15 inches
Framed using all acid-free materials and Conservation Clear Glass™
FC20007 $1,800
View • Print • Purchase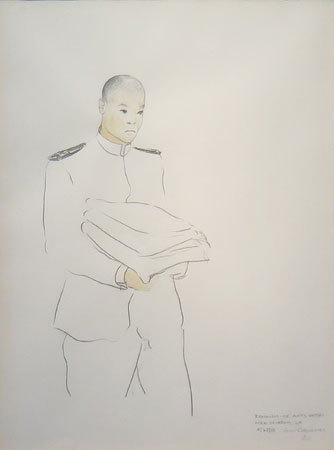 John Copenhaver (b. 1954)
Renaissance Hotel, New Orleans, LA.
Graphite and watercolor
Inscribed, lower right: "Renaissance Hotel, New Orleans, LA./ 4/28/05" Signed: "John Copenhaver"
Framed size: 23½ X 18⅝ inches
Framed using all acid-free materials and Conservation Clear Glass™
FC20008 $1,800
View • Print • Purchase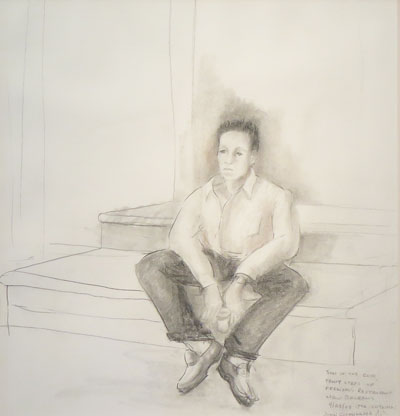 John Copenhaver (b. 1954)
The Son of the Cook, Feelings Restaurant, New Orleans
Graphite and watercolor
Inscribed & signed by the artist, lower right
Framed size: 16&frac12 X 16 inches
Framed using all acid-free materials and Conservation Clear Glass™
FC20009 $1,800
View • Print • Purchase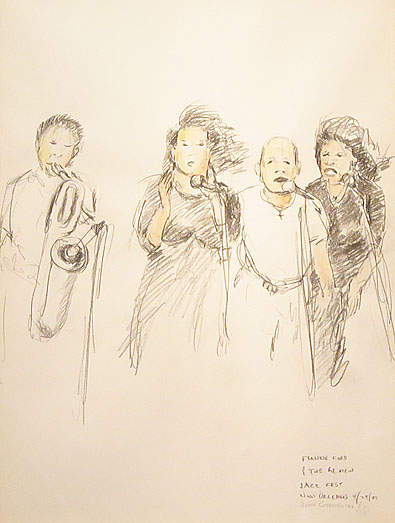 John Copenhaver (b. 1954)
Frankie Ford & The Review, Jazz Fest, 2005
Graphite and watercolor
Inscribed, lower right: "Frankie Ford/ & The Review/Jazz Fest/New Orleans/4/29/05/"
Framed size: 22¾ X 18¾ inches
Framed using all acid-free materials and Conservation Clear Glass™
FC20010 $1,800
View • Print • Purchase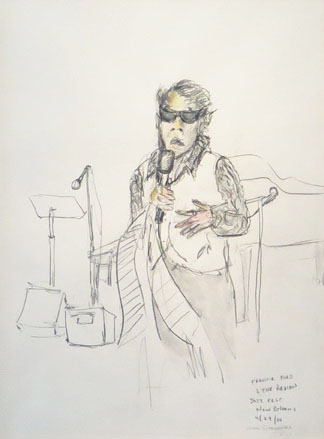 John Copenhaver (b. 1954)
Frankie Ford of Frankie Ford & The Review, Jazz Fest, 2005
Graphite and watercolor
Inscribed & signed, lower right: "Frankie Ford & The Review/ Jazz Fest/ New Orleans/ 4/29/05/ John Copenhaver"
Framed size: 22¾ X 18¾ inches
Framed using all acid-free materials and Conservation Clear Glass™
FC20017 $1,800
View • Print • Purchase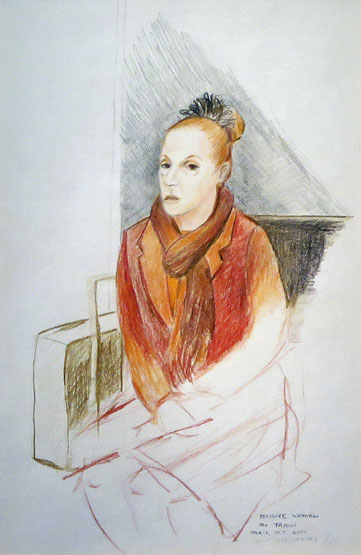 John Copenhaver (b. 1954)
Pensive Woman on Train, Paris
Graphite and colored chalks
Inscribed, lower right: "Pensive Woman on Train, Paris/ Oct. 2004:
Framed size: 19 X 15 inches
Framed using all acid-free materials and Conservation Clear Glass™
FC20012 SOLD
View • Print • Purchase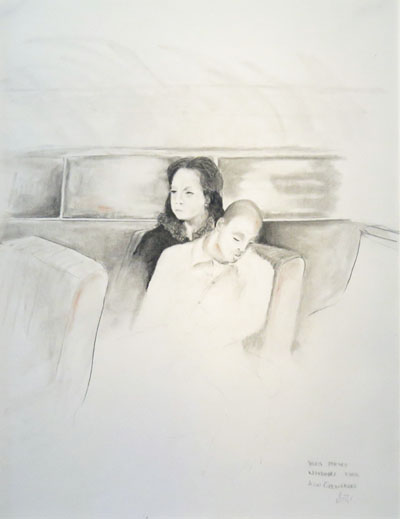 John Copenhaver (b. 1954)
Paris Métro
Graphite and red chalk
Inscribed & signed, lower right: "Paris Metro/ November 2006/ John Copenhaver
Framed size: 19 X 15 7⅞ inches
Framed with all acid-free materials and Museum Glass™ Frame by RG Les Cadres Gault, Paris
FC20013 $2,400
View • Print • Purchase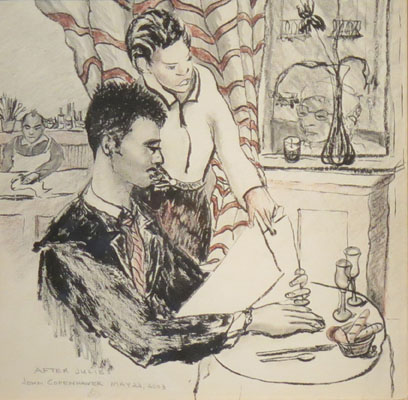 John Copenhaver (b. 1954)
After Julie's
Black ink, red chalk, graphite
Inscribed and signed, lower left: "After Julie's/John Copenhaver May 22, 2003
Framed size: 16 X 15½ inches
Framed using all acid-free materials and Conservation Clear Glass™
FC20014 SOLD
View • Print • Purchase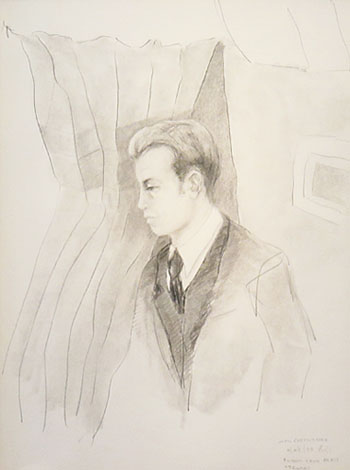 John Copenhaver (b. 1954)
Flight From Paris, Steward
Graphite
Signed & inscribed, lower right: "John Copenhaver/ 4/2/06/ Flight from Paris/Steward
Framed size: 22½ X 18⅝ inches
Framed using all acid-free materials and Conservation Clear Glass™
FC20015 $1,800
View • Print • Purchase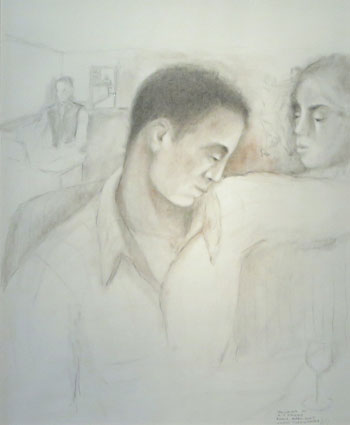 John Copenhaver (b. 1954)
Thinking About His Friend, Paris
Graphite and red chalk
Inscribed & signed, lower right: "Thinking About His Friend/ Paris, April 2007/ John Copenhaver"
Framed size: 18&frac14 X 16 inches
Framed using all acid-free materials and Conservation Clear Glass™
FC20016 $1,800
View • Print • Purchase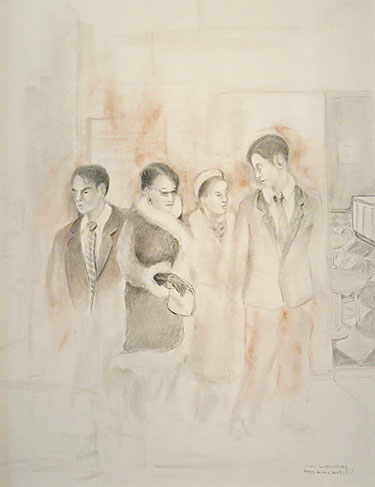 John Copenhaver (b. 1954)
Paris Street Scene
Graphite & red chalk
Signed and inscribed, lower right: John Copenhaver/ Paris, April, 2007
Framed size: 19 X 15⅝
Framed with all acid-free materials and Museum Glass™ Frame by RG Les Cadres Gault, Paris
FC20011 $2,400
View • Print • Purchase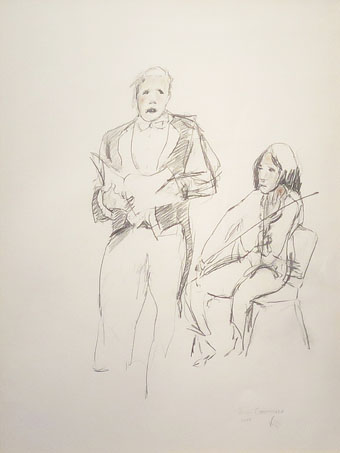 John Copenhaver (b. 1954)
Soloist, New Dominion Chorale Concert
Graphite and brown chalk
Signed and dated, lower right: John Copenhaver/ 2005"
Framed size: 22⅝ X 18&frac34 inches
Framed using all acid-free materials and Conservation Clear Glass™
FC20018 $1,800
View • Print • Purchase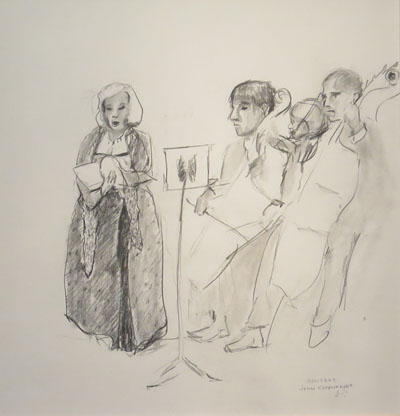 John Copenhaver (b. 1954)
Soprano Soloist, New Dominion Chorale Concert
Graphite
Inscribed and signed lower right: "Concert/ John Copenhaver"
Framed size: 16&frac14 X 15&frac34 inches
Framed using all acid-free materials and Conservation Clear Glass™
FC20019 $1,800
View • Print • Purchase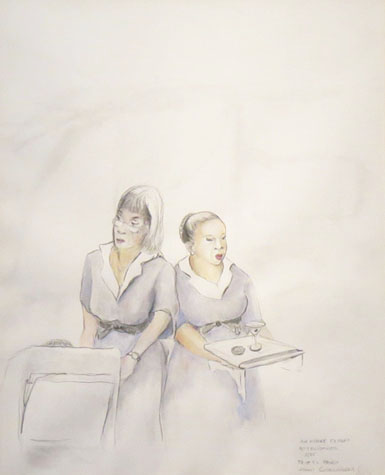 John Copenhaver (b. 1954)
Air France Flight Attendants
Graphite & watercolor
Inscribed & signed, lower right: "Air France Flight Attendants/ 5/05/ Trip to Paris/ John Copenhaver"
Framed Size: 21&frac34 X 18&frac34 inches
Framed using all acid-free materials and Conservation Clear Glass™
FC2020 $1,800
View • Print • Purchase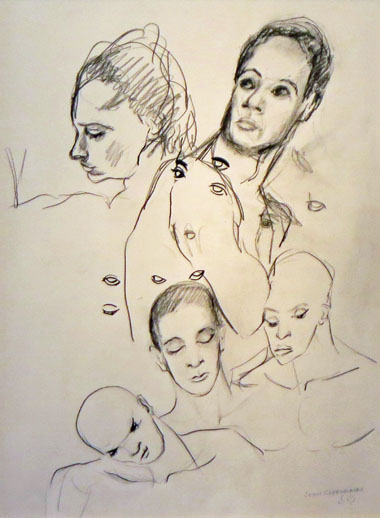 John Copenhaver (b. 1954)
Studies of Expressions
Black ink & graphite
Signed lower right: "John Copenhaver"
Framed size: 18½ X 15¼ inches
Framed using all acid-free materials and Conservation Clear Glass™
FC20022 $1,400
View • Print • Purchase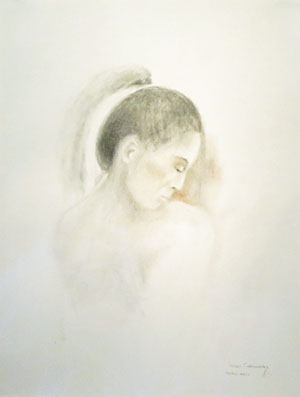 John Copenhaver (b. 1954)
At Cru Café, Charleston, S.C.
Graphite and red chalk
Signed & inscribed, lower right:
Framed size:19 X 15&38542
Framed with all acid-free materials and Museum Glass™ Frame by RG Les Gault, Paris
FC20023 $2,400
View • Print • Purchase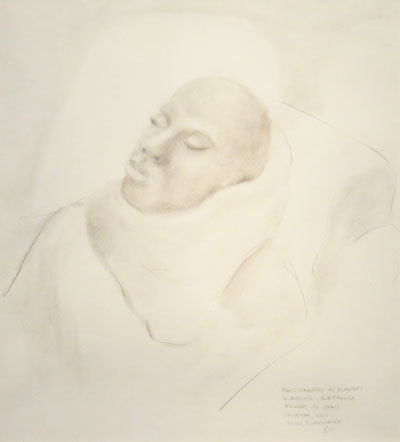 John Copenhaver (b. 1954)
Man Wrapped in a Blanket, Sleeping, Air France Flight to Paris
Graphite
Inscribed & signed: "Man Wrapped in a Blanket/ Sleeping, Air France/ Flight to Paris/ November 2005/ John Copenhaver
Framed size: 16 5? X 15¾ inches
Framed using all acid-free materials and Conservation Clear Glass™
FC20021 $1,800
View • Print • Purchase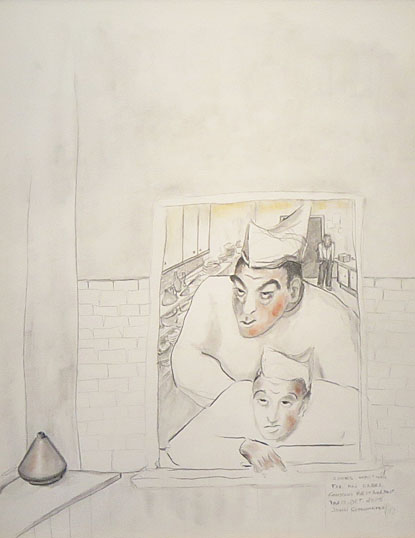 John Copenhaver (b. 1954)
Cooks Waiting for an Order, Cous Cous Restaurant, Paris
Graphite, yellow and brown chalk
Inscribed & signed, lower right: "Cooks Waiting for an Order/ Cous Cous Restaurant, Paris/ Oct 2005/ John Copenhaver
Framed size: 22&frac14 X 19 inches
Framed using all acid-free materials and Conservation Clear Glass™
FC20025 $1,800
View • Print • Purchase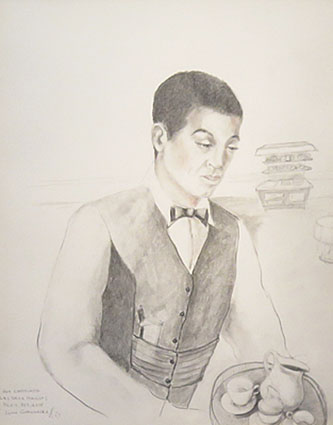 John Copenhaver (b. 1954)
Hot Chocolate, Les Deux Magots, Paris
Graphite & red chalk
Inscribed & signed, lower left: "Hot Chocolate/ Les Deux Magots/ Paris, Oct. 2005/ John Copenhaver
Framed size 21&frac34 X 18&frac34 inches
Framed using all acid-free materials and Conservation Clear Glass™
FC20026 $1,800
View • Print • Purchase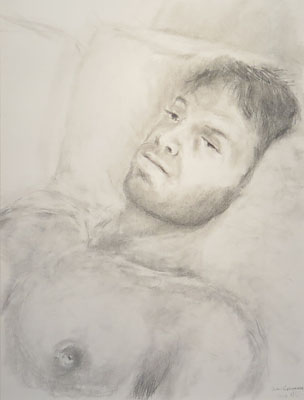 John Copenhaver (b. 1954)
Vince Relaxing
Graphite
Inscribed, lower right: "John Copenhaver/1/4/09"
Framed size: 22&frac14 X 18&frac34 inches
Framed with all acid-free materials and Museum Glass™ Frame by RG Les Cadres Gault, Paris
FC20027 $2,800
View • Print • Purchase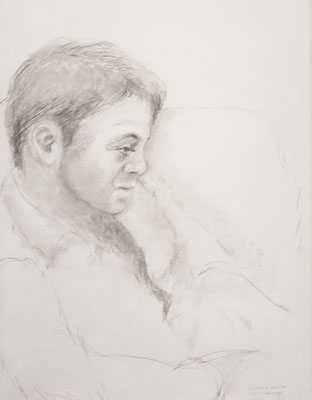 John Copenhaver (b. 1954)
Vince
Graphite
Signed by the artist and inscribed, lower right
Framed size: 20⅞ X 17&frac34 inches
Framed with all acid-free materials and Museum Glass™ Frame by RG Les Cadres Gault, Paris
FC20028 $2,800
View • Print • Purchase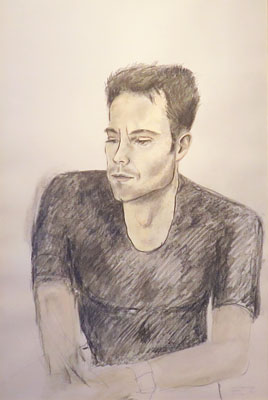 John Copenhaver (b. 1954)
Jeremy
Graphite & watercolor
Signed and inscribed, lower right: "John Copenhaver/ Jeremy/ June 2006"
Framed size: 32½ X 24¾ inches
Framed with all acid-free materials and Museum Glass™
FC20029 $2,800
View • Print • Purchase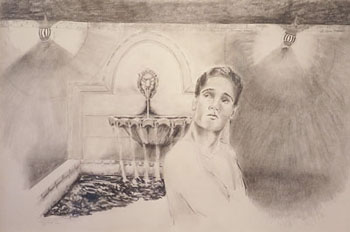 John Copenhaver (b. 1954)
In the Courtyard of Jasmine House, Charleston
Graphite
Inscribed & signed, lower left: "Jasmine House/ Charleston, S.C./ J. Copenhaver 2006"
Framed size: 25½ X 32¼ inches
Framed with all acid-free materials and Museum Glass™
FC20030 $2,800
View • Print • Purchase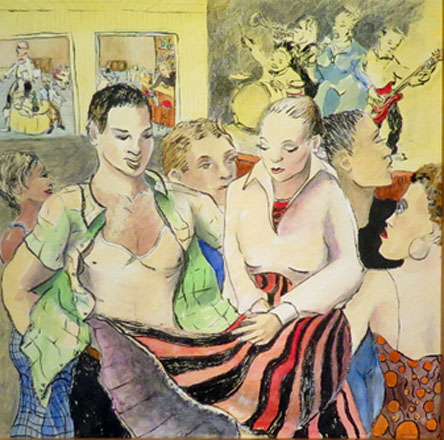 John Copenhaver (b. 1954)
Paris Cabaret
Watercolor, pen & ink
Signed in pencil, lower right:
Framed size: 16 X 15 1/2 inces
Framed with all acid-free materials and Museum Glass™
20201 SOLD
View • Print • Purchase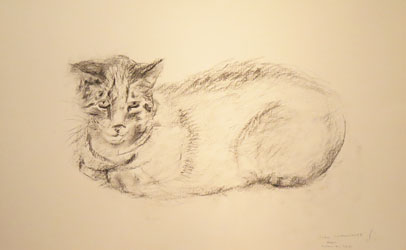 John Copenhaver (b. 1954)
Max
Charcoal drawing
Inscribed, lower right "John Copenhaver/Max/April 21, 2020"
Frame by RG Les Cadres Gault, Paris
20200 SOLD
View • Print • Purchase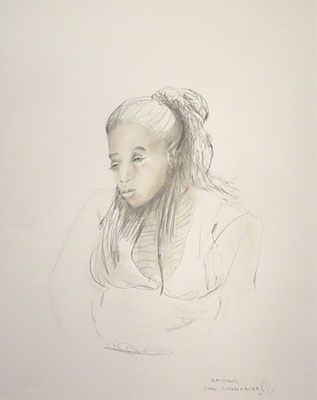 John Copenhaver (b. 1954)
Waiting
Graphite and red chalk
Inscribed and signed by the artist:
Frame size: 17¾ X 15¼ inches
Framed with all acid-free materials and Museum Glass™
FC20003 $1,800
View • Print • Purchase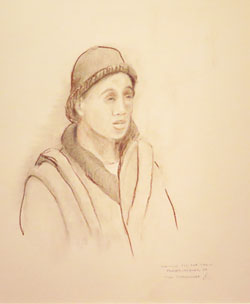 John Copenhaver (b. 1954)
Waiting For The Train, Fredericksburg, Virginia
Graphite and brown chalk
Inscribed and signed by the artist:
Framed Size: 19¼ X 17¼ inches
Framed with all acid-free materials and Museum Glass™
FC20004 $1,800
View • Print • Purchase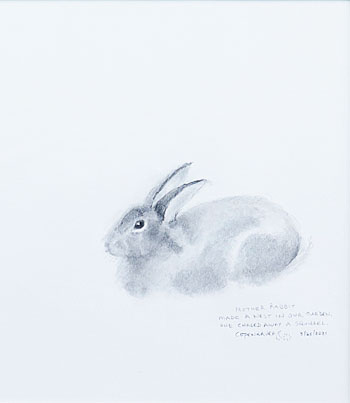 John Copenhaver (b. 1954)
Mother Rabbit
Graphite
Inscribed & signed. lower right:
Image size: 12 X 10¾ inches
Frame size: 14 X 13 inches
Framed with all acid-free materials and Museum Glass™
FC21006 SOLD
View • Print • Purchase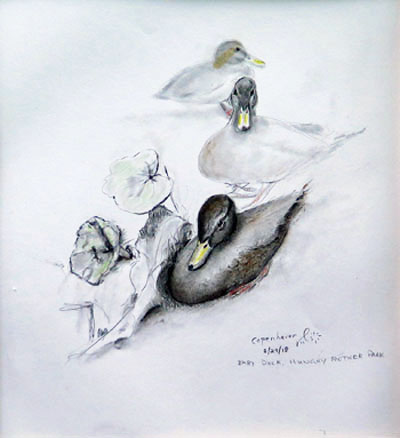 John Copenhaver (b. 1954)
Baby Duck, Hungry Mother Park
Graphite & colored pencil
Signed & inscribed, lower right:
Image size: 11.5 X10.75 inches
Frame size: 14 X 13 inches
FC21007 SOLD
View • Print • Purchase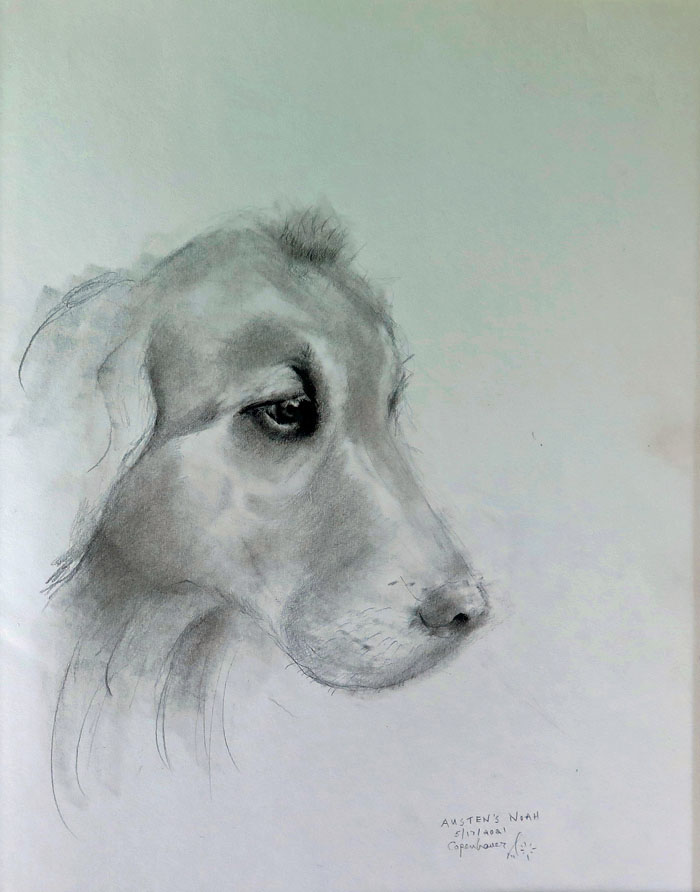 John Copenhaver (b. 1954)
Austen's Noah
Graphite
Inscribed and signed, lower right: "Austen's Noah/5/17/2021/ Copenhaver"
Frame size: 18 ¼ X 15 ½ inches
Framed with all acid-free materials and Museum Glass™
FC21008 SOLD
View • Print • Purchase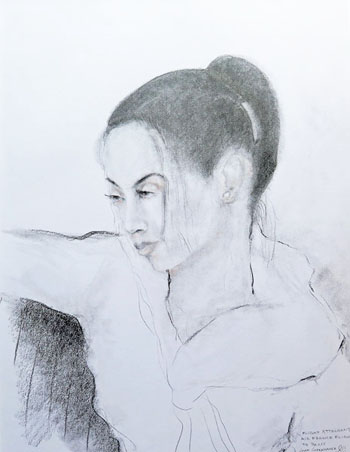 John Copenhaver (b. 1954)
Flight Attendant, Air France Flight to Paris
Graphite and traces of red chalk
Inscribed and signed, lower right: "Flight Attendant/ Air France Flight/to Paris/John Copenhaver"
Sheet size: 13&frac34 X 10&frac12 inches
Frame size: 20&frac12 X 17 inches
Framed using all acid-free materials and Conservation Clear Glass™
FC21009 $1,800
View • Print • Purchase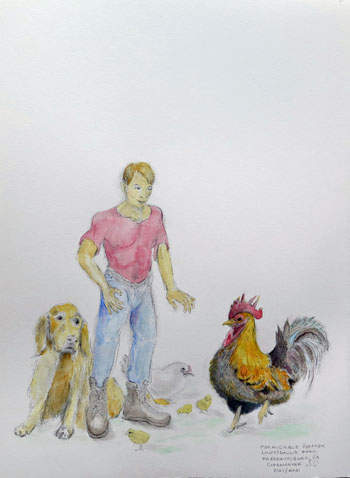 John Copenhaver (b. 1954)
Formidable Rooster at Lansdowne Farm
Watercolor & Graphite on heavy wove paper, bearing watermark: ARCHES FRANCE
Inscribed and signed, lower right: Formidable Rooster Lansdowne Farm/ Fredericksburg, VA/Copenhaver 8/27/2021
Sheet size: 12 X 9 inches
Frame size: 17 X 13¾ inches
Framed with all acid-free materials and Museum Glass™
FC21020 $850
View • Print • Purchase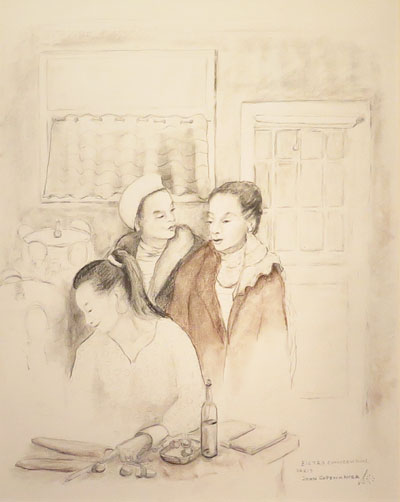 John Copenhaver (b. 1954)
Bistro Conversation, Paris
Graphite, brown chalk, traces of charcoal
Inscribed and Signed by the artist:
Framed size: 19 X 16¼ inches
Framed with all acid-free materials and Museum Glass™
FC20005 $1,800
View • Print • Purchase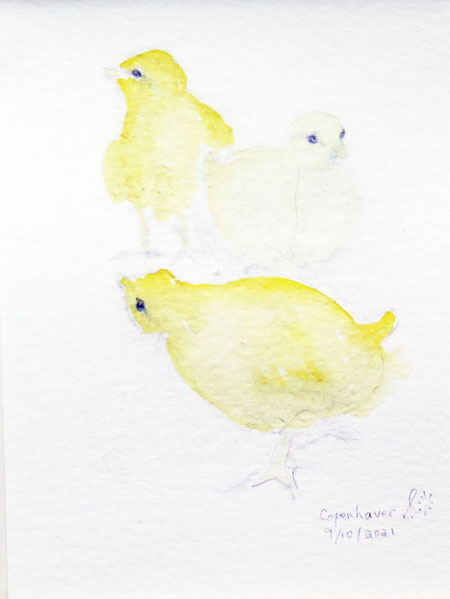 John Copenhaver (b. 1954)
Three Baby Chicks at Lansdowne Farm I
Watercolor & Graphite
Signed & dated, lower right: Copenhaver/9/10/2021"
Frame size: 6⅝ X 5⅝ inches
Framed with all acid-free materials and Museum Glass™
FC21012 $195
View • Print • Purchase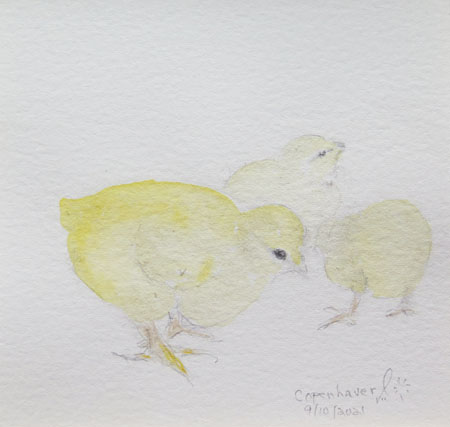 John Copenhaver (b. 1954)
Three Baby Chicks at Lansdowne Farm II
Watercolor & Graphite
Signed & dated, lower right: Signed & dated, lower right: 'Copenhaver/9/10/2021"
Frame size: 6 X 6 inches
Framed with all acid-free materials and Museum Glass™
FC21013 $195
View • Print • Purchase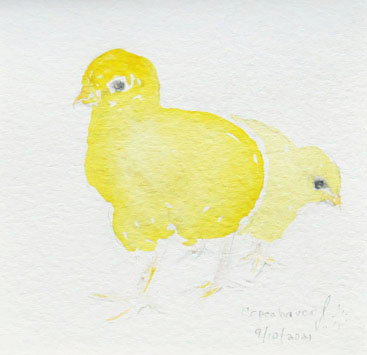 John Copenhaver (b. 1954)
Two Baby Chicks at Lansdowne Farm II
Watercolor & Graphite
Signed & dated, lower right: 'Copenhaver/9/10/2021"
Frame size; 6¼ X 6¼ inches
Framed with all acid-free materials and Museum Glass™
FC21014 $195
View • Print • Purchase
John Copenhaver (b. 1954)
Five Baby Chicks at Lansdowne Farm
Watercolor & Graphite
Signed & dated, lower right: 'Copenhaver/9/20/2021"
Frame size: 9 X 11 inches
Framed with all acid-free materials and Museum Glass™
FC21015 $195
View • Print • Purchase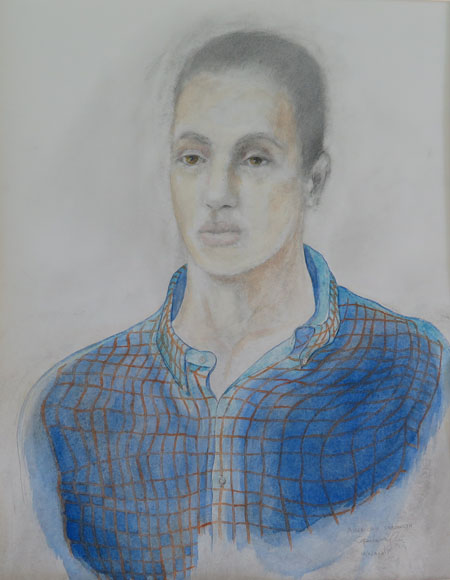 John Copenhaver (b. 1954)
America's Strength
Watercolor, graphite & charcoal
Signed, lower right: "America's Strength/Copenhaver/10/2/2021"
Image size: 20&frac12 X15 inches
Frame size: 22⅜ X 18&frac34 inches
Framed with all acid-free materials and Museum Glass™
FC21016 $3,800
View • Print • Purchase
FLETCHER/COPENHAVER FINE ART
P.O. Box 1038, Fredericksburg, VA 22402
(540) 371-7540 Fax (540) 371-0347