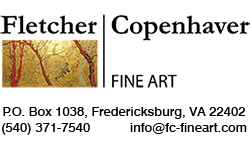 Madeleine Marie Aimé (Active 1930s-1940s)
Aimé, born into a family of artists in Douai in the north of France, studied at the École des Beaux-Arts in Paris with Fernand Sabatté and Xavier Prinet. She began to exhibit with the Salon des Artistes Français in 1932, and was elected to its membership. She also exhibited with the Salon d'Automne. She was known for her figurative works, her cityscapes and landscapes, views of Paris and of Douai and its surroundings. In 1942 she painted a Way of the Cross for the Church of Saint Theresa in Douai.
Listed: E. Bénézit, Dictionnaire Critique et Documentaire des Peintres, Sculpteurs, Dessinateurs et Graveurs, Gründ, Paris, 1999.
---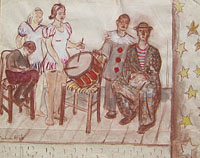 Madeleine Marie Aimé Active 1930s-1940s
Circus Sideshow
Crayon, watercolor and gouache
Signed, lower left:"Madeleine Aimé"
Sheet size: 16 X 20 inches
Frame size: 24½ X 28¼ inches
FC06133 $2,500
View • Print • Purchase
FLETCHER/COPENHAVER FINE ART
P.O. Box 1038, Fredericksburg, VA 22402
(540) 371-7540 Fax (540) 371-0347