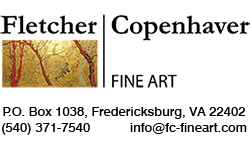 Bernard Boutet de Monvel (1884-1949)
Boutet de Monvel, born in Paris, first studied with his father, Louis Maurice Boutet de Monvel, an artist and illustrator known for his religious, figure, and genre subjects. He continued his studies with Luc-Olivier Merson and the sculptor Jean Dampt. Boutet de Monvel began to exhibit in Paris in 1903 at the Salon des Artistes Français, and later at the Salon d'Automne. He was elected to the membership of both organizations. In 1910, he took part in the Grande Exposition de Bruxelles. Between 1923 and 1928 he was on the Committee of the Salon des Tuileries. He was a skilled print-maker and produced about one hundred color etchings that depicted both the elegant world of Paris and its more humble aspects. From 1904, he was a regular participant in the annual exhibitions of the Salon de la Société de la Gravure Originale.
He was also celebrated as an illustrator and in 1910 exhibited in the Exposition des Humoristes in Copenhagen. He did many of the fashion illustrations for La Gazette du Bon Ton and for a number of books including Silences du Colonel Bramble by André Maurois. He first arrived in New York City in 1926 and spent more than two decades there. In America he became well known for his stylish portraits (as well as for his own dandyism in dress and manner) and his highly stylized Precisionist views of New York. He became a friend of many of the society figures he painted with great charm and psychological insight, including William K. Vanderbilt, Payne Whitney Payson, and Millicent Rogers.
Boutet de Monvel was made a Chevalier de la Légion d'Honneur. He died in 1949 in the plane crash in the Azores that also claimed the lives of French Boxer Marcel Cerdan and the violinist Ginette Neveu. His work is found in a number of museum collections including the Musée des Années Trente. in Boulogne-Billancourt which has what is perhaps Maharaja his most celebrated painting: the portrait of the of Indore. His work is also in museums in Aurillac, Lille, and Tours.
On June 4, 2009, a pencil sketch (11 7/8 X 10 ½ inches), a study for the portrait of the Maharajah of Indore by Boutet de Monvel, which was estimated to sell for 4,000 to 6,000 euros at Sotheby's Paris, sold for 22,350 euros (approximately $31,737.)
---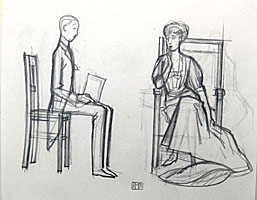 Bernard Boutet de Monvel 1884-1949
The Visit
Pencil drawing
Signed with monogram, lower center
Sheet size: 9 ¾ X 11 3/8 inches
Frame size: 13 X 14 ½ inches
In a hand-crafted frame from Les Cadres Gault, Paris
FC10028 $3,800
View • Print • Purchase
FLETCHER/COPENHAVER FINE ART
P.O. Box 1038, Fredericksburg, VA 22402
(540) 371-7540 Fax (540) 371-0347