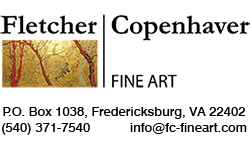 Théophile-Alexandre Steinlen (1859-1923)
Steinlen, born in Switzerland, came to Paris at the age of 20. He settled in Montmartre and soon began to do illustrations for a number of Parisian satirical journals. He was an habitué of the famous Chat Noir cabaret as well as a contributor to the magazine of the same name. He was steeped in the life of Paris and captured it in much of his art. He loved animals, especially cats, and is well known for his depictions of them.
His published works include Des Chats et autres bêtes (Of Cats and Other Beasts). He was an accomplished draughtsman and his drawings translated well into the many lithographs and etchings for which he became famous. He was also a painter of genre and a sculptor.
Both drawings of cats below were originally reproduced in Des chats (Of cats), a rare, undated volume of Steinlen drawings published in France late in the 19th century They are also reproduced on page 32 & 33 of Steinlen Cats, Drawings by Théophile-Alexandre Steinlen, Dover Publications, New York, 1980. "Even had Théophile-Alexandre Steinlen (1859-1923) not possessed a distinctive line, one could usually identify a drawing of his by the inevitable, inimitable cat…his favorite animal, whose feline grace became his perpetual study and signature." From the Dover publication.
---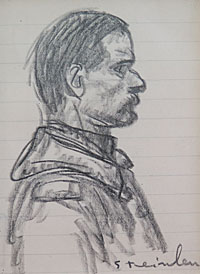 Théophile-Alexandre Steinlen 1859-1923
Study of a Soldier
Charcoal drawing on lined paper
Sheet size: 8¼ X 4½
Frame size: 9⅛ X 7⅞
FC99035 $875
View • Print • Purchase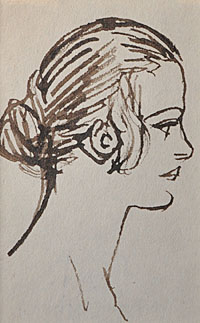 Théophile-Alexandre Steinlen 1859-1923
Head of a Young Woman in Profile
Pen & brown ink
Estate stamp on verso
Sheet size: 3¾ X 2½
Frame size: 8 X 6⅝
FC99190 $775
View • Print • Purchase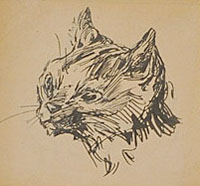 Théophile-Alexandre Steinlen 1859-1923
Study of the Head of a Cat, Facing Left
Pen & ink on wove paper, Reparied upper left corner
Aheet size: 2⅜ X 2⅝
Frame size: 7¾ X 7⅞
In a handcrafted frame from RG Les Cadres Gault, Paris
FC12088 SOLD
View • Print • Purchase
FLETCHER/COPENHAVER FINE ART
P.O. Box 1038, Fredericksburg, VA 22402
(540) 371-7540 Fax (540) 371-0347