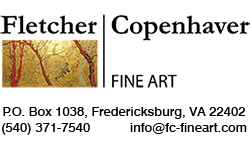 Théophile-Alexandre Steinlen (1859-1923)
Steinlen, born in Switzerland, came to Paris at the age of 20. He settled in Montmartre and soon began to do illustrations for a number of Parisian satirical journals. He was an habitué of the famous Chat Noir cabaret as well as a contributor to the magazine of the same name. He was steeped in the life of Paris and captured it in much of his art. He loved animals, especially cats, and is well known for his depictions of them.
His published works include Des Chats et autres bêtes (Of Cats and Other Beasts). He was an accomplished draughtsman and his drawings translated well into the many lithographs and etchings for which he became famous. He was also a painter of genre and a sculptor.
---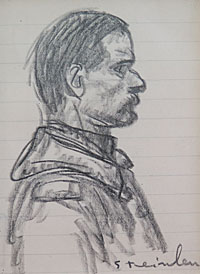 Théophile-Alexandre Steinlen 1859-1923
Study of a Soldier
Charcoal drawing on lined paper
Sheet size: 8¼ X 4½
Frame size: 9? X 7?
FC99035 $175
View • Print • Purchase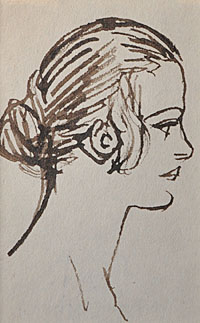 Théophile-Alexandre Steinlen 1859-1923
Head of a Young Woman in Profile
Pen & brown ink
Estate stamp on verso
Sheet size: 3¾ X 2½
Frame size: 8 X 6?
FC99190 $175
View • Print • Purchase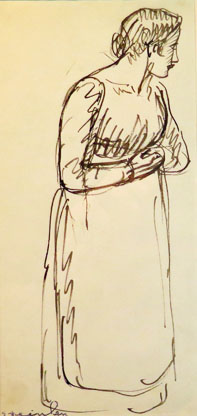 Théophile-Alexandre Steinlen 1859-1923
Study of a Woman Wearing an Apron
Pen & brown ink
Signed in black chalk, lower left
Sheet size: 10½ X 5 inches
Frame size: 20½ X 14½ inches
FC99036 $175
View • Print • Purchase
FLETCHER/COPENHAVER FINE ART
P.O. Box 1038, Fredericksburg, VA 22402
(540) 371-7540 Fax (540) 371-0347