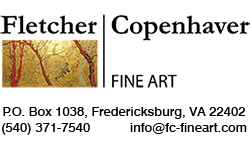 Guy Ferrer (Contemporary)
This autumn Fletcher/Copenhaver Fine Art will be showing at the Antique & Design Center in High Point, North Carolina, and elsewhere, a superb collection of small bronzes by contemporary French artist Guy Ferrer.
Ferrer, who has an international reputation as painter, sculptor, and printmaker, is becoming extremely well-known for his monumental bronzes that grace public spaces in Europe, the United States, and elsewhere. Indeed, he has been justly called "a Rodin for the 21st Century."
One of the edition of 8 of his celebrated monumental group T. O. L. E. R. A. N. C. E. was purchased by the Commune of Saint Ouen, just north of Paris, and installed in a public park especially constructed around it. Another was the first public sculpture purchased by Abu Dhabi. A third was purchased by the city of Montpellier and installed in the Port Marianne District, home to several of the most important architectural monuments of the 21st century, including Jean Nouvel's Design Centre and Philippe Starck's "Cloud."
T. O. L. E. R. A. N. C. E., with its nine figures suggestive of the world's various religions, has also been shown at La Monnaie and Le Jardin du Luxembourg in Paris, in Frankfurt, and Poznan, Poland. This past summer it was displayed in the cloister of the Cathedral of Perpignan.
The bronzes we will be exhibiting range from 8 to 26 inches tall, but monumental versions of most of them can be commissioned from the artist.
---
Guy Ferrer Contemporary
Guide
Oil on canvas
Signed, upper center: "Ferrer"
Provenance: Acquired from the artist
Canvas size: 47 X 47 inches
Frame size: 49 X 49 inches
A pure, innocent, and vulnerable human being faces us. Behind him, red roses symbolizing the poetry of life, protect the entrance of the golden door of Paradise. The two large eyes of the GUIDE carefully protect him from danger.
FCC16002 $17,500
View • Print • Purchase
Guy Ferrer Contemporary
Shaman
Bronze
I/VII (1 of an edition of 8)
18 inches tall
On his little stage, trying to reach the sky above him, the Shaman is standing. Actor as well as spectator of the magic of the world, he sends his energy in the form of a beautiful and symbolic flower.
FCC16003 $7,500
View • Print • Purchase
Guy Ferrer Contemporary
Baptist
Bronze
IV/VIII (Number 4 of an edition of8)
13 inches tall
"A Holy Man, suggesting a Priest, offers sacred water to bless the Pilgrim we all are."
FCC15004 SOLD
View • Print • Purchase
Guy Ferrer Contemporary
Petite Conversation
Bronze
Artist's Proof, I/II
26 inches tall
This sculpture shows how harmoniously man and nature can live and support each other, in a delicate balance. Guy Ferrer
FCC14001 $17,250
View • Print • Purchase
Guy Ferrer Contemporary
Pacha-Lama
Bronze
V/VIII
10 inches tall
This little figure represents the Pacha, a king having earthly power, combined with the Lama, having the spiritual power. Guy Ferrer
FCC14003 $8,750
View • Print • Purchase
Guy Ferrer Contemporary
L'Inattendu (The Unexpected)
Oil and gold leaf on canvas
Signed in gold, upper edge: "FERRER
Canvas size: 21½ 18 inches
Frame size: 22 X 18½ inches
The face of a Sage, coming from a dark blue shadow into the light, brings a gilded blessing to the people. Guy Ferrer
FCC15003 $9,500
View • Print • Purchase
Guy Ferrer Contemporary
Culbuto I
Bronze
XXVII/LV (27/55)
8 inches tall
A dancing puppet aligns its energy in harmony with the planet's movement. Guy Ferrer
FCC14004 $6,325
View • Print • Purchase
Guy Ferrer Contemporary
Culbuto II
Bronze
XXXVII/LV (37/55)
8 inches tall
A dancing puppet aligns its energy in harmony with the planet's movement. Guy Ferrer
FCC14005 $6,325
View • Print • Purchase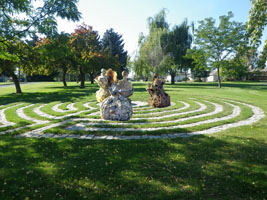 Guy Ferrer Contemporary
La Danse des Culbutos
Bronze
Each figure is approximately 87 inches tall
Installation to be studied with artist
FCCC01 Price On Request
View • Print • Purchase
Guy Ferrer Contemporary
T. O. L. E. R. A. N. C. E. as installed at La Monnaie, Paris, Opening Night, 2007
A group of 9 monumental bronzes in an edition of 8
Installation to be studied with artist
FCCC02 Price On Request
View • Print • Purchase
FLETCHER/COPENHAVER FINE ART
P.O. Box 1038, Fredericksburg, VA 22402
(540) 371-7540 Fax (540) 371-0347