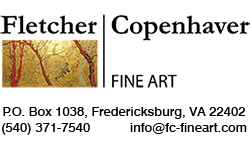 Henry de Waroquier (1881-1970)
Henry de Waroquier, painter, sculptor, and printmaker, was born in Paris on the rue Lafitte, very near the important art galleries of Ambrose Vollard and Durand-Ruel. It was in the windows of these galleries that as a youth he discovered the works of the French Impressionists. Also in the neighborhood was a store which featured the art of the Far East. Both the Impressionists and the art of Japan were important early influences on his work.
As a young man, de Waroquier was drawn both to the study of art and of biology, finally choosing the former. He studied in Paris at the School of Decorative Arts, and privately with the architect Charles Genuys and the painter and scholar Louis Ménard. In 1901, de Waroquier was given a Grand Prize for ornament design, and that same year he began to travel in Brittany doing paintings and drawings in which the Impressionist and Japanese influences mingled. In 1903, he was named professor of composition at the Estienne School of Art and Industry in Paris. He often traveled to Venice and did a number of paintings, drawings, and etchings of that city.
From the beginning of the 20th century, de Waroquier exhibited prominently in the annual Salon exhibitions in Paris, most notably in the Salon d'Automne, of which he eventually became president, and in the Salon des Tuilleries and the Salon des Artistes Indépendants. He had many one-man shows in Paris and elsewhere. In 1946, the museum in Zurich mounted an extensive retrospective of his work, and in 1952 the Museum of Modern Art of the City of Paris held an exhibition of fifty of his sculptures. In 1955, the Bibliothèque Nationale in Paris put on an exhibition of his engravings. One of his most important works is the mural, Tragedy, which he painted for the Universal Exhibition of 1937 in the Palais de Chaillot.
De Waroquier's work figures prominently in many important collections of early 20th century art, most especially in those of the Museum of Modern Art of the City of Paris and the Museum of the 1930s in the Paris suburb of Boulgone-Billancourt.
References: E. Bénézit, Dictionnaire Critique et Documentaire des Peintres, Sculpteurs, Dessinateurs et Graveurs, Gründ, Paris, 1999....... Michèle Lefrançois, Henry de Waroquier: Images de Bretagne, catalogue of the exhibition at the Musée des Années 30, Boulogne-Billancourt, 24 October- 28 January 2001Somogy Éditions d'Art. Paris, 2000. Emmanuel Bréon, L'Art des Années 30, Somogy Éditions d'Art, Paris, 1996.
---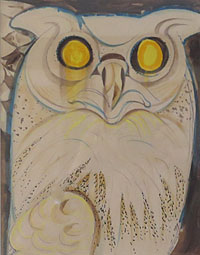 Henry de Waroquier 1881-1970
The Owl with the Golden Eyes (Hibou Aux Yeux d'Or)
Gouache, watercolor, China ink, pen & ink, colored crayon on beige paper
Signed and dated: "1939;" lower right.With the inscription, lower left: "No. 3621"
Sheet size: 10¾ X 8¼ inches
Frame size: 21½ X 17 inches
Exhibited: Palais des Beaux-Arts, Charleroi, October 27 to November 25, 1946
FC01019 $3,500
View • Print • Purchase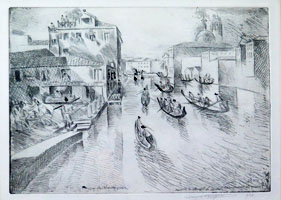 Henry de Waroquier 1881-1970
Regatta Day, Venice
Etching
Signed in pencil in the lower right margin:
Sheet size: 11 X 14?
18? X 21¾
Number 3 from an edition of 25
FC04114 $275
View • Print • Purchase
FLETCHER/COPENHAVER FINE ART
P.O. Box 1038, Fredericksburg, VA 22402
(540) 371-7540 Fax (540) 371-0347