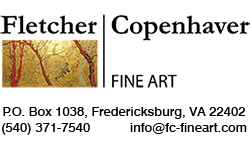 Margaret May Dashiell (1869-1958)
Margaret May Dashiell, who was born in New Orleans, worked and exhibited in New Orleans, Charleston, Richmond, and elsewhere. She moved to Richmond at an early age where she studied under Edward Valentine. She was especially known for her pen and ink, pencil, and watercolor drawings of scenes from life in the old south at the end of the 19th, beginning of the 20th century. Many of her subjects were African-American portrayed with dignity and often humor. She recorded actual scenes of African-American life in the South as she witnessed it. She once said in an interview: "I never get them to sit for the sketches. I look at them as long as I dare, and come home and quickly sketch them from memory…my sketches are not cartoons, but life studies…if you will examine their faces, you will see the brooding sadness that is there…This certain portion of Southern history should be made immortal, and I hope that my sketches will help make the record that is so necessary if this history is to be made immortal."
Dashiell was also a writer and a poet, and her published works include Spanish Moss and English Myrtle (1920) and Richmond Reveries(1942). From 1915 to 1930 Dashiell ran The Serendipity Shop in Richmond selling books, prints, paintings, porcelain, glass, fans, and jewelry. During her lifetime her work was exhibited widely, in venues including the Anderson Gallery and the Valentine Museum in Richmond, the museum of Charleston, South Carolina, the Arts and Crafts Club of New Orleans. Her work is found in the permanent collections of the Virginia Museum of Fine Art, the Valentine Museum, the Museum of the Confederacy, and the Virginia Historical Society, all in Richmond, Virginia, and in the Longwood Center for the Visual Arts in Farmville, Virginia. A collection of her watercolors and a selection of her correspondence and manuscripts are in the Southern Historical Collection of the University of North Carolina at Chapel Hill.
An exhibition of Dashiell's work: Street Opera: Reconsidering the Art and Writing of Margaret May Dashiell,opened in the Lora Robins Gallery of Design from Nature at the University of Richmond on February 9, 2006.
Reference: E. Bénézit, Dictionnaire Critique et Documentaire des Peintres, Sculpteurs, Dessinateurs et Graveurs, Gründ, Paris, 1999.--- Who Was Who in American Art, Peter Hastings Falk, editor, Sound View Press, Madison, CT, 1999.--- Wright, R. Lewis, Artists in Virginia Before 1900, University of Virginia Press, Charlottesville, 1983.
---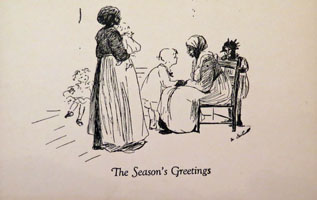 Margaret May Dashiell 1869-1958
Season's Greetings
Lithographic print
Signed in the plate, lower right
Provenance: Estate of the artist; Private collection, Virginia
Sheet size: 4⅛ X 8⅝
Frame size: 7⅝ X 7⅝
Framed using Museum Glass & all acid-free materials
FC16002 $475
View • Print • Purchase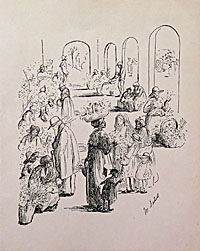 Margaret May Dashiell 1869-1958
The Flower Market
Lithographic print
Signed in the plate, lower right
Provenance: Provenance: Estate of the artist; Private collection, Virginia
Sheet size: 6⅝ X 5¼ inches
Frame size: 10¾ X 9&frac34nches
Framed using Museum Glass™ & all acid-free materials
FC16003 $475
View • Print • Purchase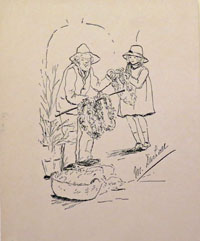 Margaret May Dashiell 1869-1958
Buying a Christmas Wreath
Lithographic print
Signed in the plate, lower right
Provenance: Estate of the artist; Private collection, Virginia
Sheet size: 5⅜ X 4¼
Frame size: 8⅞ X 7&frac135
Framed using Museum Glass™ & all acid-free materials
FC16004 $475
View • Print • Purchase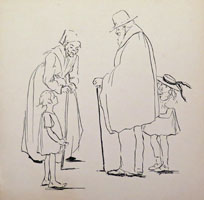 Margaret May Dashiell 1869-1958
Stopping for a Visit
Pen & ink drawing
Unsigned
Provenance: Estate of the artist; Private collection, Virginia
Sheet size: 6½ X 6½
Frame size: 11¼ X 11¼
Framed using Museum Glass™ & all acid-free materials
FC16005 $675
View • Print • Purchase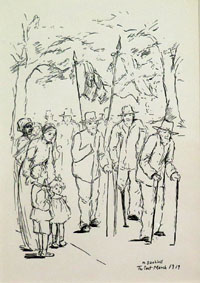 Margaret May Dashiell 1869-1958
The Last March
Lithographic print
Signed in the plate, titled, and dated, lower right
Provenance: Estate of the artist; Private collection, Virginia
Sheet size: 8 X 6 inches
Frame size: 12⅝ X 10⅜inches
Framed using Museum Glass™ & all acid-free materials
FC16006 SOLD
View • Print • Purchase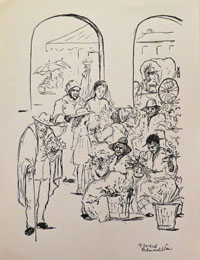 Margaret May Dashiell 1869-1958
Flower Sellers
Lithographic print
Signed in the plate and inscribed
Provenance: Estate of the artist; Private collection, Virginia
Sheet size: 8 X 6 inches
Frame size: 13¾ X 10⅛
Framed using Museum Glass™ & all acid-free materials
FC16007 $475
View • Print • Purchase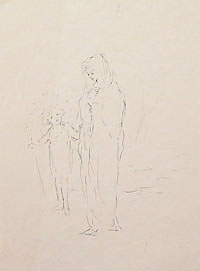 Margaret May Dashiell 1869-1958
A Mother & Child
Pen & ink, traces of pencil
Unsigned
Provenance: Estate of the artist; Private collection, Virginia
Sheet size: 8¾ X 6¼ inches
Frame size: 13 X 11¼ inches
Framed using Museum Glass™ & all acid-free materials
FC16008 $675
View • Print • Purchase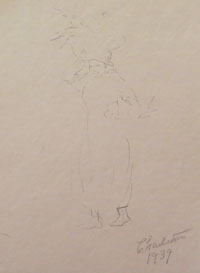 Margaret May Dashiell 1869-1958
Charleston,1939
Pencil drawing
Inscribed, lower right:
Provenance: Estate of the artist; Private collection, Virginia
Sheet size: 87frac12 X6½ inches
Frame: 13 X 11 inches
Framed using Museum Glass™ & all acid-free materials
FC16009 $675
View • Print • Purchase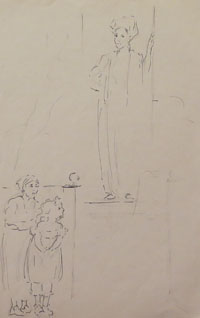 Margaret May Dashiell 1869-1958
At The Gate
Pen & ink, traces of pencil
Unsigned
Provenance: Estate of the artist; Private collection, Virginia
Sheet size: 9½ X 6¼ inches
Frame size: 14⅛ X 11⅛
Framed using Museum Glass™ & all acid-free materials
FC16011 $675
View • Print • Purchase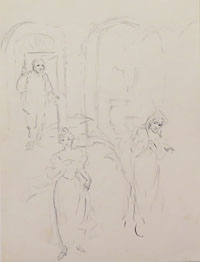 Margaret May Dashiell 1869-1958
The Departure
Pem & ink, pencil
Unsigned
Provenance: Estate of the artist; Private collection, Virginia
Sheet size: 8 X 6 inches
Frame size: 13 X 10⅞ inches
Framed using Museum Glass™ & all acid-free materials
FC16012 $675
View • Print • Purchase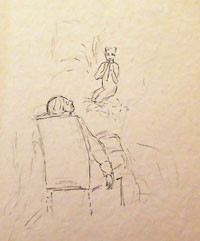 Margaret May Dashiell 1869-1958
A Dream of Pan
Pen & ink, pencil
Unsigned
Provenance: Estate of the artist; Private collection, Virginia
Sheet size: 7¾ X 6½ inches
Frame size: 12½ X 11 inches
Framed using Museum Glass™ & all acid-free materials
FC16013 $675
View • Print • Purchase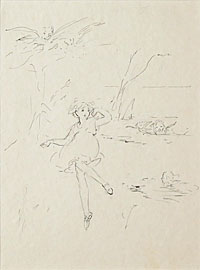 Margaret May Dashiell 1869-1958
The Swimming Hole
Pen & ink, traces of pencil
Unsigned
Provenance: Estate of the artist; Private collection, Virginia
Sheet size: 8⅝ X 6¼ inches
Frame size: 13¼ X 11 inches
Framed using Museum Glass™ & all acid-free materials
FC16014 $675
View • Print • Purchase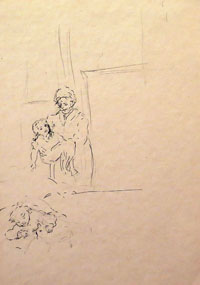 Margaret May Dashiell 1869-1958
Bedtime
Pen & ink, pencil
Unsigned
Provenance: Estate of the artist; Private collection, Virginia
Sheet size: 8⅝ X6¼ inches
Frame size: 13¼ X 11 inches
Framed using Museum Glass™ & all acid-free materials
FC16016 $675
View • Print • Purchase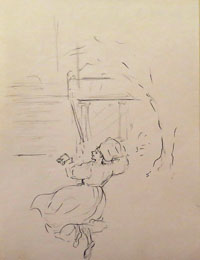 Margaret May Dashiell 1869-1958
Dancing for Joy
Pen & ink, traces of pencil
Unsigned
Provenance: Estate of the artist; Private collection, Virginia
Sheet size:8⅛ X 6⅛
Frame size: 13 X 11 inches
Framed using Museum Glass™ & all acid-free materials
FC16017 $675
View • Print • Purchase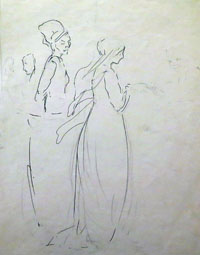 Margaret May Dashiell 1869-1958
The Companion
Pen & ink, pencil
Unsigned
Provenance: Provenance: Estate of the artist; Private collection, Virginia
Sheet size: 10¾ X 8¼ inches
Frame size: 14½ X 12½
Framed using Museum Glass™ & all acid-free materials
FC16019 $675
View • Print • Purchase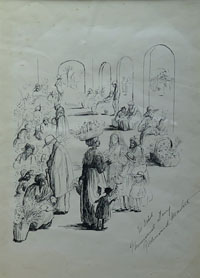 Margaret May Dashiell 1869-1958
Richmond Market
Lithographic print
Signed in ink and inscribed by the artist, lower right:
Provenance: Estate of the artist; Private collection, Virginia
Sheet size: 12⅜ X 9¼ inches
Frame size: 16⅝ X 13⅜
Some minor foxing. Framed using Museum Glass™ & all acid-free materials
FC16020 $475
View • Print • Purchase
Margaret May Dashiell 1869-1958
Flower Market Richmond
Lithographic print
Signed in the plate, and inscribed:
Provenance: Estate of the artist; Private collection, Virginia
Sheet size: 12⅜ X 9¼ inches
Frame size: 16⅝ X 13⅜
Some minor foxing. Framed using Museum Glass™ & all acid-free materials
FC16021 $475
View • Print • Purchase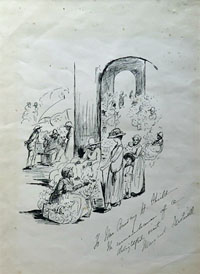 Margaret May Dashiell 1869-1958
Market Scene
Lithographic print
Inscribed and signed in pen & ink: "To Mrs. Cordray H. Shield/In Remembrance of a delightful event/Margaret Dashiell
Provenance: Estate of the artist; Private collection, Virginia
Sheet size: 12⅜ X 9¼ inches
Frame size: 12⅝ X 13⅜ inches
Some minor foxing. Framed using Museum Glass™ & all acid-free materials
FC16022 $475
View • Print • Purchase
FLETCHER/COPENHAVER FINE ART
P.O. Box 1038, Fredericksburg, VA 22402
(540) 371-7540 Fax (540) 371-0347